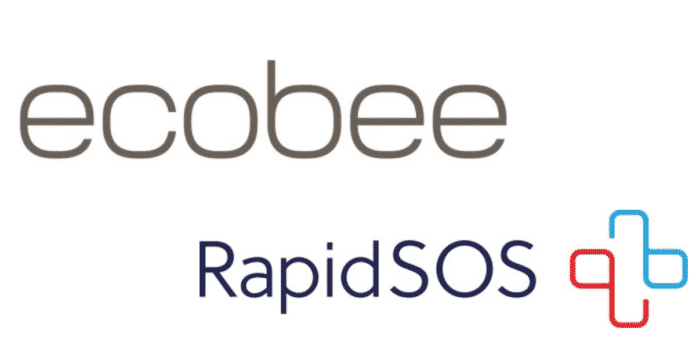 Advertisement
[adrotate banner="23"]
The sustainable smart home leader Ecobee announced Smart Security, a first-of-its-kind system, combining the professionally monitored home security with ecobee thermostats and sensors. To be powered by RapidSOS, a leader in emergency response. Ecobee customers based in the U.S. will access a beta version of professional monitoring via the ecobee app. Consumers now have 24/7 professional monitoring for enhanced home protection with added features coming shortly.
ecobee Smart Security easily combines professionally monitored home security with ecobee thermostats and sensors. Designed to protect homes against break-ins and fires while also delivering energy savings and freeze detection.
Providing an additional layer of security, ecobee offers the SmartCamera with voice control, which supports smoke alarm detection and an optional video verification feature.
"ecobee Smart Security is a powerful combination of hardware and software designed to protect homes and families in an easy and affordable way," said Stuart Lombard, Founder and CEO of ecobee. "Millions of families already trust ecobee to deliver energy savings and comfort in their homes. Now, with ecobee Smart Security and professional monitoring, powered by RapidSOS, we're able to further transform ecobee products into powerful security solutions capable of transmitting critical data directly to local 911 agencies in an emergency to dispatch local emergency services."
Advertisement
[adrotate banner="34"]
"At RapidSOS, we're united in our commitment to empower safer, stronger communities with intelligent, data-driven emergency response worldwide," said Michael Martin, CEO of RapidSOS. "With RapidSOS Monitoring, ecobee is providing customers with an added layer of safety and security and supporting our heroic first responders in saving millions of lives annually. We're proud to partner with ecobee and connect the power of their smart home technology with 911 through our platform."
All the energy-saving features plus it acts as a central monitoring hub and can notify the owner if a smoke alarm is detected. Pairs with ecobee SmartSensors to extend the capabilities of ecobee Smart Security throughout the home.Extends comfort and security by measuring temperature and detecting occupancy in the home's most important rooms.Monitors entries and exits for unexpected entries and saves energy by pausing the HVAC system when doors or windows are left open.
About ecobee
ecobee Inc. was founded in 2007 by Stuart Lombard with a mission to improve everyday life while creating a more sustainable world. ecobee continues to be a company that innovates with smart home solutions that solve everyday problems with comfort, security, and conservation in mind. With ecobee's products, including the SmartThermostat with voice control and SmartCamera with voice control, and its Smart Security home monitoring system, ecobee continues to encourage SmartOwners to imagine what home could be. For more information, visit www.ecobee.com
About RapidSOS, Inc.
In partnership with public safety, RapidSOS has created the world's first emergency response data platform that securely links life-saving data from over 350 million connected devices directly to emergency services and first responders. Through its platform, RapidSOS provides intelligent data that supports over 5,100 Emergency Communications Centers worldwide, across 150 million emergency calls annually. To learn more about this technology that's creating life-saving connections, visit www.rapidsos.com
Advertisement
[adrotate banner="30"]