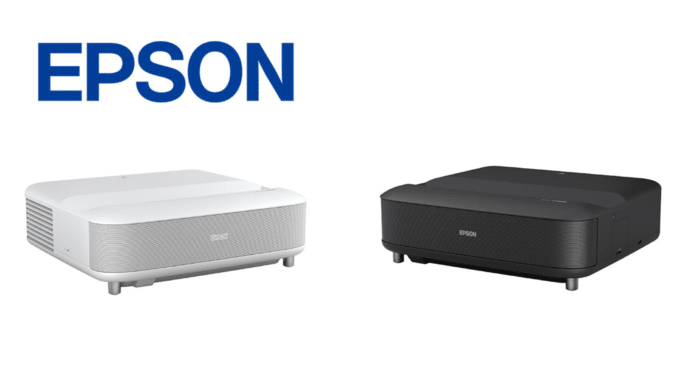 Advertisement
[adrotate banner="23"]
Epson, a leading name in projection technology, has expanded its ultra-short throw projector lineup with the introduction of the EpiqVision Ultra LS650. This advanced projector leverages proprietary 3-Chip 3LCD technology to deliver exceptional brightness and color quality, even in well-lit environments.
Fernando Tamashiro, Product Manager at Epson America, Inc., explained the company's motivation for this release: "As the demand for ultra-short-throw projectors continues to grow, Epson is expanding our best-selling lineup for big-screen entertainment to meet a wider range of viewing needs with the EpiqVision Ultra LS650 Smart Streaming Laser Projector. While the Epson EpiqVision LS800 continues to hold its position as our top ultra short throw projector with the shortest throw ratio in our lineup, the new LS650 is our newest 4K PRO-UHD model, capable of supporting high content resolution and is intended to redefine traditional gaming and movie watching."
Advertisement
[adrotate banner="34"]
The Epson EpiqVision Ultra LS650 includes built-in sound by Yamaha, specifically designed for Epson, providing a 2.1 virtual surround system for an immersive audio experience right out of the box. To further enhance the listening experience, Epson's engineers have designed a new metal grill to cover the speakers, minimizing sound distortion. In addition, the projector includes an eARC HDMI port, allowing easy switching from the built-in speakers to external AV receivers or soundbars using the projector's single remote controller.
Smart TV capabilities are also a part of the package, enabling easy access to popular streaming channels like Amazon Prime Video, Hulu, Disney+, HBO, YouTube, and more. The projector even supports live TV streaming and offers built-in Google Assistant for voice search.
Key Features:
* Immersive Entertainment in Compact Spaces: Enjoy 4K PRO-UHD images up to 120 inches by placing the projector close to the wall.
* Designed for Your Living Room: True 3-Chip 3LCD technology delivers 3,600 lumens of color and white brightness for clear, colorful images, even in well-lit rooms.
* Exceptionally Sharp 4K Experience: 4K PRO-UHD technology utilizes pixel-shifting and advanced image processing for remarkable detail and clarity without compromising brightness.
* Hassle-Free Setup: The Epson Setting Assistant app is available for both iOS and Android devices, making projector setup and display size adjustments quick and easy.
* Built-In Sound by Yamaha: A 2.1 virtual surround system, developed exclusively for Epson by Yamaha, offers presets for TV, Sports, Movies, and Music, and allows smartphone connectivity via Bluetooth.
* Refined Design: The projector's modern exterior features a metallic speaker grille for enhanced acoustics.
* Single-Cable Solution for Audio: An HDMI port with eARC support enables the transmission of audio formats like Dolby Atmos or DTS to compatible AV receivers or soundbars, simplifying audio switching.
* Epson SilverFlex Ambient Light Rejecting Screen: Optional screens in 100-inch and 120-inch sizes are designed to redirect up to 90% of ambient light, increasing contrast and producing a crisp picture.
* Outstanding Service and Support: The projector comes with a two-year limited warranty and two-business-day replacement with free shipping.
For more information visit https://epson.com/about-us
Advertisement
[adrotate banner="30"]