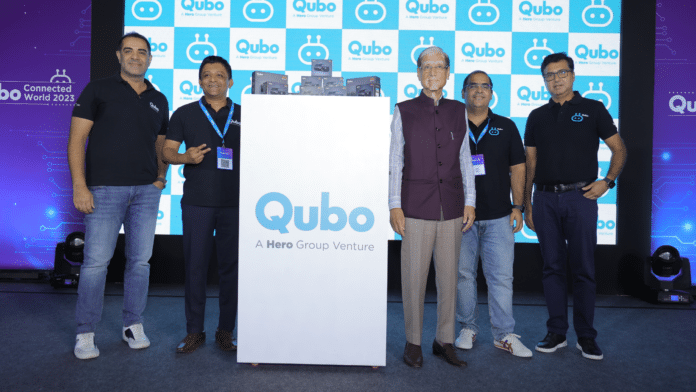 Advertisement
[adrotate banner="23"]
Qubo, the rapidly growing smart devices brand under Hero Electronix, has entered the GPS Tracker market with its latest offerings for Cars and Bikes. This announcement was made at Qubo Connected World 2023, their annual flagship event, showcasing the entire product range. These GPS Trackers are powered by advanced AI, featuring Live Location Tracking, Accident Alerts, GeoFence Alerts, and more, enhancing safety and convenience for drivers. Building on their success in the Dashcam category, the brand also introduced two new Dashcam models, expanding their Smart Auto Accessories line.
Since its 2019 debut, Qubo has achieved remarkable success in the Smart Home Devices sector. The brand has consistently pushed the envelope of innovation, reshaping common items to eliminate their inherent challenges. Their Smart Door Locks, AI-Powered Security Cameras, and Smart Home Automation Products have already become market favorites, many rankings among the top two brands in their respective categories. With these recent launches, it's evident that Qubo is taking a significant step to establish a strong presence in the Auto Accessories market too.
Advertisement
[adrotate banner="34"]
Speaking at the Qubo Connected World 2023 event, Mr. Ujjwal Munjal, Vice Chairman of Hero Electronix, stated "It gives me immense pleasure to witness Qubo's continued success over the last four years. I'd like to congratulate the entire team at Qubo in continuing the tradition of developing category-defining products with the launch of these new GPS Trackers and Dashcams. It's also heartening to recognize the exceptional value Qubo has created and delivered in its relatively short journey to date, shipping more than 500,000 devices and clocking in a monthly revenue upwards of Rs. 15 crores — all this while manufacturing and developing a connected devices ecosystem here in India. Qubo definitely has a bright future ahead given how Indians are getting increasingly comfortable with technology and I'm sure Qubo will become their brand of choice for all things smart in the near future."
Nikhil Rajpal, CEO, Hero Electronix also added "After many months of rigorous R&D, I'm delighted to announce the arrival of our brand-new GPS Trackers for Cars & Bikes. At a time when our roads are becoming increasingly notorious, this product will find value amongst anyone who cares deeply about their cars/bikes and also about those driving them. We are confident of reaching a much wider user base given the many practical use cases around the safety of life and safety of vehicles that this product solves for. And in anticipation of that scale, we have priced these products extremely attractively to encourage mass adoption for such a product that should be a must-have in all vehicles."
Qubo, powered by its unique proprietary tech stack, today offers a diverse portfolio of products across categories including Smart Home Devices, Auto Accessories and Lifestyle Gadgets. What's incredible here is that almost all components of this tech stack including Software, Apps, Cloud, and Device Hardware have been developed in-house, most of it at their state-of-the-art Qubo Innovation Center in Noida. This distinctive approach sets Qubo apart and showcases its commitment to innovation and self-reliance in the smart connected technology space – launching new products at a fairly quick pace while continually deploying software upgrades catering to relevant Indian use cases.
Throughout the years, Qubo has remained steadfast in its commitment to the Make in India initiative, with almost its entire range of products being manufactured in the country. Moreover, in its endeavor to be present where consumers are, Qubo today has a well-balanced omni-channel presence across all major marketplaces, its own D2C website and at over 2000 stores in 30+ cities.
Product Highlights:
GPS TRACKERS starting @ Rs 1,799 (Bike) & Rs 2,099 (Car)
1. ALWAYS KNOW WHERE YOUR CAR / BIKE IS Track the location of your vehicle from anywhere and be alerted instantly in case of an unexpected activity. Complete peace of mind at your fingertips.
● Real-time Location Tracking
● Ignition On/Off alerts
● GeoFence Entry/Exit Alerts
2. SAFETY OF THE DRIVER/RIDER/OCCUPANT & OF YOUR CAR/BIKE
Advanced AI-based accident detection feature that sends alerts and phone calls to family members/emergency contacts in case of a mishap.
● Accident Alerts
● Towing Alerts
● Tamper Alerts
● Live Location Sharing (share your car's live location with someone for a certain
duration)
The device also comes with an Arm Mode that makes it easy to activate all the features of Towing, Ignition & Tamper alerts in one go.
3. MONITOR HOW THE VEHICLE IS BEING DRIVEN
Keep a watchful eye on how your car/bike is being driven whether by valet drivers,
workshop mechanics or even youngsters eager to get behind the wheel.
● Route Playback and History
● Driving Behavior Insights
● Monitor Car Misuse
Dashcam ProX @ Rs. 3,490
* 2MP camera with 1080p Full HD recording video; 120-degree FOV
* Rotatable Design that can turn the Dashcam into a Cabin Camera as well
* Incredible low-light performance to record high-quality videos at night
* Super Capacitor for greater temperature resistance
* Time Lapse: Time Lapse videos for events captured on trips over the last 5 days
* Loop Recording: Auto-overwriting the older footage to save space on the Micro SD Card
* Multiple Recording Options: Emergency Event, Continuous Recording
* Storage: Supports up to 1 TB SD Card
* Detachable Design for easy access to your videos
* Comes in 3 Colours: Midnight Blue, Alpine Green, Space Gray
* Dashcam Pro 3K starting @ Rs. 7,990
* Front Camera: 5MP with 2592 x 1944 resolution; 140-degree FOV
* Rear Camera: 2MP with 1920 x 1080 resolution; 120-degree FOV
* Built-in Display: 3.2-inch LCD Screen
* Best-in-class sensor Sony IMX 335 for ultra-high clarity
* Built-in WiFi & GPS with Route Maps
* Incredible low-light performance to record high-quality videos at night
* Super Capacitor for greater temperature resistance
* Time Lapse: Time Lapse videos for events captured on trips over the last 5 days
* Loop Recording: Auto-overwriting the older footage to save space on the Micro SD Card
* Multiple Recording Options: Emergency Event, Continuous Recording
* Storage: Supports up to 1TB SD card
For More Information: www.quboworld.com
Advertisement
[adrotate banner="30"]