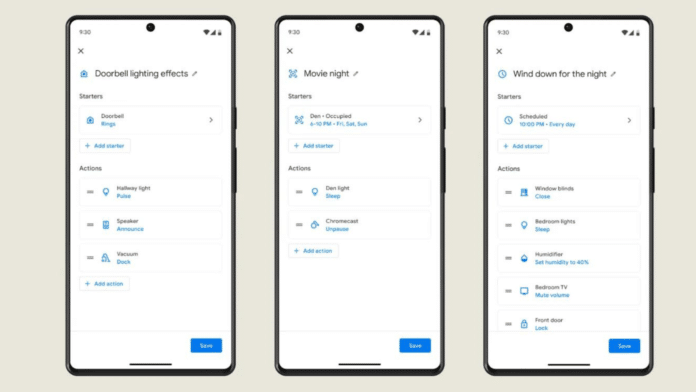 Advertisement
[adrotate banner="23"]
Google is rolling out an extensive update to enhance the automation capabilities of the Google Home app's Household Routines feature. This upgrade introduces 18 new starters and actions, creating a more streamlined and user-friendly experience. The noteworthy aspect of this update is that it's accessible to all users and doesn't require enrollment in the Preview Program.
According to the official Google community blog, the update empowers users with 9 starters and 9 actions, accessible within the Google Home app. Among the exciting possibilities, users can now coordinate actions such as turning off the thermostat when a window is open, activating the fireplace and dimming lights upon pausing a TV show, triggering the humidifier when humidity falls below 40%, and more. However, it's important to note that the new Google Home Starters and Actions are subject to the limitations set by individual device manufacturers.
Advertisement
[adrotate banner="34"]
Furthermore, the 9 new actions now available through Google Home offer a range of functionalities. These include scheduling the docking of a vacuum cleaner at specific times, automating the opening and closing of windows, doors, or blinds according to a set schedule, temporarily pausing devices when the doorbell rings, and finely controlling lighting effects. Notably, the Timer action provides users with more precise control—enabling them to cancel a timer in case of leaving the house or setting a 30-minute timer for cooking dinner.
It's essential to recognize that the examples provided here only scratch the surface of the possibilities afforded by the new Google Home Starters and Actions. For a comprehensive list of these features, the interested users can consult the associated blog post. To access the newly introduced starters and actions, one can navigate to the Automation tab within the Google Home app.
Google acknowledges that the extent to which devices can support these capabilities is contingent on the device manufacturer. As a result, it's advisable to consult the official device compatibility list before experimenting with the new Google Home starters and actions. If a user's device isn't listed, it implies that the device's manufacturer hasn't integrated these features.
For More Information: www.9to5google.com
Advertisement
[adrotate banner="30"]