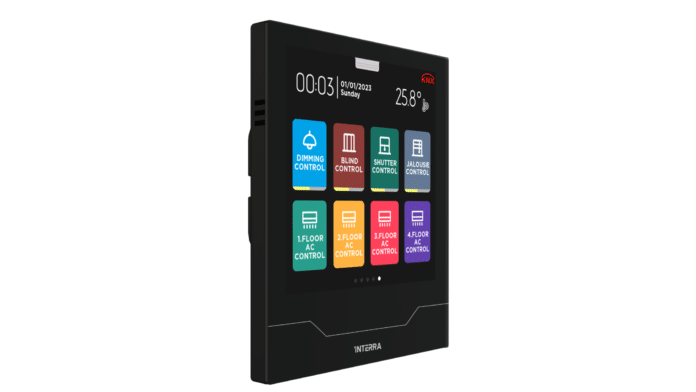 Advertisement
[adrotate banner="23"]
The Interra iX4, a 4″ Super Slim KNX Touch Panel, is a cutting-edge device that offers a blend of minimalist design and advanced functionality. Designed for both residential and commercial applications, this mini smart home panel redefines the concept of control within built environments. With a focus on flexibility, architectural integration, and user customization, the Interra iX4 presents a smart solution to streamline various operations.
Its user-friendly and customizable user interface (1×2, 1×4, 2×4) makes smart buildings easier to control and removes the complexity from your life. All layouts and colors can be customizable according to your needs. Interra iX4 performs the control of all functions required for building automation by its special pages for each action, such as music controll, switching, dimming, tunable white lighting, RGBW control, shutter/blind and jalousie, thermostat control, AC control, floor heating control, timer scenarios, energy monitoring and many more.
Advertisement
[adrotate banner="34"]
It comes with 5 different built-in sensors such as proximity, air quality, temperature, light intensity, and humidity, and has a special page that shows these values together with the weekly weather forecasting. Proximity sense provides extra energy savings in stand-by mode. 1 relay output (2A), 2 digital, and 2 analog inputs provide flexibility and easy installation advantage saving lots of time.
* ETS Configuration (No External Configurator Needed)
* Suitable for Standard EU Junction Box
* Software Update via USB
* Configurable Main Screen (1×2 1×4 2×4)
* All KNX-Based Controls
* Screen Saver as Analog or Digital Clock
* Dry Contact Signal Output for DND Modules
* Password Access & Temporary Screen Lock for Cleaning
* 16 Function Pages include 8 Different Functions for Each
* 4 Thermostat and 4 AC Control with 1 Device
Advertisement
[adrotate banner="30"]