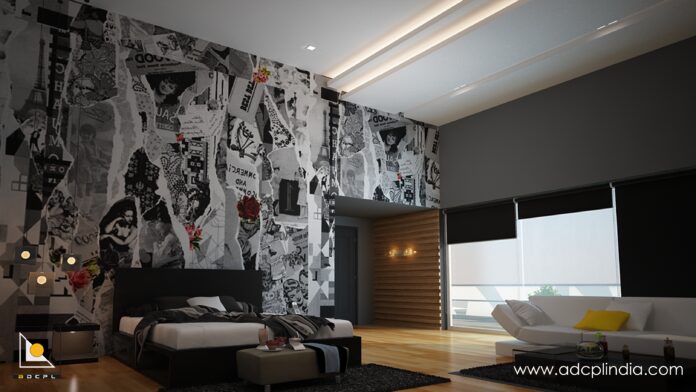 Advertisement
[adrotate banner="23"]
The Outhouse project in Faridabad, Haryana, designed for the renowned singer, Shrey Singhal by Ar. Amit Marao, founder, Aashray Design Consultants is an exceptional example of contemporary architecture and interior design. The designers have taken inspiration from music and have created a unique spiralling sculptural form that emerges from an articulated plane to create a one-of-a-kind built form.
The home overlooks a vast lawn leading to a semi-outdoor area and a lap pool connected to the sports bar by a glass wall. The double-height lounge is a grand space with a tapered ceiling, and the first floor has a tapered beam that has been utilized to create a shelving system showcasing Shrey's album covers on ceramic plates. The master bedroom is large with a Versace bed and customized wallpaper as the backdrop. The washroom has a circular jacuzzi in the centre overlooking a small terrace garden.
Advertisement
[adrotate banner="34"]
The Car-Lounge, just across the road, reflects Shrey's love for exotic cars and is not just a space to house his cars, but a multipurpose lounge where he can hang out with his friends. The interior space of the Car-Lounge has an exposed steel roof and metal girders with life-size sculptures of Hulk, Joker, and Star Trooper, along with graffiti on the left wall that showcases Shrey's lifestyle. "Since Shrey is very fond of movies, one may find a lot of movie characters in this space. First of all, we have a life-size sculpture of Hulk – which represents raw power. Then we have 'Joker' from the Batman series and 'Star-Trooper' from Star Wars. But the most highlighted wall is on the left which is completely covered in graffiti – showcasing Shrey's lifestyle. These elements bring a lot of vibrancy in this space and make it kind of unique." explains Amit.
Smart Integration
However, what makes this house truly unique is the integration of smart home technology, which enhances the overall experience of the residents. The state-of-the-art home theatre setup on the second floor has a 160" widescreen with a 7.1 channel mind-blowing audio system, fully controlled using home automation. With the use of this technology, lighting can be scheduled, mood lighting can be set with remote control, and full security can be achieved through CCTV and biometric access. The home theatre has an AV system and pre-sets scenes that can be controlled with a single click. The lounge can convert to a home theatre with just one click, curtains come down, lighting dimmers, fiber lights are switched on, AC is also pre-set, and a concealed projector comes down. As per the selection, the home screen appears. This is an exceptional example of how tailor-made solutions can save time and effort with just one click. The HVAC system is fully controlled by automation, allowing the residents to maintain a comfortable temperature throughout the house.
The Outhouse project is an exclusive and unique project that allowed the designers to pursue their desire for unique architectural expression. The house's personalization with musical sculptures, album covers, and movie characters added vibrancy to the space, making it truly one-of-a-kind. The integration of smart home automation technology is an example of how technology can be used to enhance the overall experience of the residents. The Outhouse project is a testament to how the integration of contemporary architecture, interior design, and smart home automation technology can create a unique and exceptional living experience.
Reference Guide:
Architect/Interior Designer: Aashray Design Consultants Pvt. Ltd.
Systems Integrator:  EzHomz
Lighting:  Philips
Security Cameras: AI-Based Panasonic camera
Digital Locks: Iseo, Multi-point locks
Biometrics: Ekey access control system
Networking Devices used: Engenius enterprise
Advertisement
[adrotate banner="30"]