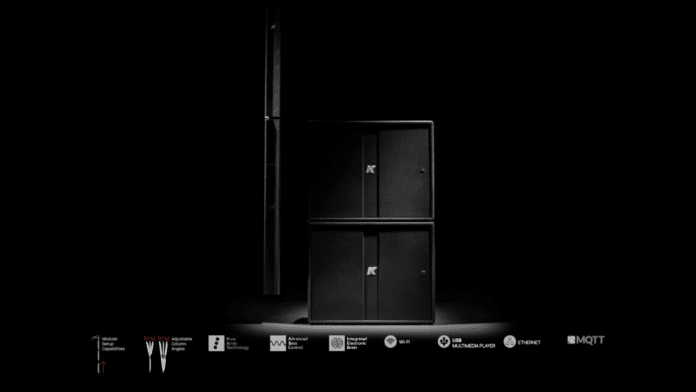 Advertisement
[adrotate banner="23"]
K-array's redesigned Lyzard Mark II loudspeakers combines premium audio and design with extreme miniaturized housing to create a product naturally designed for discreet use in a variety of intimate environments such as patio settings, outdoor kitchens, balconies, rooftop decks, firepits, and cabanas. No bigger than a chocolate bar and weighing less than a pound, the micro-loudspeaker range composed of the Lyzard-KZ1 I and Lyzard-KZ14 I, offers a new magnetic snap On/Off grille for a pure, minimalist aesthetic to make integration even easier. For outdoor applications that require the audio to be completely invisible, the KZ1 I and KZ14 I recessed versions fit seamlessly for flush mounting installations.
The Vyper Mark II loudspeakers are housed in an elegant and resistant 2-inch aluminum frame and also updated with a recessed feature for optimal mounting. The Vyper-KV25 II fits perfectly within a private cabana, pool area or outdoor kitchen. Moving up in size, the Vyper-KV52 II has a peak SPL of 114dB and selectable impedance, letting users select a resistance that suits their system and listening style best. Thanks to the top-to-bottom pass-through connector system, you can combine multiple Vypers into a line of sound to your liking, making this loudspeaker line perfect for environments where outdoor entertainment is paramount such as in dining areas, patios, and rooftop decks. Despite being the largest of the line, the Vyper-KV102 II is visually discreet enough to peak at 120 dB and still ensure focused sound near the listening field and at a distance.
Advertisement
[adrotate banner="34"]
For high-quality distributed systems and carved entirely from a single metal block are K-array's Tornado-KT2 and KT2C point source loudspeakers which feature a neodymium magnet structure and a suspension engineered for maximum linear excursion. The KT2 also has a wide operating frequency range with very low distortion and comes with wall brackets for fixed installations on flat surfaces such as a pergola, or fence post. Also available in a recessed model, the KT2C in-ceiling speaker is ideal for installations where there is no option to compromise on aesthetics.
Engineered to hide from sight without compromising on high-quality audio performance, the IP64 rated Rumble line of subwoofers are made entirely of steel, making it extremely resistant, even when deployed outside in tough weather conditions.
Varying in size, the Rumble-KU26, KU210 and KU212 are the ideal companions for K-array Lyzard, Vyper and Tornado speakers as the combination provides full range frequency response with prodigious output and a virtually invisible profile.
The Lyzard-KZ14 and KZ1 speakers are IP64 rated while the Tornado-KT2 and Vyper are rated IP65, combining innovation and functionality to elevate your audio setup. These speakers boast impressive IP ratings ensuring resistance against dust and water, making them ideal for outdoor applications. K-array Rumble line subwoofers are also IP64 rated and have the added benefit of being protected from some of the earth's harshest outdoor conditions.
For More Information:www.k-array.com
Advertisement
[adrotate banner="30"]