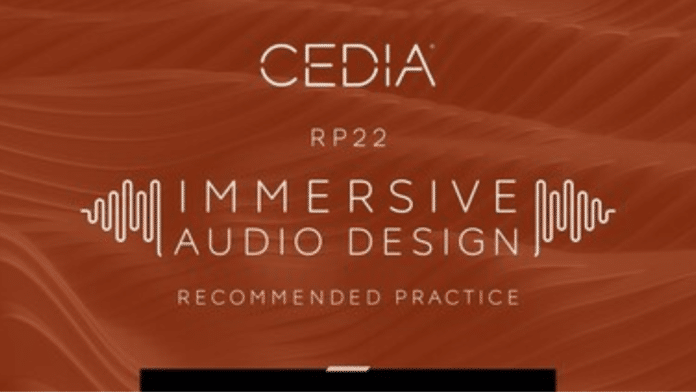 Advertisement
[adrotate banner="23"]
CEDIA, the association for smart home professionals™, has finalized a new recommended practice for immersive audio system design in collaboration with the Consumer Technology Association (CTA). CEDIA/CTA – RP22 Immersive Audio Design Recommended Practice is the first recommended practice to define an objective set of performance criteria for home audio systems.
"RP22 is nothing less than game-changing for our industry," said Daryl Friedman, Global President and CEO of CEDIA. "It will benefit integrators, manufacturers, and of course, homeowners who can be assured of the same high audio standards no matter the room. My sincere thanks go out to CEDIA's volunteers and staff who worked tirelessly for years to make this dream a reality."
Advertisement
[adrotate banner="34"]
Experts representing film studios, audio manufacturers, immersive audio standards and residential technology integrators collaborated for over three years to produce this set of guidelines. By combining input from content creators, device makers and system designers, RP22 presents a consensus that honors artistic vision while acknowledging physical and budgetary constraints. The new Recommended Practice has already been endorsed by manufacturers including Officina Acustica, PerListen Audio, Snap One, StormAudio, Triad Speakers and Trinnov Audio.
New Audio System Performance Targets
RP22 identifies 21 different performance parameters that can be predicted during system design, then tested and verified before system sign-off. Using these metrics, it sets criteria for four different levels of system performance:
Level 1 – conveys basic artistic intent.
Level 2 – a higher level of performance that more accurately conveys artistic intent.
Level 3 – meets or exceeds reference commercial cinema standards.
Level 4 – achieves the maximum level of performance across every parameter.
Consumers can use the performance levels defined in RP22 to define what they want from an audio system. Meanwhile, home technology professionals have a new tool to define the difference between off-the-shelf speakers and a state-of-the-art immersive home audio system.
"Any professionally integrated system should preserve the original creative intent of the audio. That's the minimum," says Walt Zerbe, senior director of technology and standards for CEDIA. "From there, RP22 sets criteria for systems that can equal or even exceed the experience of a commercial cinema."
Deep Technical Guidance for Immersive Audio
CEDIA/CTA – RP22 Immersive Audio Design Recommended Practice is the result of a joint effort by CEDIA and CTA to update their existing recommended practices for home theater audio design. RP22 expands on CTA/CEDIA-CEB22-B Home Theater Recommended Practice: Audio Design with design recommendations for an expanded array of applications and technological innovations, including:
Speaker layout recommendations for immersive audio formats, including Dolby Atmos, DTS-X, Auto 3D, and more.
"No matter how good your gear is, it takes engineering to produce the performance levels defined by this recommended practice. Audio interacts with its physical surroundings: The same speaker will sound completely different in a different room or position," says Zerbe. "RP22 goes well beyond setting benchmarks to include rich technical guidance for audio system design professionals."
Industry Support for RP22 Immersive Audio Design (in alphabetical order by company)
"The RP22 workgroup included A-list movie content creators, representatives for the various surround sound formats, music and movie industry standards developers, award-winning CEDIA members, theater designers and manufacturers. To have so many individuals come to a consensus on very difficult topics is immensely satisfying and gives me complete confidence in our final document." Adam Pelz, Owner and President, Bespoke Cinemas
"The Recommended Practice offers consensus on home cinema design from some of the industry's most knowledgeable individuals. It's a design document and tool for home entertainment spaces of all sizes, accessible to both industry newcomers and experienced engineers. These recommendations allow designers to aim for levels of performance with verifiable benchmarks." Ben Hobbs, Managing Director, Cinema@Home
"RP22 was created using a rigorous ANSI-accredited development framework and thoroughly peer-reviewed. Rather than the perspective of any individual, studio, format or manufacturer, this Recommended Practice represents a collective industry consensus that is beyond reproach." Ben Goff, Technical Director, Cinema Lusso
"Being part of the working group was a real eye-opener. We had input from some of the best minds in the residential technology industry as well as film studios and professional audio. The end result is a thoroughly comprehensive design document all integrators can use to deliver a more emotionally impactful end result, and thereby better serve clients at almost every price level." Owen Maddock, Owner, Cinemaworks
"This document provides objective parameters and recommendations for designing immersive audio systems within the broader context of entertainment spaces such as home/private cinemas, theaters, screening rooms and mastering environments. Notably, it remains neutral with respect to products and formats and is adaptable to a wide range of room sizes and budgets. My hope is that RP22 will lead to a shift away from a product-centric mindset, towards engineering design credibility." Peter Aylett, Partner, Officina Acustica and RP22 Workgroup Chair
"Having these clearly laid out performance levels and metrics pushes designers and engineers to come up with solutions to achieve these standards and educates end users on what is achievable in a home entertainment. We've already started putting RP22 into practice and have clients who are curious about the different performance levels." Keshav Nelavai, Lead Engineer, Paradise Theater
"Thanks to this new set of guidelines, private cinema connoisseurs who are navigating their way to their own dream cinema can rest assured that they will receive superb performance from their audio systems – not as a matter of opinion, but as a matter of fact. Bravo CEDIA!" Sam Cavitt, Founder & CVO, Paradise Theater; Publisher, The Cinema Connoisseur
"RP22 sets new and clear guidelines for the levels of experience a consumer should expect in their next home theater project and how the integrator will help them achieve those goals. As a manufacturer helping develop these standards, it was enlightening to better understand the challenges integrators face and how our products can help." Erik Wiederholtz, CTO, PerListen Audio
"RP22 is a valuable document for anyone involved in immersive audio. RP22 brings cohesion to design guidelines and performance objectives when adopting today's modern day audio formats to entertainment spaces. As a manufacturer, knowing the parameters outlined for each of the performance levels in RP22 will help us provide products to our dealers and integrators that can better serve these purposes." Shawn Nageli, Staff Engineer, Audio, Snap One
"[RP22] gives integrators the tools to predict and present different levels of performance to their customers, bringing into light in tangible ways all that is involved to design a listening space. As a manufacturer, StormAudio assures that our products comply with the requirements, thus guaranteeing integrators can meet the top performance expectations and offer satisfaction to the end customer." Sébastien Gailleton, Head of Product and Support, StormAudio
"RP22 represents the first time that so many key concepts are assembled in a coherent and practical way, and it introduces breakthrough concepts such as performance grades and unified speaker layouts for immersive sound. This is THE audio design reference document for our industry." Arnaud Laborie, CEO, Trinnov Audio
"The residential technology, audio, and film industries all stand to benefit immensely from the knowledge and guidelines within RP22. It has the power to elevate hardware performance, improve system designs and elevate knowledge and professionalism among custom electronics integration." Craig Eggers, Independent Consultant and Former Senior Director, Home Theater Business Unit, Dolby Laboratories
Advertisement
[adrotate banner="30"]