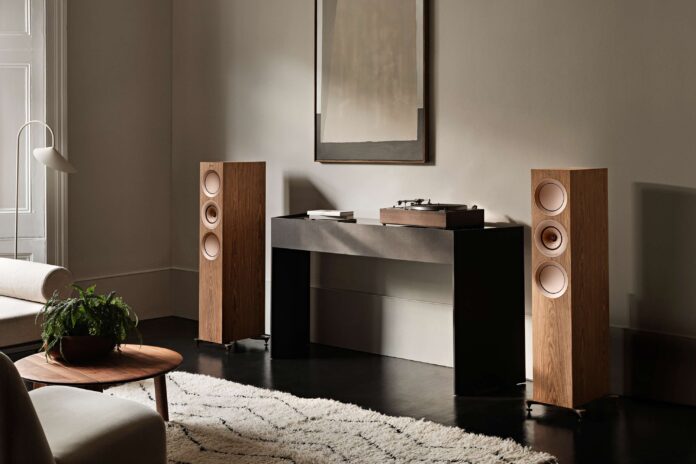 Advertisement
[adrotate banner="23"]
KEF has introduced the latest generation of the R Series HiFi Speakers, now featuring Metamaterial Absorption Technology (MAT). The R Series is a seven-model range engineered to provide superior performance with more detail, deeper insight, and greater excitement.
At the heart of the latest R Series is MAT, a highly complex maze-like structure where each of the intricate channels efficiently absorbs a specific frequency. When combined, the channels act as an acoustic black hole, absorbing 99 percent of the unwanted sound from the rear of the tweeter, eliminating the resulting distortion and providing a purer, more natural acoustic performance.
Advertisement
[adrotate banner="34"]
A bespoke 12th-generation Uni-Q driver array with MAT is found in all seven models of the R Series. The detail and clarity delivered across the R Series range result from a selection of tweaks and modifications specifically for this collection — from the refined tweeter gap damper that tames resonances for improved detail, to the flexible Decoupling Chassis, which prevents unwanted vibrations for better clarity. The hybrid aluminum bass drivers produce tight, deep, and controlled bass, and the enhanced crossover design and fine-tuned signal path result in clean sound.
The R Series comprises seven models:
The two center speakers, including R6 Meta and R2 Meta, which can also be used in LCR (Left-Center-Right) configuration, deliver dialog clarity to the home theater experience in different room sizes. Identically sized Uni-Q arrays are deployed on the center speakers and all other models in the series. This creates a consistent sound character, ensuring that the focus is entirely on the film and not the equipment around the room.
A trio of floor-standing speakers, including R11 Meta, R7 Meta, and R5 Meta, and a bookshelf speaker R3 Meta, reproduce high-fidelity stereo sound for listeners' favorite music irrespective of the dimensions of the listening space. Each of them will allow users to discover depth and detail they never knew existed — from a scrap of plectrum on a guitar string to the sense of emotion and atmosphere in a live performance.
If users want to experience immersive Dolby Atmos sound, the R8 Meta surround speaker is an ideal addition to the system. It can be either wall-mounted or placed on top of another R Series loudspeaker. With the addition of any of KEF's subwoofers, the whole cinematic experience is felt, from the deepest impact to the softest whispers.
Each model in the R Series comes in a choice of three finishes: Black Gloss, White Gloss, and Walnut. Two models also have their own signature finish options: the Titanium Gloss Special Edition for R7 Meta, and the Indigo Gloss Special Edition for R3 Meta. The R3 Meta also features threaded insets that allow the speaker to be mounted securely onto the top of the KEF S3 Floor Stands, which also boast integrated cable management and a mass-loadable column.
For More Details: us.kef.com
Advertisement
[adrotate banner="30"]