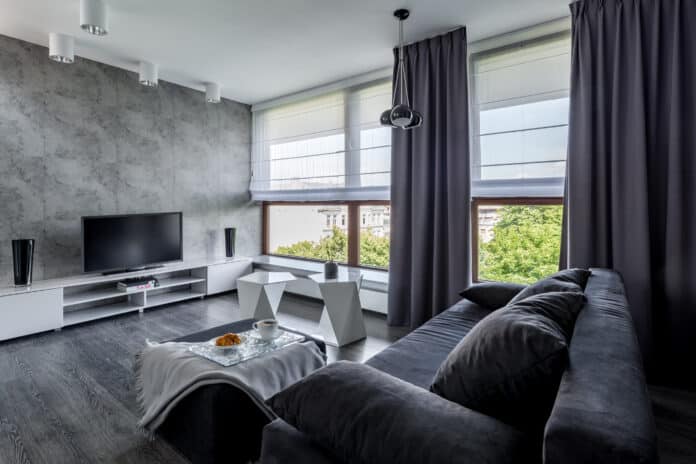 Advertisement
[adrotate banner="23"]
Architects and Interior designers often find themselves in a situation, where their clients ask them, why they should opt for Smart Automated Shades and Blinds. We have the answers to all of your questions right here.
Smart automated Shades and Blinds are no longer a fancy option. Gone are the days when their use was restricted to high-end homes and commercial projects because they were expensive! Today, many national and international brands in the market offer various options that are competitively priced. Plus, they can be integrated with Amazon Alexa, Apple HomeKit, Google Home, and Samsung SmartThings ecosystems, etc. The most popular brands in this segment are Somfy, Lutron, Hogar Controls, Hunter Douglas, Crestron, Buildwell Motors, A-OK Motors and Funk Motors to name a few.  
Advertisement
[adrotate banner="34"]
Market Drivers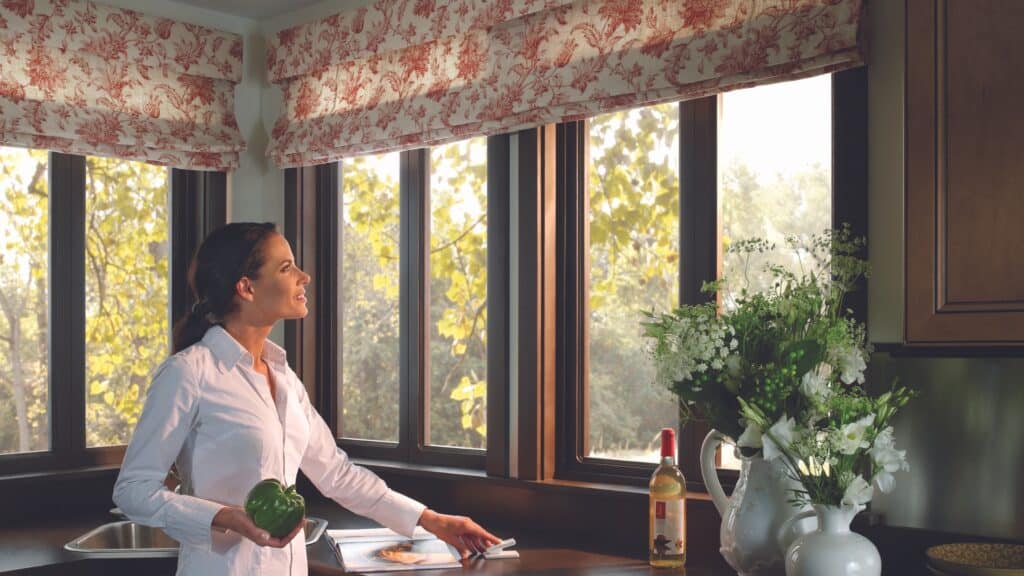 The major reason for the increasing popularity of smart shades and blinds is the latest advancements and the convenience it offers to users. According to Fortune Business Insights, the global blinds and shades market is projected to grow from $6.12 billion in 2022 to $8.76 billion by 2029, at a CAGR of 5.27% in the forecast period, 2022-2029.
There are many reasons for the rising demand, and according to Future Market Insights, innovative energy-saving features in blinds and shades are drawing in more customers. Moreover, this is expected to significantly support the concept of smart buildings coupled with distributed energy systems. Growing consumer awareness of customizing product solutions offered by various manufacturers in the blind and shades market is also one of the reasons fueling the growth of the global blinds and shades market.
Smart Shade Controls
There are various types of smart shade controls offered by different manufacturers. The most popular way to operate smart shades will be via Apps. There are dedicated Apps from the maker designed specifically for a given smart shade. In other instances, the smart shade may function with one or more of the popular smart home ecosystems, including Apple HomeKit, Google Home, Samsung SmartThings, and Amazon Alexa.
Smart Displays like the Google Nest Hub or Nest Hub Max can provide touch control for smart shades, though the controls might only be able to open and close the shades in the most basic of ways. Smart shades frequently use Works with Google integrations to connect to Google smart displays. Integrations with Amazon Echo Show displays might also be feasible. Smart speakers are built into smart displays, allowing voice commands to be used with them as well.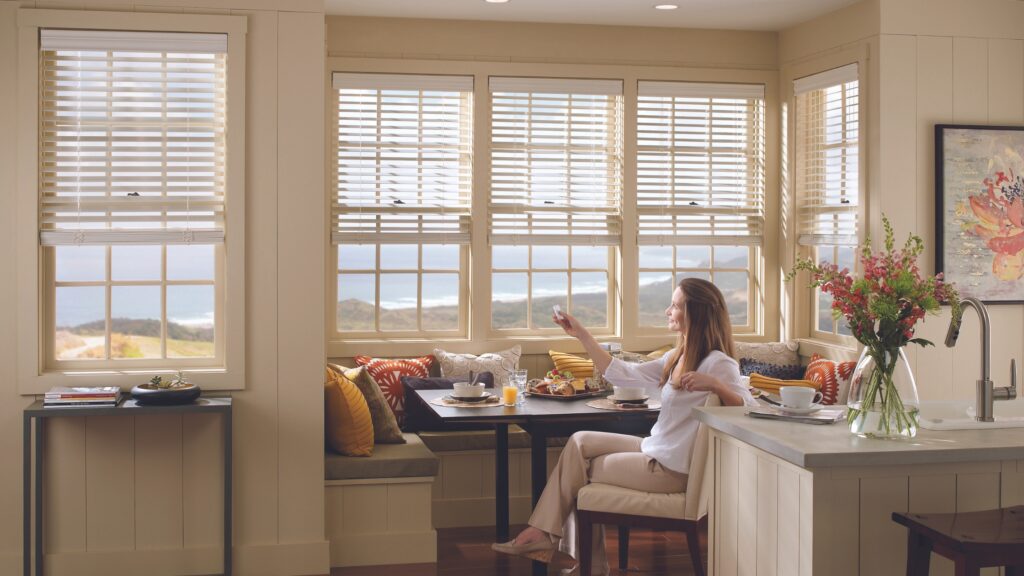 The feature of Voice Control with Amazon Alexa, Apple Siri, or Google Assistant may indeed be an option for a given smart shade, but enabling that functionality may require an add-on smart speaker or smart home hub.
Many smart shade makers offer a companion Wireless Remote Control option. These can be convenient when you want to operate an individual shade without having to locate your smartphone or try to recall a specific voice command. They can be snapped to the wall or sit on a coffee table for easy access. These may communicate with the smart shade via radio frequency (RF), Z-Wave, Bluetooth, or other wireless communication protocols.
Another option for some brands of smart shades is In-Wall Lighting and Control Systems. These smart lighting controls can be equipped with optional colour LCD touch-screen displays to control smart shades and other devices in addition to replacing standard lighting wall switches.
Whole-Home Automation Systems are another option that are expensive systems, which system integrators can install, and can integrate motorized and smart shades. They have dedicated on-wall touch panels, remote controls, and mobile device controls.
Smart Home Scenes can also be used to control groups of smart shades. In this case, scenes have been set up to operate all the shades in the house with a single tap, or even just one room at a time. A lockdown scene has been set up to lock all of the doors and secure the smart door locks in addition to simultaneously closing all of the shades.
Smart Home Scenes By tapping a button in an app, scenes allow multiple smart shades to be controlled simultaneously. These scenes can be combined to control other smart home accessories connected to the same network, like smart door locks or smart lighting, and they are simple to set up. Typically, voice control can also be used to run scenes.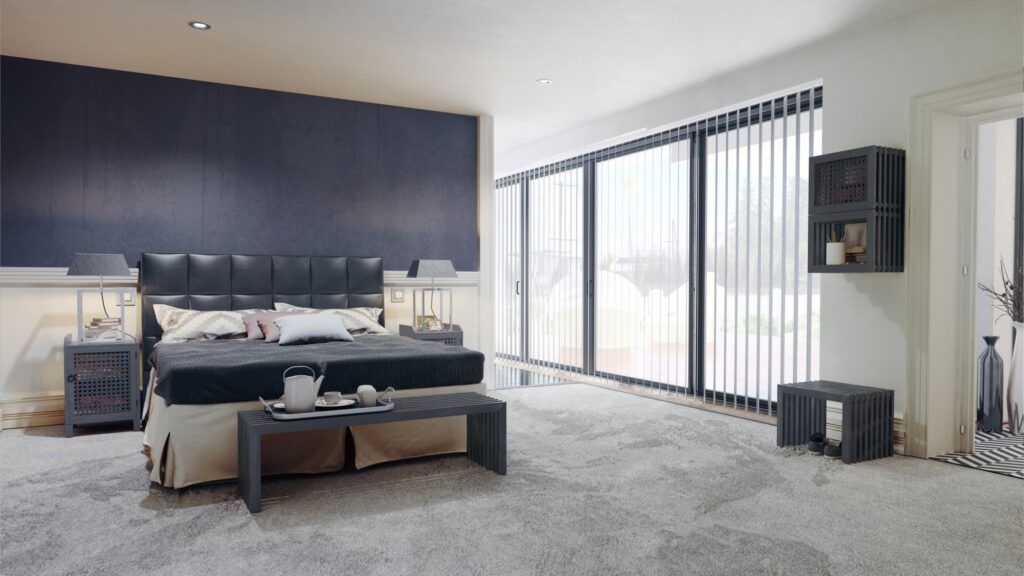 Smart Home Ecosystem Integration
The new Matter Standard may change everything over time, but today the compatibility of smart shades between the Amazon Alexa, Apple HomeKit, Google Home, and Samsung SmartThings ecosystems is very mixed.
Smart shades that include onboard Z-Wave or Zigbee radios can offer the best integration across the ecosystems, particularly when used with the Samsung SmartThings platform. They are also a good bet for the long term since they will ultimately work with Matter and are also among the favorites of professional integrators.
The Samsung SmartThings ecosystem offers a broad range of integration options for smart shades. The latest SmartThings hub offers both Z-Wave and Zigbee radios, and can manage an entire home fitted with smart shades and other smart accessories.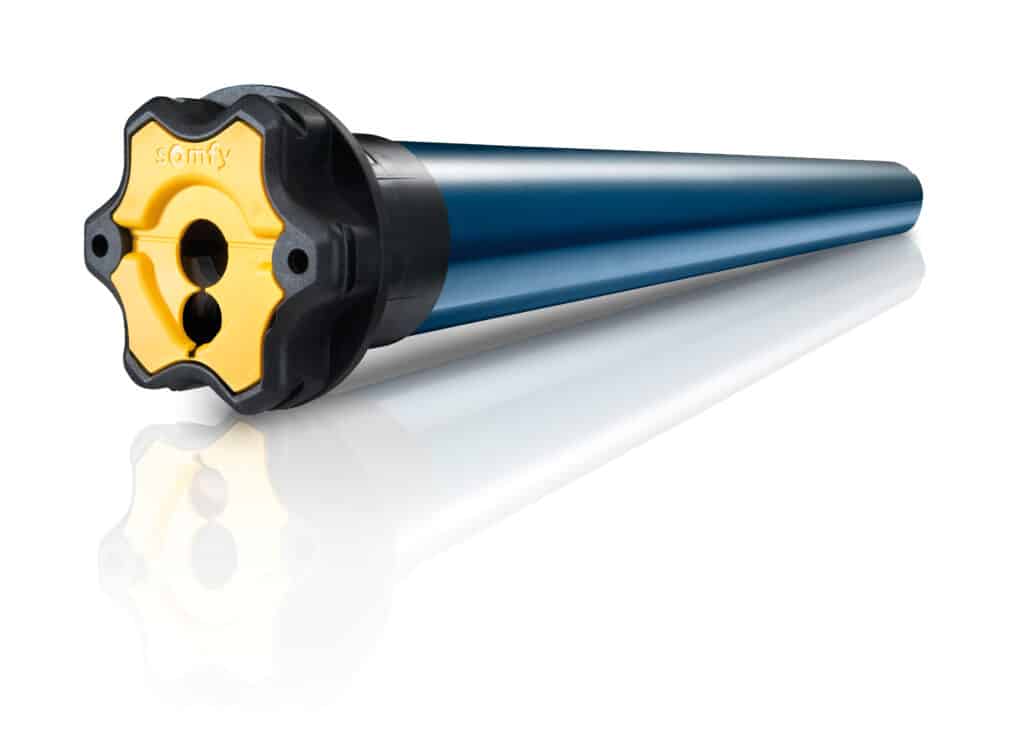 Somfy one of the prominent brands in this segment offers curtains and tubular shades that operate flawlessly, are the fastest and quietest shades available, and are compatible with all popular smart-home platforms. They help save energy and improve home security. Sonesse 50 Ultra are the ultra-quiet motors from Somfy for interior blinds. The newly patented and improved spring brake eliminates stopping and tilting noise. Glydea Ultra is packed with innovations that provide an acoustic performance of less than 38dBA, one of the quietest motorization solutions in the market. Adding Taral Trivedi, Managing Director, Somfy India says, "Somfy offers both motorization and control solutions for various window covering and access applications such as Interior blinds and curtains, Shutters and sun protection, connected home, access management, security. Somfy offers control solutions on open protocol platform of digital and wireless technologies available in the market, reference Dry Contact, RS485, Zigbee, KNX, IFTTT which allows third-party systems to be able to integrate seamlessly with Somfy motors. These controls allow for interoperable options of read and write commands which in turn allows the end user to establish two-way communications where you get reports on status checks and error feedback. Further extending the flexibility of control strategies, Somfy offers API-based services for customized integration with third-party automation systems in the market. Somfy has partnered with leading technology providers and system integrators in the market to offer end-to-end customized solutions."
Adding insight on the Smart Shades and controls, Jubin Thomas, Territory Sales Manager, Lutron says, "Lutron designs and manufactures smart shades and lighting controls. We don't just care about the performance of our smart shades such as silent operation and perfect alignment, but also the aesthetics including the shades themselves and the controllers to control the shades. We have various styles of controllers like Palladiom Keypads, Alisse Wall Controls, and a wireless controller named Pico, offering our customers different designs, finishes, and applications to meet their needs. Lutron offers seamless integration between our smart shades and lighting controls and various control option like wired, wireless, timeclock, voice, and mobile app control. On top of this, users can add in sensors like occupancy sensors or daylight sensors. With occupancy sensors, it will allow the shades to open or lights to turn on automatically when a room is occupied, or vice versa. With daylight sensors, the shades will move according to the sun positioning and incoming daylight. This is what Lutron calls total light control with utmost intelligence."
One of the major components of Smart Shades and Blinds is smart motorization. It is one of the most important components, while many smart home accessories may operate invisibly in the background, it's the built-in shade motors whirring in sync with onboard wireless radio chips and software that make smart shades the most convenient choice for users.
One of the most trusted and popular brand that offers a wholesome solution is Hogar Controls. The Brand offers Smart Curtains & Blinds with varying degrees of intelligence based on usage. They have the widest and unique range of products which includes Curtain Motors that support 40-130 KG of load and blind motors which can take 15-150 KG of load. Being a leader in Home Automation they provide multi-protocol compatibility for their motors be it Z-wave, Zigbee, Wi-Fi or KNX. Hogar Controls' VL40 & VL60 motors are one of the smartest available in this segment. Not only can you connect them with any 3rd party automation, one can use them seamlessly via App and Voice Control without even using any Automation system all together. The motors have an automation chip in built which allows them to operate via Hogar App and Alexa by just connecting to available Wi-Fi Network. And the smart curtain module allows any brand motor be it curtain or blind operate seamlessly on Hogar App.
"Apart from a wide range of Smart Motors we offers smart accessories which includes flexible tracks, Multi-Channel Remotes, Smart receiver, Smart Touch Panels etc. Their USP includes integration with any Smart Home Automation, Super silent motors, compatibility with voice assistants, compatibility with roller, roman, venetian, skyline and zebra blinds, says Jaspreet Singh Bhatia, Vice President Hogar Controls
While Buildwell Motors manufactures tubular and curtain motors that can be used to automate venetian blinds, wooden blinds, roller blinds, and curtains. Their motors can be controlled using their beautiful glass facia RF remotes, Smartphones using Wi- fi or any wired/wireless home automation. Their motors are compatible with all home automation systems. They are the only curtain motor company in India, manufacturing all plastic components, aluminium tracks and metal hardware in-house, which gives them the advantage to control quality in comparison to other companies who import from other countries.
Smart motorization undergoes regular technical updates. The most recent is the AM75 Curtain Motor by A-OK, a new generation Helical Gearbox design Curtain Motor with Superior Performance, good load bearing capacity, being one of the highest in its segment, and can work on multiple platforms such as Home Automation via dry contact, Home Automation via high voltage AC power supply, with a remote control device, as well as voice commands over leading platforms such as Amazon Alexa, Google Home, etc. and loaded with all the leading features.
Advantages of Shades and Blinds
Light Control, and Comfort.
Whether your goal is to maximize or minimize daylighting, reduce glare, or simply stay comfortable, smart shades can make it easy to automatically control the amount of light coming into your windows to meet the needs of the moment. This modulation can happen many times throughout the day and can be tailored on an individual window or group of windows basis. You may want all of your shades to open at sunrise and close at sunset, or have them open or close at different times during the day based on their orientation to the sun, time of day, and depth of overhangs. Most shades are made from llight-filtering fabrics and can be adjusted by voice control to bring in softened daylight. They are each powered by 8 AA batteries, housed in wands hidden behind the shade housings.
Solar Heat Gain and Loss + Energy Savings.
Automations on a schedule can help minimize solar heat gain through your windows on hot days by closing the shades (to reduce cooling loads), or maximizing solar heat gain on cold days by opening them (to reduce heating loads). These hands-off automations can help save on energy costs throughout the year.
Now that we have understood the technical part we give you the option to select the right type of shades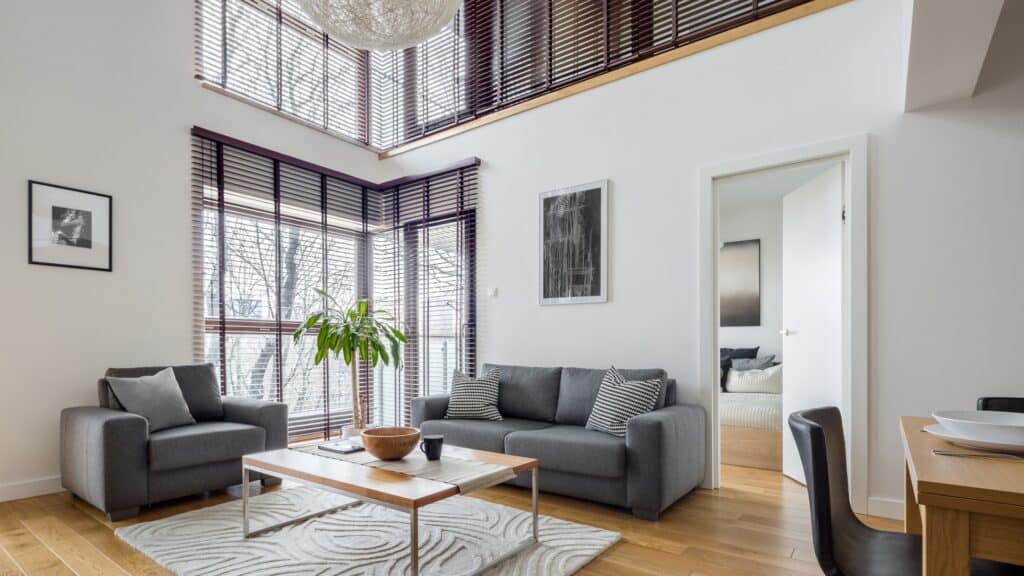 Types of Smart Shade Designs.
Smart shade types and designs can be as varied as the windows they are intended to cover.
Roller Shades. Roller shades are the most universal of all smart shades, and nearly every manufacturer will offer them in their product line-ups. Mechanically, these are the simplest of all motorized shades and generally require the least amount of lift force from the motor—meaning the batteries tend to last longer. Their cost tends to be at the lower end of the smart shade range.
Layered Shades. Among the newest designs are smart layered shades (often called banded shades or zebra shades), where the shade consists of two layers or fabric with alternating bands of sheer and opaque material. They tend to be at the higher end of the cost range, and can be the most dramatic to watch as they raise, lower, or adjust.
Sheer Shades. Also among the newer designs are smart sheer shades (often called soft blinds), all-fabric shades that have two layers of fabric connected by fabric vanes. They function more like Venetian blinds, and also tend to be at the higher end of the cost range.
Cellular Shades. Cellular shades (also known as honeycomb shades) are also offered by many smart shade manufacturers, and these are generally in the middle of the cost range. They typically offer more energy savings than other designs due to the air trapped inside the cellular vanes.
Venetian Blinds. There are many smart Venetian blinds on the market to choose from. Due to the nature of their design, they tend to be heavier and require more lift force than other designs—so typically the lift operation is not motorized. Instead, the motorization and automation are restricted to tilting the vanes for light control. These shades can be made of aluminum, vinyl, wood, or other materials. Cost tends to be at the lower to middle segments of the range.
Types of Smart Shade Power Options.
Smart shade motorization requires continual access to electrical power. While many smart shades will be powered via batteries, shades operate via wireless connections. Plug-in Power Adapters is also a viable option, particularly where you plan on installing a large number of shades throughout the home. Hard Wiring can be installed on dedicated in-wall control boxes and power supplies in strategic locations. This will enable you to invisibly hide all wires in the walls. Solar Panels are offered by Some manufacturers. In this case, a small solar panel positioned near the shade is used to keep the batteries recharged. This may be a good option where the window location receives sufficient sunlight to fully recharge the batteries each day.
Now that we have cleared all your doubts and provided our readers with the latest updates we are sure you are confident to make the right choice.
Advertisement
[adrotate banner="30"]