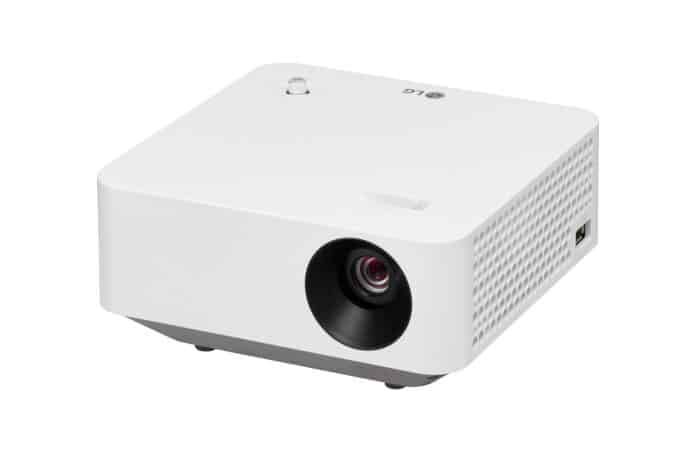 Advertisement
[adrotate banner="23"]
LG Electronics USA has introduced and announced the immediate availability of its new CineBeam Smart Portable Projector, joining the brand's extensive line of premium CineBeam models. Weighing in at 2.2 pounds, the CineBeam Smart Portable Projector is made to deliver a transformative home theatre experience with ease in any room. The PF510Q model is currently available on the website for $599. From streaming favourite movies to engaging in a virtual fitness class, users can enjoy the versatility and portability of the PF510Q projector.
The PF510Q is LG's new innovative projector that offers users a unique entertainment experience without sacrificing convenience or quality. Strategically built with a lightweight and compact design, the PF510Q is easy to carry from room to room or on the go and blends seamlessly with any space. The Smart Portable Projector presents a wide range of display sizes from an intimate 30″ up to an impressive 120″, providing the benefit of adjusting the screen size to best-fit for a variety of viewing preferences. Its full HD resolution allows users to watch movies or play video games in high quality, whether they're studying in a small room or enjoying a movie in their backyard. Additionally, the PF510Q's Auto Vertical Keystone feature adjusts the vertical keystone alignment, eliminating tilts and distortion for crisp, incredible views.
Advertisement
[adrotate banner="34"]
LG's PF510Q projector offers smart access compatibility with all the favourite streaming services and devices. Disney+, PrimeVideo, YouTube, AppleTV+ and more are available and easy to access on webOS 22. The PF510Q's Apple Air Play & Apple Home compatibility features enable wireless control of the projector plus streaming capabilities from Apple devices. Separately, content can be wirelessly casted from Android devices to the mega-sized projector screen using integrated Screenshare. Thanks to the CineBeam's Simple Remote and simplified user interface, users can feel confident in navigating the projector with ease.
Sound is just as important when it comes to immersing yourself in the content you watch. The Bluetooth Audio Dual Out feature allows the CineBeam PF510Q projector to create sound to user preference. Whether pairing two Bluetooth devices to watch with a friend or amplifying a movie with two external speakers for full immersion, the projectors' Bluetooth features allow users to always have full control in any environment.
Specifications: PF510Q
Price (US): $599.99
Native Resolution: Full HD (1920×1080)
Projection Size (Screen Size): 30″ ~ 120″
Aspect Ratio: 16:9/Original/4:3/Vertical Zoom/ 4-Way Zoom
Throw Ratio: 1.2
Brightness (ANSI Lumen): Up to 450 ANSI Lumens
Contrast Ratio: 150,000:1
Light Source Life: Up to 30,000 Hrs
Light Source: 4Ch(RGBB) LED
webOS: Yes
Built-in Speakers: 5W Mono
Bluetooth (with speaker): Yes
Size (W x H x D): 5.8″ x 2.6″ x 5.8″
Weight: 2.2 Lbs. (0.9 kg)
For more information on LG's CineBeam projectors, visit www.LG.com
Advertisement
[adrotate banner="30"]