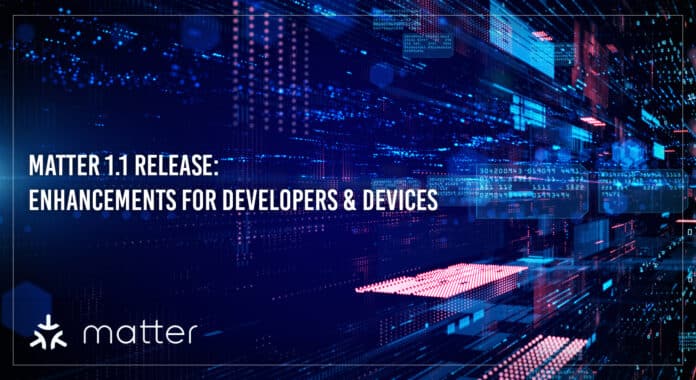 Advertisement
[adrotate banner="23"]
May 19, 2023 – The Connectivity Standards Alliance is delighted to announce the release of Matter 1.1, which marks a significant milestone in the ongoing development and progress of this evolving technology. This release is the result of the collective effort of hundreds of companies and individuals who are members of the Alliance, contributing to the advancement and success of Matter. Matter 1.1 introduces several improvements that empower developers and facilitate new user experiences, preparing the platform for the next phase of its journey.
The updates included in Matter 1.1 provide device makers and developers with an improved starting point for working with Matter and streamlining the certification process, enabling faster delivery of products to users. Furthermore, the release enhances support for battery-operated devices, a critical feature across a wide range of smart home categories.
Advertisement
[adrotate banner="34"]
A key differentiating factor of Matter is its publicly available specification and open-source software development kit (SDK), enabling developers to work from a common specification and code base. Taking into account valuable feedback from members and early developers, the Alliance has made clarifications and improvements to the specification, making it more user-friendly and accessible. The updates also provide better guidance for developers to contribute and add support for new device types to the Matter specification.
In terms of testing and certification, Matter 1.1 introduces new enhancements in automation, simplifying the pre-qualification process for device makers and ensuring successful certification. These enhancements also benefit Authorised Testing Laboratories (ATLs) by making testing more efficient and comprehensive.
Matter 1.1 significantly enhances support for Intermittently Connected Devices (ICDs), also known as `sleepy devices.' These devices, including contact, motion, and temperature sensors, as well as door locks and switches, often rely on battery power and require efficient power management for optimal operation and lifespan. The improved support in Matter 1.1 reduces the likelihood of devices being reported as offline during user interactions, enabling developers to optimize their products and deliver better user experiences.
All these enhancements are now incorporated into the Matter SDK and API, underscoring the continuous commitment of the working group to improving Matter products and enhancing the overall Matter developer experience.
Since the launch of Matter 1.0 in October 2022, there have been significant engagement and adoption, with 17,991 downloads of the specification and 1135 new products certified by the Alliance. This growing momentum has attracted more than 60 new members to join the Alliance since the release of the specification. These statistics demonstrate substantial progress towards achieving the envisioned future for the Internet of Things (IoT), where Matter aims to address challenges related to security, connectivity, innovation, complexity, and trust.
Developers who are interested in exploring these enhancements can access the following resources:
Alliance Opens New Interoperability Test Facility in Portland, Oregon
In a further effort to accelerate progress towards the IoT future, the Alliance is pleased to announce the inauguration of its Interoperability Testing Facility (ITF) for Matter products. This state-of-the-art facility provides interoperability testing services to Alliance members engaged in the development of Matter products for certification. The ITF is equipped with an extensive range of Matter controllers, hubs, and end devices, specifically configured to simulate typical sets of devices and installation configurations found in residential settings.
Interop testing goes beyond the compliance testing conducted for certification purposes, allowing for comprehensive evaluation of product behavior and user experience in real-life settings. It encompasses various products, hubs, and controllers from different brands, operating across diverse network configurations, including mobile apps and controller interactions. The feedback generated from this testing process is invaluable for device, app, and platform developers, with the ultimate goal of enhancing product quality and improving the user experience.
The ITF, located in Portland, Oregon (US), is staffed by Alliance personnel. Alliance members have the opportunity to utilize these facilities by booking slots to attend in person, witness interop testing, or by sending their products for testing in their absence. To book a slot or inquire further, please email your request to [email protected]. The ITF also offers a testing environment for Zigbee products.
Moving Matter Forward
With the release of Matter 1.1, the Alliance and its members have prioritized making Matter more user-friendly and expediting product launches. Additionally, the launch of the ITF underscores the Alliance's commitment to continuously improving user experiences with Matter products.
Following the launch of Matter 1.0 in the fall of 2022, the Alliance set a goal of a biannual release cycle. Currently, work is underway for the next version of Matter, which will introduce new features and expanded device type support, expected to be released later this year.
As an open, industry standard, companies interested in bringing their ideas and device type support to Matter are encouraged to join the Connectivity Standards Alliance and the Matter Working Group. To learn more about membership, please visit www.csa-iot.org
Advertisement
[adrotate banner="30"]