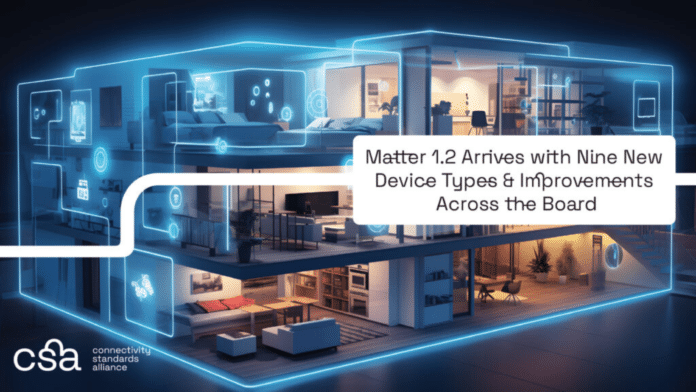 Advertisement
[adrotate banner="23"]
The Alliance is thrilled to announce the arrival of Matter 1.2, the latest update that device makers and platforms can integrate into their products. This update introduces nine new device types, substantial revisions, and additions to existing categories, as well as significant enhancements to the specification and SDK. Additionally, it includes certification and testing tools to ensure a seamless user experience. The Matter 1.2 certification program is now open, with plans to bring these innovations to the market throughout 2024 and beyond.
Over a year since the release of Matter 1.0, we've witnessed remarkable growth. With over 24,600 downloads of the spec, 1,214 certifications, and a nearly 24% increase in companies joining the Matter Working Group, the progress has exceeded our expectations. The introduction of the Alliance Interoperability Test Facility has accelerated Matter's adoption, allowing users to update their existing smart home hubs and devices, creating a global market with the potential to connect hundreds of millions of homes. This market includes a wide range of Matter products from renowned brands, available in users' homes, on their mobile devices, and in stores.
Advertisement
[adrotate banner="34"]
As users continue to connect more Matter devices, member companies actively collaborate to address challenges and improve the specification. The recent release of Matter 1.1 brought incremental enhancements and solidified the commitment to bi-annual updates. With the requirement for Matter certified products to support over-the-air software updates, the platform remains agile and open to new features, device types, and improvements.
Nine New Device Types Matter 1.2 introduces support for nine new device types, expanding interoperability, simplicity, reliability, and security while unlocking new use cases and features for the future. These new device types include:
Refrigerators: Beyond temperature control, this covers devices like deep freezers and specialized fridges.
Room Air Conditioners: Now supported as standalone devices with temperature and fan mode control.
Dishwashers: Featuring remote start, progress notifications, and alarms for operational errors.
Laundry Washers: Offering progress notifications, with support for dryers in future releases.
Robotic Vacuums: Includes advanced features such as cleaning modes and status details.
Smoke & Carbon Monoxide Alarms: Supporting notifications, audio/visual alarms, battery status alerts, and self-testing.
Air Quality Sensors: Reporting on various air quality metrics.
Air Purifiers: Utilizing air quality sensors, fans, and thermostats.
Fans: With enhanced features like oscillation and airflow direction control.
These additions provide a strong foundation for future appliance support, offering features like temperature setting and monitoring and status notifications that will apply to a wide range of appliances.
Other New Features & Improvements Matter 1.2 goes beyond new device types. Core improvements to the specification include enhancements for European door locks, device appearance descriptions, hierarchical device composition, semantic tags, and generic descriptions of device operational states.
Under-the-Hood Enhancements: Matter SDK & Test Harness Matter 1.2 brings crucial improvements to the testing and certification program. New platform support is added to the SDK, while the Test Harness is now open source, making it easier for Matter developers to contribute and stay up-to-date.
Looking Ahead With Matter 1.2 available to device and app makers globally, the work on Matter continues to evolve. Teams from leading technology brands are actively developing future device types, features, and use cases. The smart home ecosystem will continue to expand, with new products entering the market and software updates enabling existing products. In 2024, Matter will receive two new updates, further expanding device types and capabilities.
As we head into the holiday season, consumers can expect to see an increasing array of Matter-enabled products on retail shelves. The future looks bright for Matter, as it continues to transform the smart home and IoT landscape, bringing innovation and convenience to consumers and developers alike.
For More Information: www. csa-iot.org
Advertisement
[adrotate banner="30"]