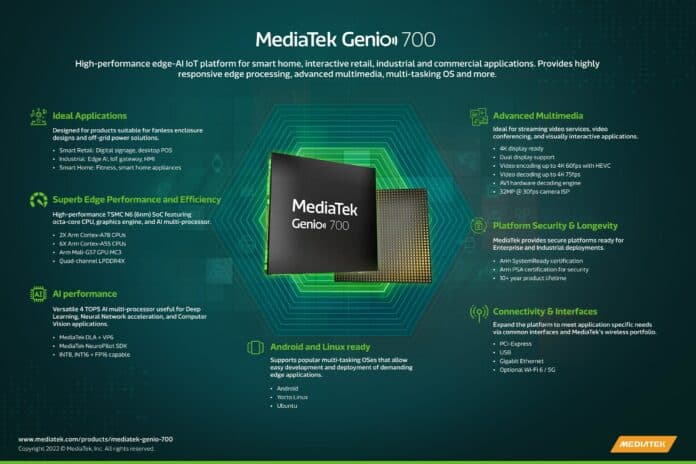 Advertisement
[adrotate banner="23"]
Ahead of CES 2023, MediaTek has announced the latest chipset in the Genio platform for IoT devices, the octa-core Genio 700 designed for smart home, smart retail, and industrial IoT products. The new chipset will be featured as part of a demo at MediaTek's booth at CES 2023.
With a focus on power efficiency, the MediaTek Genio 700 is a N6 (6nm) IoT chipset that boasts two ARM A78 cores running at 2.2GHz and six ARM A55 cores at 2.0GHz while providing 4.0 TOPs AI accelerator. It comes with support for FHD60+4K60 display, as well as an ISP for better images.
Advertisement
[adrotate banner="34"]
"When we launched the Genio family of IoT products last year, we designed the platform with the scalability and development support that brands need, paving the way for opportunities to continue expanding," said Richard Lu, Vice President of MediaTek IoT Business Unit. "With a focus on industrial and smart home products, the Genio 700 is a perfect natural addition to the lineup to ensure we can provide the widest range of support possible to our customers."
The Genio 700 SDK allows designers to customize products using Yocto Linux, Ubuntu, and Android. With this support, customers can easily develop their own products with a minimal amount of effort, regardless of application type.
Additional features of the MediaTek Genio 700 include:
Supports high-speed interfaces, including PCIe 2.0, USB 3.2 Gen1 and MIPI-CSI interface for camera
Dual Display support FHD60+4K60 with AV1, VP9, H.265 and H.264 (video decode) support
Support for industrial grade design and wide temp with 10 years longevity
ARM SystemReady certification for providing a standard and easy way to integrate the platform
ARM PSA certification for increased security
The Genio 700 will be commercially available starting in Q2 2023. To learn more about the MediaTek Genio platform and the Genio 700, please visit: https://www.mediatek.com/iot/home
Advertisement
[adrotate banner="30"]