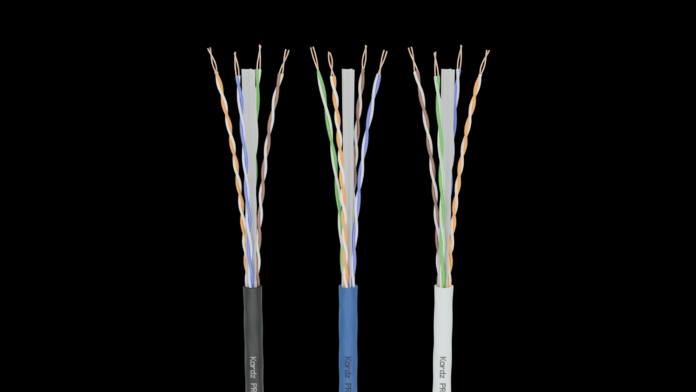 Advertisement
[adrotate banner="23"]
Backed by 20 years of global manufacturing experience and deep knowledge of the systems integration industry, multi-award-winning professional-grade cabling manufacturer Kordz understands what systems integrators need to design and install robust, reliable networks quickly and efficiently. Its latest innovation, SlimCat™, comprises bulk-reducing 4mm diameter Category 6 cable, and specially designed RJ45 crimp connectors and RJ45 keystone sockets for robust, compact end-to-end connectivity.
A one-of-a-kind cabling solution developed to streamline installation in smaller spaces or where retrofitting cable is difficult, SlimCat™ fills a void in the industry while supporting 100W PoE++ and delivering 1Gbps network connectivity up to 50 meters. Illustrating the company's strong belief in the value of robustness, the new SlimCat™ system incorporates Kordz's 2000-cycle latch, the same one used in the patented connector in Kordz's popular patch cords.
Advertisement
[adrotate banner="34"]
"For some projects, standard Category 6 cable is too bulky to install easily and discretely. Structured cabling is a mature and saturated market, so we decided to approach the category differently by developing a complete Category 6 networking system of products that takes up significantly less space to reach areas that other cabling solutions can't," says James Chen, Kordz Managing Director. "The diameter of the unshielded 28AWG SlimCat™ cable is half the size of 23AWG and 24AWG network cable, highly flexible with a 32mm bend radius, and when paired with the SlimCat™ Keystone RJ45 Socket, performs to ANSI/TIA-58.2-D Category 6 permanent link standards up to 50 meters. As always, systems integrators can rely on the Kordz promise of 'Connectivity Assured.'"
The SlimCat™ system comes with a lifetime warranty and complies with both EU and US fire rating standards. Components are conveniently packaged in standard lengths in an easily identifiable Reel-in-Box.
Components included in the SlimCat™ line include:
PRO SlimCat™ Category 6 U/UTP Network Cable
PRO SlimCat™ Category 6 RJ45 Crimp Connector
PRO SlimCat™ RJ45 Strain Relief
PRO SlimCat™ Keystone RJ45 Socket
Like all Kordz products, each component of the SlimCat™ system has been individually tested during each phase of production for quality assurance and adheres to the latest performance standards and fire ratings.
Kordz debuted its new SlimCat™ Category 6 cabling system and showcased its other innovative connectivity solutions during ISE 2023 in stand #2F450. There, show attendees participated in the company's 20th birthday celebration, and systems integrators were invited to take 'The Terminator' cable termination challenge for their chance to win a variety of prizes.
To learn more about Kordz's premium professional-grade cabling, please visit www.kordz.com.
Advertisement
[adrotate banner="30"]