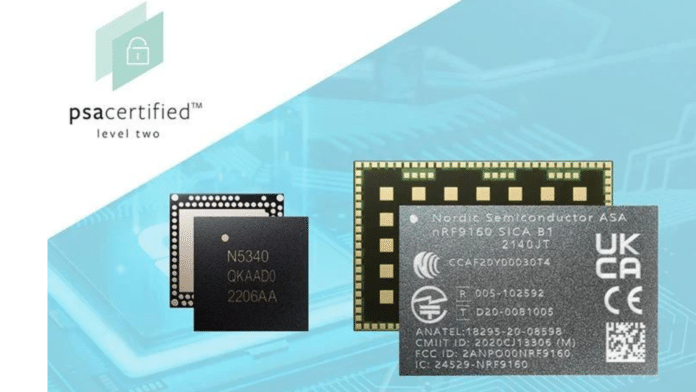 Advertisement
[adrotate banner="23"]
Nordic Semiconductor has announced a significant security milestone with its nRF9160™ low-power System-in-Package (SiP) and nRF5340™ advanced multiprotocol System-on-Chip (SoC) achieving Platform Security Architecture (PSA) Certified Level 2. This achievement underscores the company's commitment to delivering secure solutions for IoT product development.
The nRF9160 and nRF5340 are integrated with LTE-M/NB-IoT modems, GNSS, and advanced security features. The certification from PSA Certified™ Level 2 assures Nordic's customers that these components provide a robust foundation for building secure IoT products.
Advertisement
[adrotate banner="34"]
According to Tiago Monte, Developer Marketing Manager at Nordic Semiconductor, security is a crucial investment. The cost of neglecting security is substantial, with successful IoT device attacks averaging penalties exceeding $330,000. Monte emphasizes the importance of basing IoT products on silicon and software rigorously tested and verified against malicious software attacks. The PSA Certified Level 2 validation for the nRF9160 and nRF5340 validates their security against such threats.
PSA Certified offers a comprehensive framework for securing connected devices. It spans from analysis to security assessment and certification, providing standardized resources to counter the fragmentation of IoT requirements. The certification process offers three levels of security assurance, with each level demanding more stringent hardware and software evaluation.
PSA Certified Level 2 involves a laboratory evaluation of the vendor's PSA Root of Trust (PSA-RoT) to determine its resilience against scalable remote software attacks. This evaluation utilizes vulnerability analysis and penetration testing of the PSA-RoT, ensuring compliance with the nine security requirements outlined in the PSA-RoT Protection Profile. This evaluation utilizes the SESIP methodology, resulting in an additional SESIP Level 2 certification for the nRF9160 SiP and nRF5340 SoC. PSA Certified Level 2 encompasses the assessment criteria of Level 1, which ensures adherence to fundamental security principles for chips, software, or IoT devices.
Nordic Semiconductor's nRF9160 SiP integrates Arm® Cortex®-M33 CPU core and Arm TrustZone® technology, offering Internet-level encryption and application protection. The nRF5340, featuring dual Arm Cortex-M33 cores, combines Arm CryptoCell-312 and TrustZone technology, guaranteeing advanced root-of-trust and secure firmware updates while safeguarding the SoC from potential malicious attacks. This achievement solidifies Nordic Semiconductor's commitment to providing secure IoT solutions that foster innovation and trust.
For More Information: https://www.nordicsemi.com
Advertisement
[adrotate banner="30"]