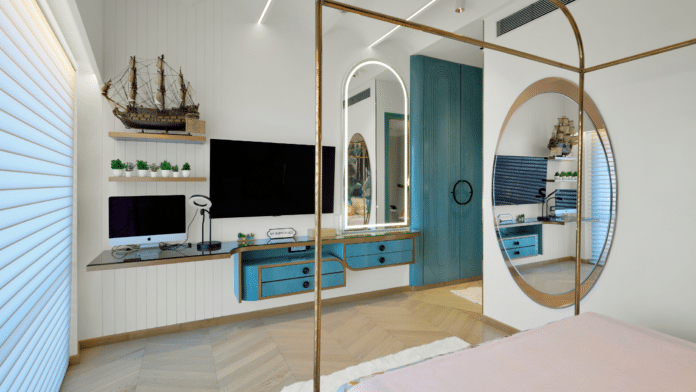 Advertisement
[adrotate banner="23"]
Ar. Rachna Khadtale and System Integrator Jaimaan Gupta, Founder, Frontmen Smart Home have created a synergy between stunning interiors, high-end technology and automation.
Experience a blend of contemporary design and smart technology in this 3BHK plush residence located in Lodha World View, a premium luxury project in Mumbai. This apartment has been designed by Ar. Rachna Khadtale for this tech-savvy couple. Spread over an area of 1,800 sq. ft., the couple wanted an aesthetically pleasing home that seamlessly integrates modern design and technologically advanced smart home technology, that caters to the lifestyle preferences of a family comprising husband, wife and their 9-year-old daughter.
Advertisement
[adrotate banner="34"]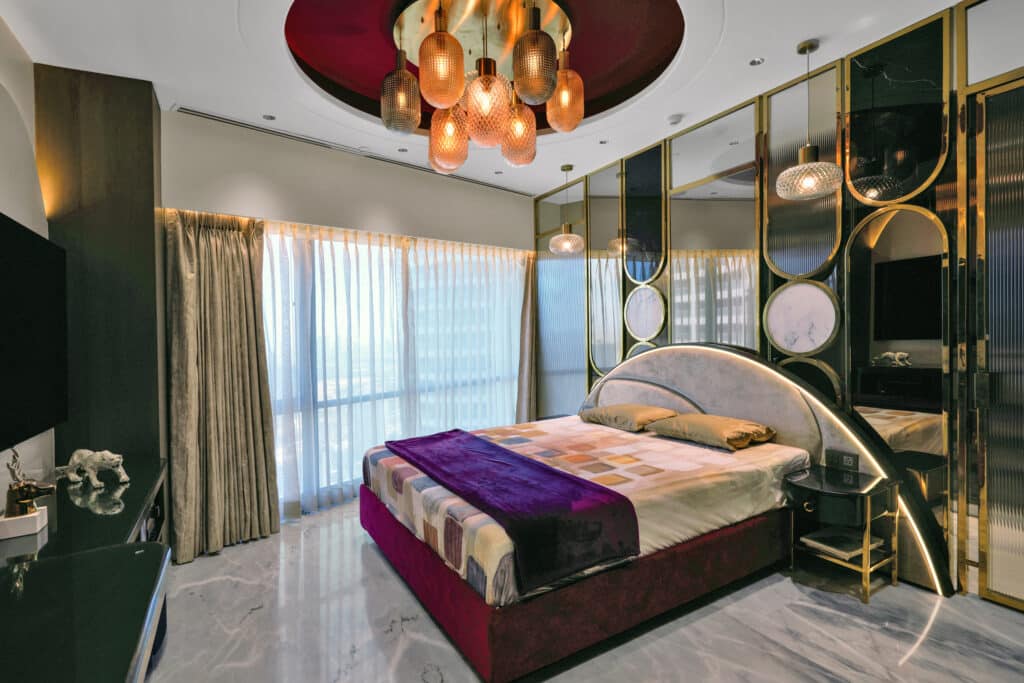 As the young couple believed that Smart Technology is the need of the hour and wanted to integrate it to match their lifestyle, System Integrator Jaimaan Gupta, Founder, Frontmen Smart Home was trusted with the job to provide his expertise for this residence.
Explaining the integration of the smart lighting and lighting controls Jaimaan Gupta says, "The client desired a wide variety of lighting options to create different moods and ambience throughout their home. They specifically wanted lights with CCT, RGB and dimming control that would allow them to customise the lighting according to their preferences." The client frequently hosts guests and organizes parties, so they opted for an integrated AudioVisual (AV) system throughout the house. Where the AV systems and speakers are discreet and non-bulky, blending seamlessly into the overall aesthetic of the home.
Planning and Implementation
The planning and implementation phases of this smart home project were carefully executed to meet the client's expectations and create a seamless home automation experience. Additionally, a robust, flexible, dependable, and high-performance lighting control system has been provided through a centralised wired solution. The wired solution provides superior reliability and quality, meeting the client's requirements for optimal control over their lighting. Plus, also takes care of CCT Tuning and RGB Control. The team has selected Digital Addressable Lighting Interface (DALI) and DMX as the preferred control interfaces. This not only fulfilled their lighting preferences but also helps in optimising wiring costs, providing both functionality and cost-effectiveness.
After a thorough evaluation, the team chose Crabtree as the preferred brand for the lighting control system. "Crabtree impressed us with its impressive features, excellent build quality, and affordability. Moreover, as the parent company Havells has a strong presence in Mumbai and multiple service centers across the country, we were confident in providing reliable service support to the client throughout the project. The selection of Crabtree ensured a reliable and high-quality lighting control system that fulfills the client's expectations." says Jaimaan.
To deliver a seamless audiovisual (AV) and software control experience, the team opted for Control4, the leading brand globally for easy, flexible, yet advanced AV control solutions. Control4's one App control solution allows the end user to operate lights, AV devices, shades, climate control, security products like CCTV cameras, and digital door locks from a single App. This streamlined approach enhances convenience and simplifies control for the client, making it the ideal choice for a comprehensive and integrated smart home experience.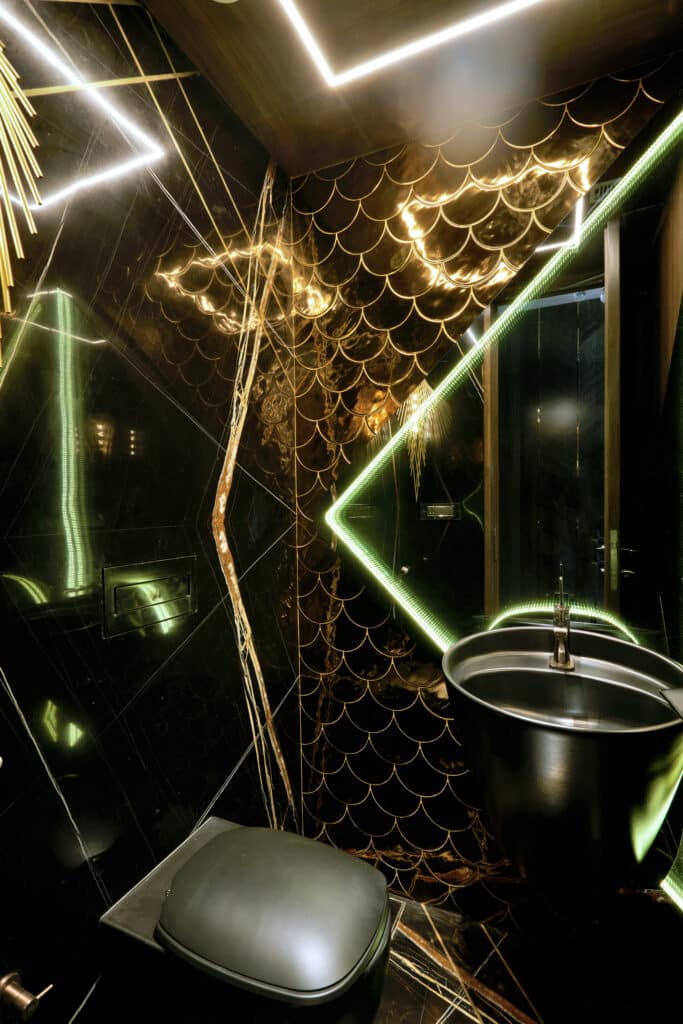 Jaimaan selected Lithoss Switches that boast classy and elegant metal finishes and also features physical push buttons that provide a tactile click feedback sound upon pressing. This user-friendly design makes them ideal for bedside switches, offering convenience and ease of use. Additionally, the integration of sockets into the same panel and finish ensures a cohesive and aesthetically pleasing design, eliminating the need for separate socket installations and maintaining the overall visual appeal of the smart home.
To ensure excellent sound quality without compromising the aesthetics of the home, Jaimaan has installed Monitor Audio and Revel In-Ceiling speakers and subs throughout the residence. These speakers are strategically placed to remain hidden, providing a clean and clutter-free look. To power these speakers and achieve multi-room audio functionality, he has utilised Denon AVR's audio processing capabilities. The integration of Denon's HEOS technology allows the client to play the same music in all areas during a party or different music in different areas based on their preferences, providing a versatile and immersive audio experience.
Systems and Brands Integrated
To automate the curtains, Somfy Tracks and Motors were integrated into every room. This allowed the client to effortlessly control the opening and closing of curtains, enhancing privacy and light management. In the living area, a motorised bar lift was installed, providing a unique and space-saving solution. This lift conceals the bar unit when not in use. RGB strip lights were also integrated into the area, synchronised with a large aquarium whose colours can be controlled via RGB lighting. Additionally, a 5.1 Monitor Audio In-ceiling Home Theatre system, along with two additional in-ceiling speakers in the dining/kitchen area, was installed. This setup allowed the users to play the same music during parties, creating a seamless audio experience. The client further customised this setup into a single party scene, activating the RGB strip lights, raising the bar lift, and playing the chosen party playlist, all at the press of a single button.
In the master bedroom, a 2.1 Revel In-ceiling speaker system was installed, creating a high-quality audio experience. An additional waterproof IP65-rated Revel In-ceiling speaker was integrated into the bathroom shower area, allowing the client to enjoy music in every corner of the house, even while bathing.
For the daughter's bedroom, Hunter Douglas Motorized Blinds from the Nantucket series were chosen. These blinds serve a dual purpose, acting as sheer and blackout blinds within the same fabric, providing flexibility and convenience. To add a touch of ambiance, optical fiber lights, commonly known as star lights, were installed, creating a twinkling effect in the bedroom.
By integrating these smart automation products into specific areas of the home, we ensured enhanced convenience, comfort, and a personalized experience for the client, elevating their lifestyle within their smart home environment.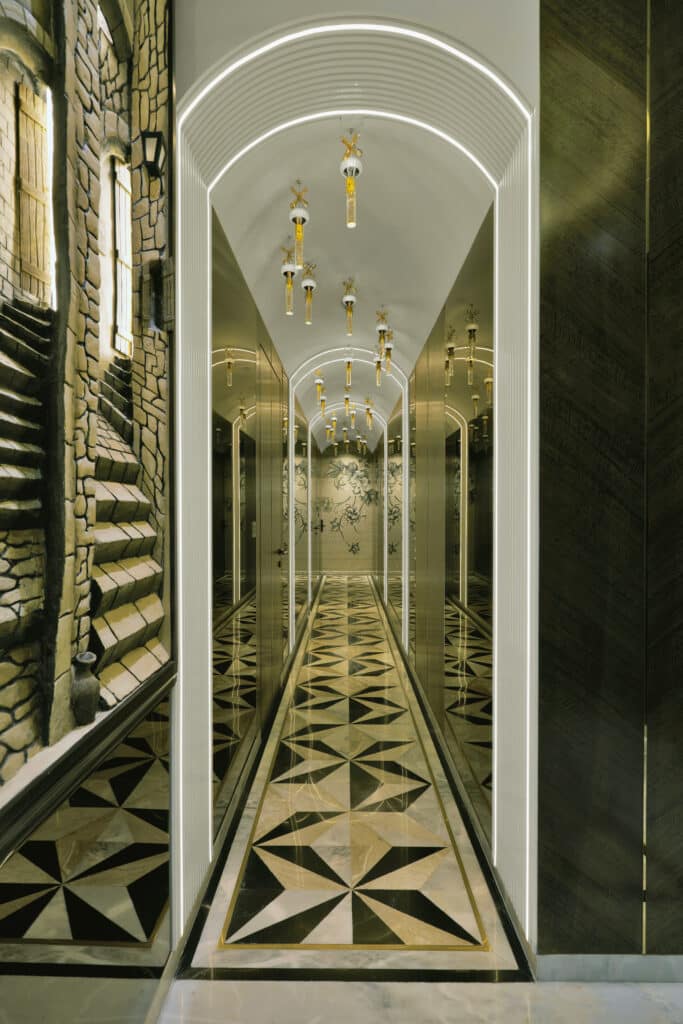 Advantages Automation Provides
With a wide array of lights, such as spots, strip lights, profile lights, and decorative lights, offering features like CCT (Correlated Color Temperature) and RGB (Red Green Blue) control, operating them manually would be a complex and time-consuming task for the client. By implementing an automation system, the client gains the ability to create customized scenes and effortlessly control these lights, maximising their functionality and ensuring they are used to their full potential.
Without automation, operating numerous lights would require an overwhelming number of switches. This would lead to confusion for the client, making it difficult to determine which switch controls which light. Additionally, setting the desired ambiance for any specific area would involve traversing multiple switchboards and toggling numerous switches, resulting in inconvenience. Automation streamlines this process by significantly reducing the number of switchboards required. With just a couple of panels, the client can conveniently access their favorite scenes, effortlessly adjusting the lighting and ambiance throughout the living area.
One of the major advantages of implementing an automation system is the ability to control multiple aspects of the home, such as lights, audiovisual (AV) systems, CCTV cameras, climate control, and shades, all from a single app. This centralized control offers convenience and ease of use, eliminating the need to switch between multiple apps or systems. The client can now manage and monitor various functionalities of their home seamlessly, enhancing their overall smart home experience.
Dimming the lights saves a ton of electricity. Additionally, by incorporating smart sensors and timers, the automation system can optimise energy usage by automatically adjusting lighting and climate settings based on occupancy and time of day. This leads to energy savings and promotes a more eco-friendly living environment.
The flexibility of an automation system allows for personalised and customisable experiences tailored to the client's preferences. Whether it's creating unique lighting scenes for different occasions, scheduling automated routines, or integrating voice control for hands-free operation, the client can enjoy a truly bespoke and intuitive smart home environment.
By leveraging the benefits of automation, the client gains convenience, flexibility, energy efficiency, and an enhanced living experience that seamlessly integrates various aspects of their home into a unified and intelligent system.
Overall, both professionals have successfully aimed at delivering a comprehensive and integrated smart home solution that met the client's preferences, functional requirements, and design aesthetics. The careful selection of reliable brands and products has ensured the highest standards of performance, reliability, and user satisfaction for this residence.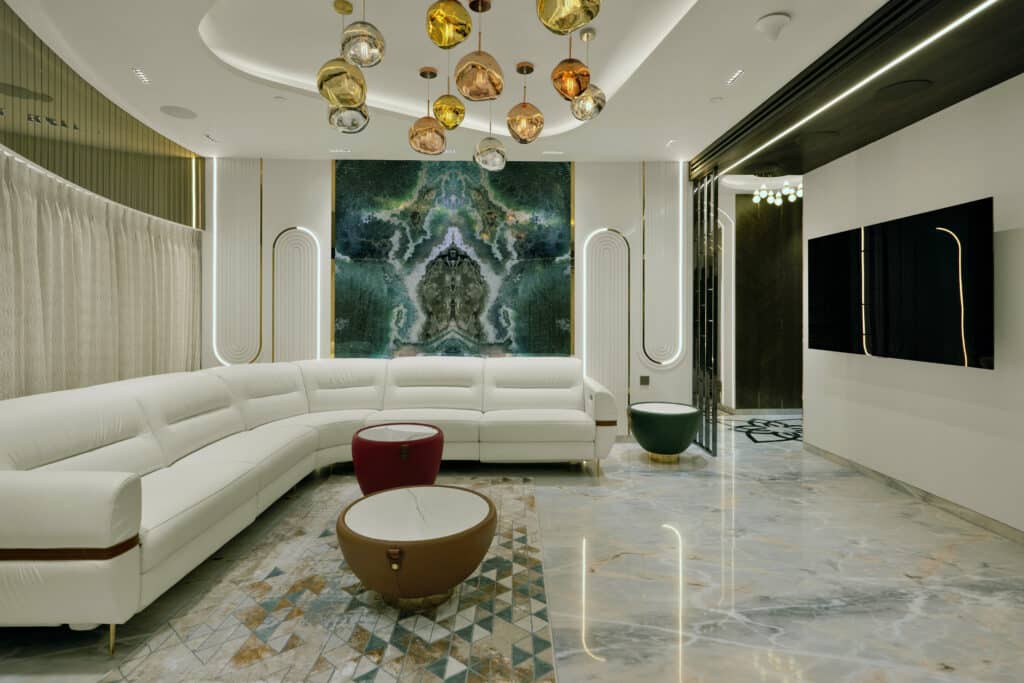 Reference Guide:
Architect/Interior Designer: Rachna Khadtale
Systems Integrator: Frontmen
Automation System Used: Crabtree & Control4 With Lithoss Switches
Lighting: Frontmen. Tuneable & Dimmable Fittings Security Cameras: CP Plus
Networking Devices used: Grandstream Access Points
Motorised Blinds: Hunter Douglas
Motorised Curtains: Somfy
Speaker System: Revel & Monitor Audio with Denon AVR
Advertisement
[adrotate banner="30"]