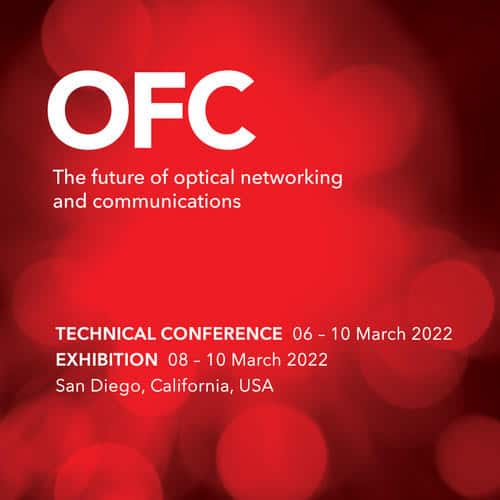 The premier international event for the latest advances in optical communications and networking, the 2022 Optical Fiber Communication Conference and Exhibition (OFC), is all set to feature comprehensive educational programming on cutting-edge innovations—from research to marketplace—spanning the entire ecosystem, during the hybrid event 06 – 10 March 2022 in San Diego, CA. OFC's extensive technical programming will be stretched over five days, highlight peer-reviewed presentations and feature more than 120 invited speakers. The industry's trending topics, ranging from advanced Digital Signal Processing (DSPs), Artificial Intelligence (AI)/machine learning (ML), coherent pluggable, co-packaging, data centre optics at greater than 400G, emerging architectures for 5G and edge networks, high-speed PON, SDM for submarine networks, quantum communications to Photonic Integrated Circuits (PIC), will be discussed by the presenters. Besides, additional technical programming like symposia, in-depth tutorials, workshops, panels, and thought-provoking rump sessions will take place throughout the week.
"This is a milestone year for OFC; for more than 45 years the conference continues to provide the leading platform for global collaboration in optical communications technology," said OFC General Chairs Shinji Matsuo, David Plant, and Jun Shan Wey. "OFC's in-person and virtual program will present a robust lineup of technology programming that provides expert insight and real-world examples of topics ranging from the latest in data centre optics, advancements in co-packaged optics, machine learning, and 5G," added the OFC General Chairs.
Advertisement
[adrotate banner="34"]
This year's event will comprise a plenary session, over 100 technical sessions featuring more than 500 invited and contributed talks, three symposia, three special sessions, ten workshops, nine panels, 55 short courses, plus business-focused programming. John Bowers, Director, Institute of Energy Efficiency, University of California, Santa Barbara, USA; James Green, Scientist and Senior Advisor, NASA, USA; and Elise Neel, Senior Vice President, New Business Incubation, Verizon, USA, are in the list of the plenary speakers this year. They aim to provide attendees with insight into revolutionary technologies, how they are shaping today's tech-savvy world, and the impacts they will have on the industry in the future.

About OFC – Optical Fiber Communication Conference and Exhibition
OFC is the largest global conference and exhibition for optical communications and networking professionals. The program is comprehensive — from research to the marketplace, from components to systems and networks, and from technical sessions to the exhibition. For over 40 years, OFC has drawn attendees from all corners of the globe to meet and greet, teach and learn, make connections, and move the industry forward. To know more, visit https://www.ofcconference.org/en-us/home/
Advertisement
[adrotate banner="30"]