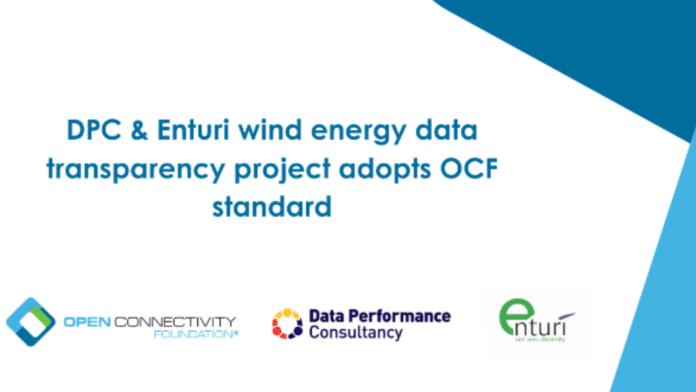 Advertisement
[adrotate banner="23"]
Open Connectivity Foundation (OCF) is thrilled to announce a groundbreaking collaboration between Data Performance Consultancy (DPC), experts in smart city and digital transformation, and pioneering wind turbine company, Enturi. Together, they are embarking on a standards-based project focusing on wind turbine technology and data management. This strategic partnership leverages OCF's Secure IP Device Framework, DPC's trusted data proficiency, and Enturi's innovative wind turbines to empower businesses and individuals to achieve their sustainability goals through the use of reliable and transparent data.
Key Highlights:
Advertisement
[adrotate banner="34"]
Data-Driven Wind Turbines: DPC is spearheading the integration of sensors into Enturi's portable and decentralized wind turbines. These enhanced turbines are now capable of connecting to DPC's cloud platform, facilitating secure data communication and management.
Enhanced User Experience: This collaboration enables customers to remotely control turbines and access real-time and historical data, addressing a significant industry challenge. It also supports preventative maintenance through real-time data analysis.
Sustainability Insights: Data analysis tools are in place to monitor and understand the environmental impact of decisions, aiding the journey towards net-zero emissions.
Transparent Data Sharing: The project promotes data transparency, including easier access for carbon accounting as part of corporate decarbonization efforts.
Brian Bishop, CEO of DPC and OCF President, expressed the significance of standardized connectivity and secure data in advancing strategies across industries. He emphasized the importance of ensuring data security in the renewable energy sector, both for organizations and consumers.
Enturi recently received £98,000 in Innovate UK funding for system development, focusing on computational fluid dynamics (CFD) simulation and rapid prototyping. Alex Shakeshaft, CEO and Co-Founder of Enturi, acknowledged the challenge of secure yet transparent decarbonization monitoring in the renewable energy sector. He expressed excitement about collaborating with DPC to make sustainability monitoring and reporting more accessible, emphasizing their vision to diversify clean technologies for broader access to renewable energy solutions.
DPC holds the status of a Gold Member within OCF, a member-driven technical standards development organization committed to enabling IoT devices and services to communicate via a trusted open internet protocol (IP) framework. This framework aligns dynamically with IoT security and privacy regulations, offering peace of mind and enriched experiences.
About Open Connectivity Foundation (OCF): OCF is a global, member-driven technical standards development organization dedicated to fostering trust, interoperability, and secure communication among IP-connected IoT devices and services. It achieves this through collaboration across the IoT ecosystem, delivering ISO/IEC specifications, including the Secure IP Device Framework, open-source reference implementation, and a recognized certification program.
About Data Performance Consultancy Limited: DPC has over a decade of experience researching smart cities and digital twins. The company plays a key role in representing the UK Government on Smart City Missions and advising other governments on strategy and policy development. They have developed a digital twin framework called Buttress and a front-end application layer called nodeStream. NodeStream is an enterprise-grade web3-native management tool that provides deep supply chain insights, streamlines interactions, and enhances visibility while ensuring data security and governance.
Advertisement
[adrotate banner="30"]