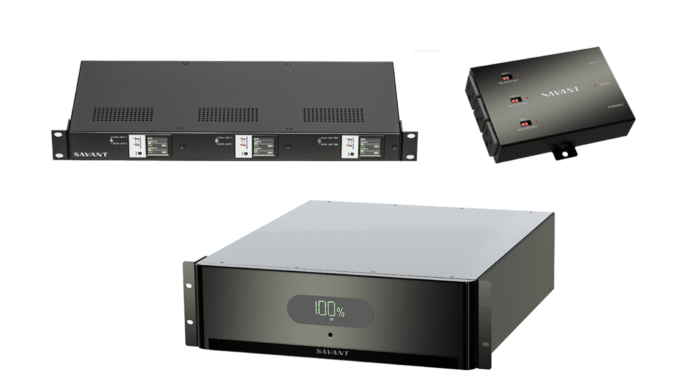 Advertisement
[adrotate banner="23"]
Savant has unveiled an extended lineup of power products, introducing a new category comprising Smart Power Distribution Units (PDUs) and Smart Uninterruptible Power Supplies (UPS). These innovative Smart PDUs not only empower integrators to control connected devices, monitor device health, and perform remote reboots as needed but also provide real-time and historical energy consumption insights.
Savant's Smart PDUs seamlessly blend smart home and intelligent power capabilities, launching with two initial models: the Savant Power Box 8 and Savant Power Box 3. The Savant Power Box 8 is designed for rack installation and boasts four individually addressable outlets, along with two addressable pairs of outlets, all in a compact 1U form factor. Meanwhile, the Savant Power Box 3, with its low profile, can be discreetly installed behind displays and features three outlets that are individually controlled and monitored. Both models offer built-in surge and over-voltage protection, along with tools for dealer monitoring and homeowner insights. The product lineup is set to expand further with additional Smart PDUs.
Advertisement
[adrotate banner="34"]
Each Smart PDU comes equipped with a display screen that provides crucial real-time feedback, serving as a valuable tool for integrators when working onsite. Configuring these Smart PDUs is user-friendly, thanks to the intuitive Savant Power & Light app.
Savant's Smart-UPS solutions include a rack-mounted 3U UPS capable of powering two fully loaded Savant Power Box 8 units for up to 30 minutes. This UPS offers built-in protection and conditioning, employing pure sine wave technology. Additionally, a single-appliance UPS is part of the product offering.
JC Murphy, President of Savant, emphasized the significance of this expansion, stating, "The expansion of the Savant Power family presents a valuable opportunity for integrators to showcase the advantages of power management throughout the entire home. Integrators can now offer high-value power resiliency solutions to their clients, even for individual appliances within the home."
Savant's Smart PDUs and UPS solutions are the result of Savant's expertise in both smart home technology and energy management. These Smart PDUs are expected to become available in early 2024, opening up new possibilities for integrated power management solutions.
For More Information: www.savant.com
Advertisement
[adrotate banner="30"]