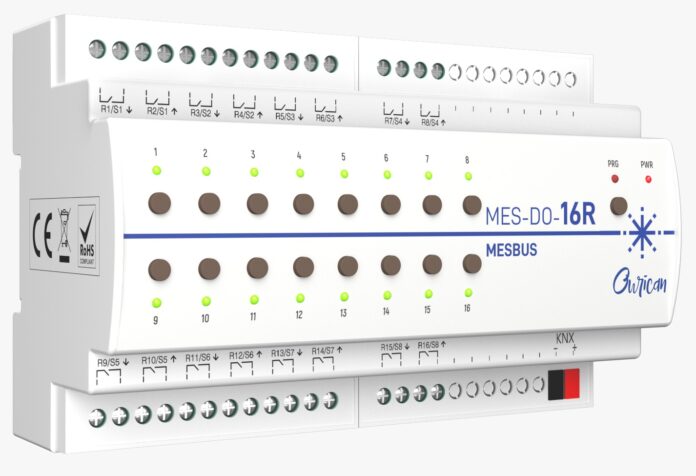 Advertisement
[adrotate banner="23"]
Messung Ourican, a prominent manufacturer of cutting-edge Home Automation solutions utilizing KNX and MODBUS protocols, is thrilled to announce the successful completion of the KNX certification process for two of its flagship products: the 16-channel multi-function actuator, MES-DO-16R, and the 4-channel ceiling fan controller, MES-CFC-4PRO.
KNX stands as a globally recognized standard in home automation, boasting a network of over 500 manufacturers worldwide that collectively offer more than 8000 products, all seamlessly integrated into a single ETS programming tool. The rigorous certification process, administered by KNX, entails stringent testing and evaluation to ensure that all products adhere to KNX's quality and conformity standards. These standards encompass requirements such as ISO 9001:2015 certification for manufacturing setups, CE certification, and ROHS compliance. With the attainment of this certification, Messung Ourican solidifies its commitment to delivering high-quality, dependable products to the global KNX market.
Advertisement
[adrotate banner="34"]
As an industry leader with over four decades of industrial manufacturing expertise, Messung Ourican is dedicated to providing superior products and solutions at competitive prices, backed by a robust service support network. The company introduced its range of KNX and MODBUS products in 2022, featuring a diverse lineup of eleven KNX products and four MODBUS products. This product range includes Actuators, Input modules, Phase cut Dimmers, Analog dimmers, and the KNX power supply. Notably, Messung also offers the elegantly designed front-end device, OKS6D, which functions as a Room controller with 32 capabilities, encompassing the control of Scenes, Lights, Air conditioners, RGB lights, and Ceiling fans.
All Messung Ourican products are meticulously designed in-house by their R&D department and manufactured in Pune, India, ensuring the highest levels of quality and innovation. To explore their comprehensive range of products, please visit website at www.ourican.com.
In addition to the Home Automation product line, Messung is recognized for its expertise in Industrial Automation, including Programmable Logic Controllers (PLCs) available at www.messungautomation.co.in. They also offer innovative Workplace Technology Systems such as ESD-safe furniture and Network server racks tailored for commercial applications, accessible at www.messungworkplacetechnology.com.
Advertisement
[adrotate banner="30"]