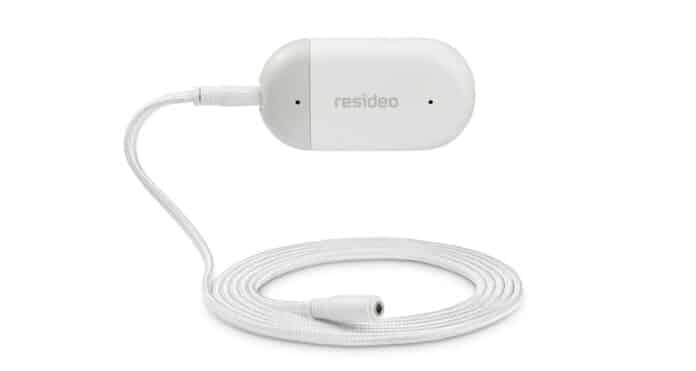 Advertisement
[adrotate banner="23"]
Resideo recently upgraded its range of Smart Home Solutions to include the L1 Wi-Fi Water Leak and Freeze Detector, adding to its water network management capabilities. Designed to integrate with the company's L5 Water Leak Shutoff Valve, the device includes a 5-ft sensor cable and works with the Resideo App.
The Resideo L1 Wi-Fi Water Leak and Freeze Detector sensor module can be wall mounted, and the included cable detects water along its entire length. Multiple sensor modules can be installed around the home, and the most likely locations will be near water heaters, sump pumps, washing machines, refrigerators, or other appliances where water could potentially leak.
Advertisement
[adrotate banner="34"]
A unique feature of the Resideo device is that multiple sensor cables can be daisy-chained together from a single sensor to extend the leak detection up to a maximum of 500 feet. In most homes, it will make sense to strategically place several sensors to cover key areas.
The battery-operated device can signal water leaks, temperature extremes, and humidity changes through alerts delivered on the Resideo App. In the case of a leak event, the sensor also displays an LED light and sounds a 100 dBA alarm. The App can also be configured to send email alerts.
The device can be used standalone, or ideally with the L5 Water Leak Shutoff Valve. In the latter case, the water main can be shut Off automatically when a leak is detected through a remote leak detector.
Resideo L5 Water Leak Shutoff Valve Adds Automatic or Manual Water Main Shutoff. Typically installed inside the home where the water main enters, the L5 Water Leak Shutoff Valve is available in sizes to fit 1/2-in., 3/4-in., 1-in., and 1 1/4-in. water pipes and is fitted with a motorized ball valve for the water shutoff feature. It is electrified through an AC power adapter and can detect water leaks through the included 5-foot sensor cable as well as through any remote L1 Wi-Fi Water Leak and Freeze Detectors paired through the app.
The Resideo L5 Water Leak Shutoff Valve and L1 Water Leak and Freeze Detector integrate with the Resideo App. In the event of water leak detection, the Resideo App can be set to automatically actuate the ball valve to switch off the water, thereby preventing potentially catastrophic water damage. Furthermore, since the shutoff valve and leak sensor devices are Wi-Fi connected, the App can be used to switch the water main On or Off at any time. A manual override feature can also be used at the valve, a handy feature in the event of a power outage.
For More Information: www.resideo.com
Advertisement
[adrotate banner="30"]