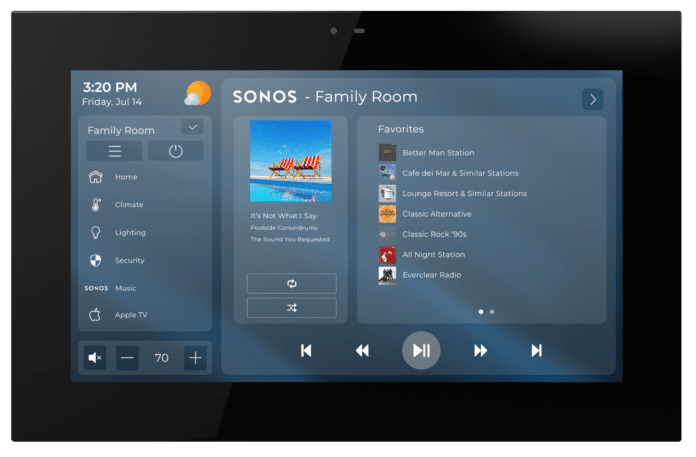 Advertisement
[adrotate banner="23"]
Leading control and automation manufacturer, RTI, today announced a new driver for the RTI control platform that seamlessly integrates with Sonos sound systems. Verified by the Works with Sonos program, the new driver enables added control and automation of Sonos products within an RTI smart home or smart business system.
"We are thrilled to launch the new Sonos-verified driver, which has been one of the top requests from our dealer base," said RTI product director Neal Ellsworth. "The resulting integration enables integrators to build a music system fully tailored to their clients' needs and managed from the same intuitive interface from which they manage their lighting, shades, climate, security and other automations."
Advertisement
[adrotate banner="34"]
The real magic is the powerful events-based automation within the driver that enables integrators to automate client systems based on feedback from the Sonos system. For example, a favorite playlist can trigger a particular lighting scene. Conversely, a ring of the doorbell can dip the volume or pause the audio. "This richness of integration elevates any system," continued Ellsworth. "It's easy and intuitive for users, and seamless for integrators as well."
The new integration starts with an auto-generated page in the RTI remote, touch panel or mobile device for each Sonos player added to the system. Control options include:
Simplified room grouping.
Volume control of individual and grouped Sonos players.
Full transport controls, including feedback metadata for cover art, artist/track/album details, and elapsed time.
Ability to route an externally connected AV source from one player to any other player.
Added home theater control with supported Sonos players including Night Sound and Speech Enhancement.
The new driver is available to authorized RTI dealers at the RTI driver store and directly within the RTI Integration Designer 11 control application programming software.
For More Information Visit: https://www.rticontrol.com/
Advertisement
[adrotate banner="30"]