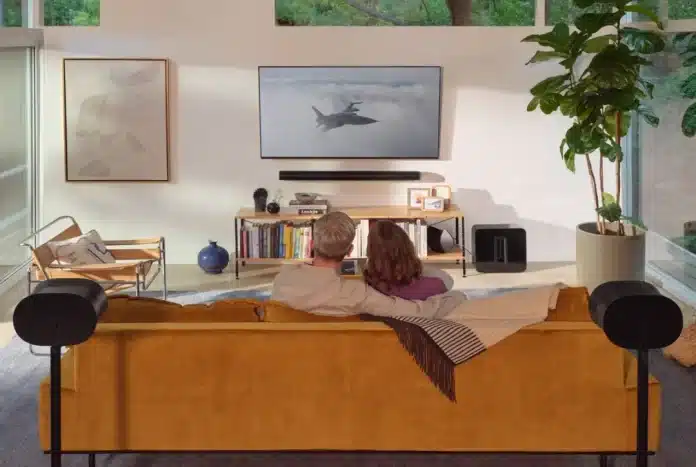 Advertisement
[adrotate banner="23"]
The new Sonos Era 100 and Era 300 wireless speakers from SANUS are height-adjustable and fixed-height speaker stands and wall mounts, available in singles or pairs. The stands and mounts are ideal for home theaters or ambient listening spaces and are fast and easy to install.
"Like our other speaker stands and wall mounts designed in partnership with Sonos, our goal was to create a sleek, easy-to-install solution that complements Sonos' design," said Philip Wessberg, SANUS Product Manager in a statement. "Our mounts and stands blend into any environment while ensuring Sonos' premium sound quality is preserved."
Advertisement
[adrotate banner="34"]
SANUS Height-Adjustable and Fixed-Height Stands for the Sonos Era 100 and Era 300 wireless speakers provide a sleek design that ensures superb audio performance and perfectly complements the aesthetics of the new Sonos speakers.
The SANUS Height-Adjustable Speaker Stands are constructed of durable steel and extruded aluminum that offers 17 inches of effortless sliding height adjustment. Constructed of the same steel, the SANUS Fixed-Height Speaker Stands offer the optimal listening height for the new Sonos speakers. All stands incorporate integrated cable management for a sleek look and assemble easily in 15 minutes with a Phillips screwdriver.
Homeowners will enjoy an optimal audio performance from anywhere in the room with the SANUS Adjustable Wall Mounts, designed exclusively for the Sonos Era 100 and Sonos Era 300 wireless speakers. Featuring effortless tilt and swivel movements, the flexibility of the wall mounts makes them versatile enough for any system setup, whether it's in a home theater or for easy listening. They install in drywall, wood studs, or concrete in only 15 minutes with three easy steps.
The SANUS speaker stands for the Sonos Era 100 and Era 300 wireless speakers are available on SANUS.com, while the Adjustable Wall Mounts will be launched in Q2 2023.
For more Info visit: https://shop.sanus.com/en_us/products/speaker-stands/#tab-one
Advertisement
[adrotate banner="30"]