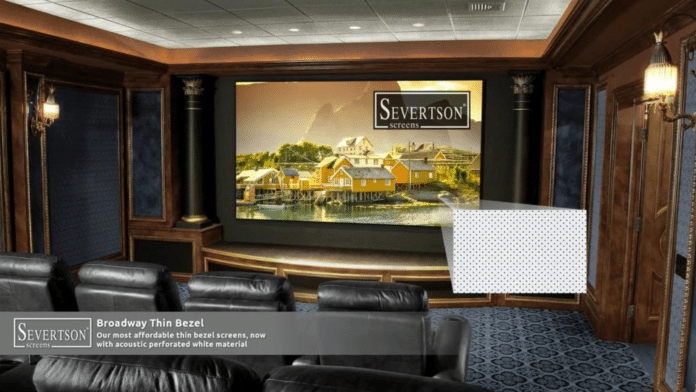 Advertisement
[adrotate banner="23"]
Severtson Screens, a global leader in innovative and quality projection screens for the home theater, commercial, pro AV, and cinema markets, has recently launched a white, perforated, acoustically-transparent screen option for its acclaimed Broadway Thin Bezel Series fixed frame projection screen solutions.
"After meeting customer demand for a new lower-cost Broadway Series Thin Bezel collection last year, they then asked for a perforated version, and we are proud to deliver," said Aaron White, Home Theater & Pro AV sales lead at Severtson Corp. "Now available with an acoustically transparent option in seven screen sizes ranging from 100- to 165-inches, Broadway is a complete collection of fixed frame projection screens that offer a sturdy extruded aluminum frame with a 3/8-inch visible border for a fully maximized viewing area. They are excellent solutions for any home theater, office, conference room, sports bar, or other venue needing a modern, high-performance projection screen."
Advertisement
[adrotate banner="34"]
The Broadway Thin Bezel Series' durable, aluminum frame offers the thinnest visible bezel that Severtson Screens can provide, offering a clean, sharp appearance that maximizes the viewable area. Each screen is manufactured to the same high standards as Severtson's large cinema screens installed in theaters worldwide.
Customers can choose from Severtson's perfectly tensioned screen materials that will take the viewing experience to the highest levels of performance available in the market today.
"Broadway's appearance does not distract from the projected content, but instead quietly enhances the viewing experience with its perfectly tensioned viewing surface and precision-aligned black velvet frame," White continued.
Broadway Thin Bezel Series material choices include:
Broadway White: 1.1 gain; a smooth vinyl, with a white front and black back. The screen surface provides an exceptionally wide 120-degree viewing angle. It is a great choice for situations with well-controlled ambient light, and where an exceptionally wide viewing angle is required. Available in the perforated version in multiple sizes.
Broadway Grey: 1.0 gain; smooth grey vinyl with a black back. This screen surface provides higher contrast, ideal for situations where there is more ambient light, and a wide viewing angle is desired.
For More Information: www.severtsonscreens.com
Advertisement
[adrotate banner="30"]