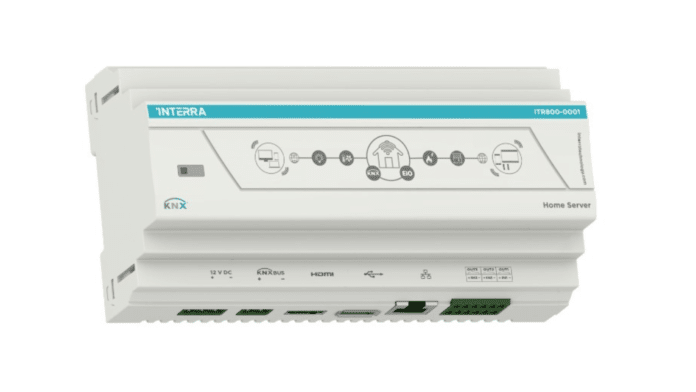 Advertisement
[adrotate banner="23"]
Interra Technology has announced the new node-based iNode Logic Server which is an IoT Edge Server working on KNX TP and TCP/IP with other protocols and provides drag-and-drop connectivity between KNX and multiple protocols. To provide a gateway between, for example, MQTT (an OASIS standard messaging protocol for the IoT) and a KNX TP output simply requires and drag-and-drop action. The drag-and-drop method can also be used to create a user interface.
Creating complex logic scenarios is easier than ever with iNode Logic Server Interra iNode Logic Server is designed to communicate between devices that are using different protocols and send telegrams/data to Building Management Systems (BMS). With iNode Logic Server, flexible and complex control configurations and scenarios can be created between different protocols. Its Node-based dynamic drag-and-drop editor enables configuring nodes, flows, and dashboards to control the automation system.
Advertisement
[adrotate banner="34"]
Highlights of the product are:  
Supports up to 10.000 different data points
Strengthened with 3 outputs and 3 inputs
Configuration by its embedded web interface
Customizable User Interface (Dashboard)
Comes with ready-to-use nodes
Besides the iNode Logic Server, Interra also announced its new mini 12-channel input module. Interra KNX 12 Channel Binary Input serves as an interface for operating KNX systems via conventional pushbuttons, switches, or floating contacts and for processing binary signals.
With its minimal and storable design, the 12-channel input can control 2 independent thermostats with the temperature information got from 2 different locations with its 2 analog inputs. Also, these analog inputs can be configured as digital inputs too. They can be configured as sensors, switches, or potential-free push buttons. In addition, weather data can be transmitted to the KNX bus for further evaluation via an appropriate weather sensor. The Binary Inputs are powered via the KNX and do not require an additional power supply. It has 3 independent logic blocks and each block contains 5 object outputs such as switch, dim, shutter, alarm, percentage, scene, string, and threshold controller.
Main Functions:
Depending on ETS configuration and settings, the product features will be different. Available functions are:
Switching        
Thermostat              
12 Channel
Dimming          
Shutter/Blind  
Value Operation
Most functions only need one input, so each input might be assigned a different function. However, there are also some functions that use two inputs, such as "Dimming with 2 buttons" and "Shutter/ Blinds with 2 buttons".
Interra is exclusively distributed in INDIA by Escala Tech, a premium Home Automation and AV brands distributor based out of NCR, Escala Tech plans to create a differentiator in the market with the use case scenarios it has developed to assist the System Integrators.
For more information: www.escalatech.in
Advertisement
[adrotate banner="30"]