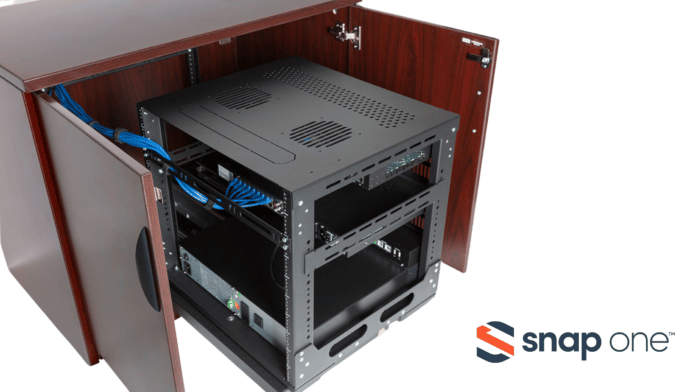 Advertisement
[adrotate banner="23"]
Snap One has introduced a full new line of in-cabinet slide out racks that deliver improved performance and valuable features for small spaces such as pedal-activated slide and rotation release as well as multiple locking positions that ensure a stable platform for AV equipment.
According to Logan Rosenstein, product manager Snap One, the updated lineup offers Snap One Partners even greater flexibility with sizes ranging from 8U to 42U, and enhanced strength with all models supporting up to 136 kg of equipment.
Advertisement
[adrotate banner="34"]
"Racks are one of the most important items for the long-term viability of components and system operations," says Rosenstein. "We designed the new Strong In-Cabinet Slide Out Racks to save space, simplify maintenance, and improve access to components no matter where the rack is installed. Additionally, by incorporating integrator-centric features like locking positions in slide out and rotation, we're offering a more premium and unique rack."
The new Strong In-Cabinet Slide Out Racks simplify access with a revamped design that's more space-conscious and doesn't require sacrificing rack space for a slider base. The wide range of sizes makes these racks easy to integrate into any room and project, while the 136 kg capacity and premium steel hardware of each model guarantee rock-solid long-term performance. Each model features a 48cm slide-out with locking 180-degree rotation, and both the slide and rotation can be unlocked using foot pedals that enable single-person operation. The rotation can be locked into three different positions for optimal accessibility.
The product also focused on convenience and flexibility with the optional rack top, adding pre-cut knockouts on top for cable entries, and ensuring that all cable management channels are easy to access and provide a clean, sleek appearance. The design also includes pre-drilled mounting points that make it easy to add 120mm cooling fans. Each rack is flat packed to simplify transport and ensure each rack arrives in pristine condition.
For more information, visit www.snapone.com
Advertisement
[adrotate banner="30"]