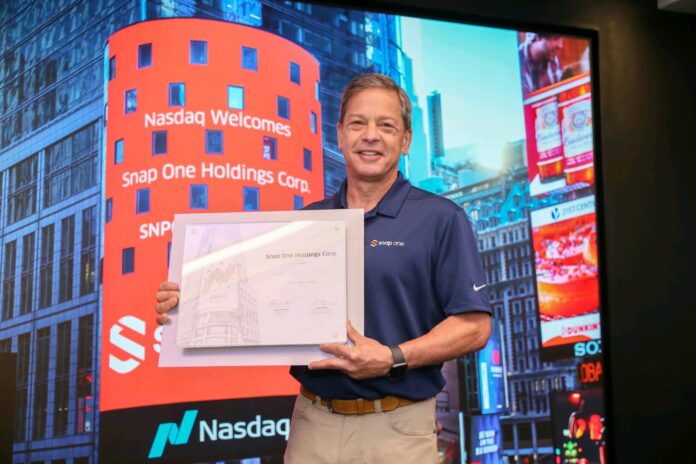 Advertisement
[adrotate banner="23"]
Snap One Holdings Corp. ("Snap One"), a provider of smart living products, services, and software to professional integrators, has announced the pricing of its initial public offering of 13,850,000 shares of its common stock at $18.00 per share. Shares of Snap One's common stock began trading on the Nasdaq Global Select Market on July 28, 2021, under the symbol "SNPO". 
Snap One intends to use the net proceeds to repay a portion of the term loan under its credit agreement plus accrued interest as well as for general corporate purposes. The offering is made through an underwriting group led by Morgan Stanley, J.P. Morgan, Jefferies, and UBS Investment Bank, acting as lead book-running managers. With BMO Capital Markets, Raymond James, Truist Securities, and William Blair, as book-running managers; and Drexel Hamilton, Penserra Securities LLC, R. Seelaus & Co., LLC, and Siebert Williams Shank, are co-managers. The offering of these securities are made using a prospectus, copies of which may be obtained from Morgan Stanley & Co. LLC.
Advertisement
[adrotate banner="34"]
Snap One power smart living by providing a suite of products, services, and software to professional do-it-for-me ("DIFM") integrators. Their customers include professional DIFM integrators who deliver personalized, immersive experiences to the end consumer. "Over the next decade, we expect homes and businesses will become smarter and more connected. Snap One power smart living with fantastic products, platforms, and partners to transform how we live, work, and play "says John Heyman, CEO, Snap One.
Snap One combines an end-to-end product ecosystem and technology-enabled workflow solutions which allows integrators to focus on their trade while leveraging the tools and infrastructure we deliver to build thriving and profitable businesses.
Advertisement
[adrotate banner="30"]