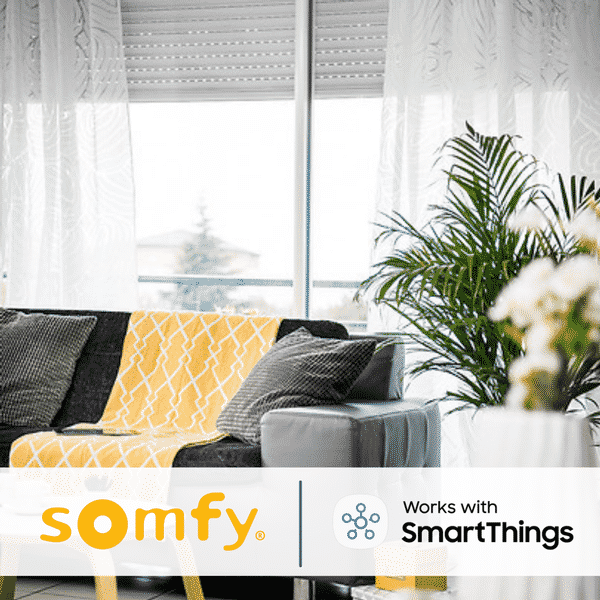 Advertisement
[adrotate banner="23"]
Somfy, the world's largest manufacturer of tubular motors for interior window coverings and exterior solar protection, is pleased to announce its new partnership with Samsung SmartThings, the premier technology enabling connected living and driving the future of IoT.
Using Somfy's new TaHoma Gateway, Somfy-powered shading solutions can be fully integrated into any smart home.The SmartThings application now controls powered shading solutions, along with thousands of popular smart home devices across hundreds of brands. With the addition of Somfy's smart shading solutions, users can seamlessly control shades, blinds, draperies, screens, awnings, and pergolas from the same control system as their other connected living devices. Somfy-powered products will be "Works with SmartThings" certified, allowing seamless integration of Somfy into scenes. The automation works together with devices within the SmartThings ecosystem.
Advertisement
[adrotate banner="34"]
Speaking on the exciting integration, Alex Keichinger, Product Marketing for Connected Solutions at Somfy said, "We're thrilled to announce our compatibility with Samsung SmartThings to offer an easy and convenient way for customers to automate their shades and blinds from a single application that already connects their home." He added, "Samsung SmartThings is known to improve accessibility and with the new integration, customers can now automate and control Somfy motorized shades to create customized experiences and comfort at the touch of a button."
"At SmartThings, our mission is to make connected living simpler, accessible, and easier for everyone,'' said Samantha Osborne, Vice President of Business Development and Marketing for SmartThings. "By adding Somfy into our vast ecosystem, we are making the home even more unified by offering users the possibility to seamlessly automate everyday tasks and stay engaged in the moments that matter."

SmartThings improves smart home accessibility/usability by offering one convenient application to control. Automating Somfy motorized shades and blinds along with other smart home devices allows for natural lighting control and increases the energy efficiency of homes. Smart things allow control over multiple smart home devices to run simultaneously by creating custom scenes.
About Somfy Systems, Inc.
Somfy has been improving everyday life by designing and manufacturing intelligent motorization solutions for interior window coverings and exterior solar protection. Somfy innovates to automate and connect shades, blinds, draperies, awnings, rolling shutters, exterior screens & pergolas for commercial and residential buildings in 58 countries across the globe.
About Samsung SmartThings
SmartThings is the premier technology enabling connected living and driving the future of IoT. The company is committed to bringing smart functionality and capabilities everywhere consumers want to be while enhancing the user experience. SmartThings offers the most flexible amount of protocols, including the new IoT standard, Matter.
Advertisement
[adrotate banner="30"]