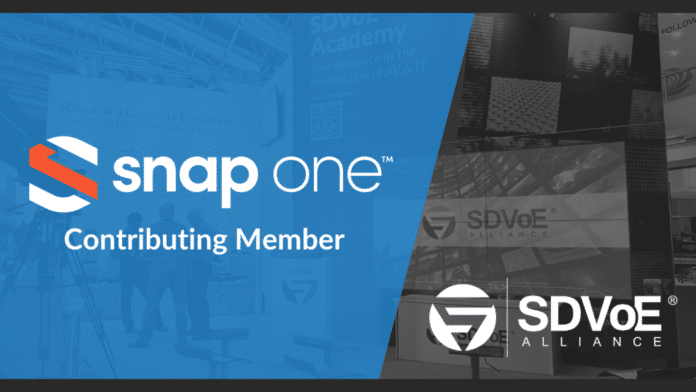 Advertisement
[adrotate banner="23"]
The SDVoE Alliance, a nonprofit consortium dedicated to standardizing Ethernet for AV signal transport in professional AV environments, is proud to announce that Snap One, a prominent manufacturer and distributor of smart living technology, has become a contributing member of the SDVoE Alliance.
Snap One was founded by technology integrators who saw an opportunity to innovate within the realm of smart technology. Today, it stands as a pro-install channel leader, aiding integrators in expanding their businesses by offering an extensive range of high-quality products. These products are easily accessible through an intuitive website and come with award-winning service and support. Snap One's offerings span across various areas, from whole-home entertainment to commercial-grade infrastructure, including smart solutions, A/V infrastructure, entertainment, conferencing, distributed audio, networking, security, and power and remote management. With 28 pro stores throughout the US, Snap One blends the advantages of e-commerce with the convenience of local retail.
Advertisement
[adrotate banner="34"]
Justin Kennington, President of the SDVoE Alliance, expressed his enthusiasm, stating, "From whole-home entertainment to commercial-grade infrastructure, Snap One designs some of the most popular brands in the world, trusted by pros and loved by consumers. I'm pleased to welcome Snap One to the SDVoE Alliance. We are thrilled to have SDVoE technology serve as the foundation for their next generations of AV-over-IP products."
David Moore, Executive Vice President of Technology and Engineering for Snap One, highlighted the significance of their partnership with SDVoE, stating, "Snap One holds a great standard of innovation and reliability within the pro AV technology industry. Partnering with SDVoE to integrate SDVoE enabled technology in our MoIP ecosystem and new products like our coming B-960 series showcases our dedication to that standard."
In recent years, the demand for remote data collection and real-time content management in the AV industry has seen substantial growth. AV-over-IP technology, known for supporting high-quality audio/video transmission over extended distances without latency, is ideal for content streaming applications. SDVoE technology provides a comprehensive hardware and software platform for AV extension, switching, processing, and control. It leverages advanced chipset technology, common control APIs, and interoperability. SDVoE network architectures are built on off-the-shelf Ethernet switches, offering cost savings, enhanced system flexibility, and scalability compared to traditional approaches.
With Snap One's involvement in the SDVoE Alliance, the future of Media-over-IP (MoIP) products in both residential and commercial markets looks promising, furthering the synergy between smart living technology and pro AV.
For More Information: https://sdvoe.org/
Advertisement
[adrotate banner="30"]