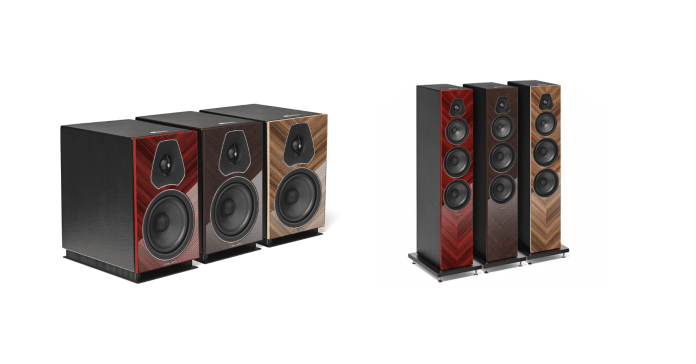 Advertisement
[adrotate banner="23"]
The Lumina II Amator and Lumina V Amator speakers feature technical improvements while staying true to the Sonus faber minimalist aesthetic. The Lumina II Amator is a two-way shelf loudspeaker system with a vented box design and the Lumina V Amator is a three-way floorstanding loudspeaker system also with a vented box design.
The speakers feature a D.A.D. (Damped Apex Dome) tweeter, the same used in the Sonetto series, featuring a Kurtmueller hand-coated soft silk diaphragm of 29mm. A 4-in mid-woofer equipped with a custom-made basket and the diaphragm featuring cellulose pulp blended with other natural fibres was designed specifically.
Advertisement
[adrotate banner="34"]
The 5-in midranges are based on Sonetto designs, featuring Sonus faber's proprietary natural fibre and paper blend air-dried diaphragm and 5-in woofers, designed from scratch for this collection and featuring a paper pulp cone, creating sonic coherence with the rest for the drivers
The speakers have been updated with new technology increasing the Lumina II Amator's frequency of the crossover network up to 2600 Hz, with an 800 Hz difference compared to Lumina II while the Lumina V Amator's frequency of the crossover is now up to 2850 Hz, with a +250 Hz difference compared to Lumina V.
Many of the solutions adopted by the new special models are derived from those of the Amati G5 and Guarneri G5, such as the IFF circuitry and the phase coherent philosophy, which ensures perfect rendering of the virtual soundstage in three dimensions.
For More Information: https://www.sonusfaber.com
Advertisement
[adrotate banner="30"]