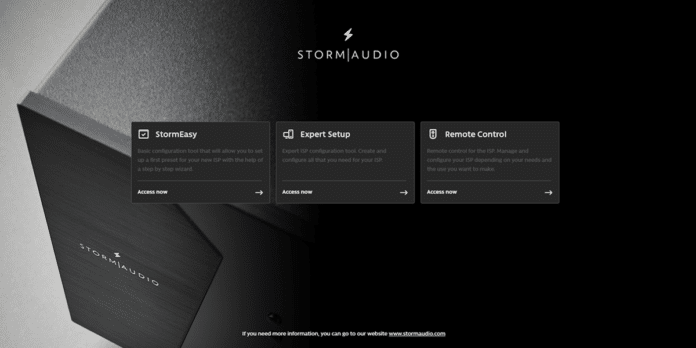 Advertisement
[adrotate banner="23"]
StormAudio, a leading manufacturer of high-end Immersive Audio, AV processors and amplifiers, announces the release of its latest firmware update, 4.4r1, now available for download on the StormAudio client portal.
This new firmware release sets new reference standards in terms of features and flexibility, and introduces StormEasy Wizard, a step-by-step configuration tool for all users. Additionally, the firmware upgrade includes a new low-latency mode, allowing for seamless integration of gaming, karaoke or live music experiences.
Advertisement
[adrotate banner="34"]
StormAudio's 32ch processor also includes a Layout level, which enables users to reconfigure their usage with a simple Preset selection and create various listening experiences and speaker usages. The firmware 4.4r1 is compatible with all StormAudio units, including ISP Elite MK1, MK2, MK3, ISP Core, ISP Evo, I.ISP, and ISP Master.
Other new features, enhancements, and bug fixes included in the update are StormEasy installation wizard, multiple 32ch Layout (up to 6), preset change via Input selection, delay steps of 5µS, Bessel filters support, CEC control, and HDMI Pass Through in Standby mode.
StormAudio has also scheduled dedicated webinar sessions on Tuesday, 14th March at 18h00 CET, and Wednesday, 15th March at 9h00 CET, to provide an overview of the enhancements brought by the new 4.4r1 firmware.
To download the firmware package, customers can access the password-protected client portal on the StormAudio website under Firmware and Downloads. Customers are required to have login details to access the portal. The private portal is available for distributors, dealers, and installers only. End-users are advised to contact their installer.
Customers should note that their unit must be running on firmware V4.2r0 or later before upgrading to V4.4r1.
For more information, visit the StormAudio website or contact the support team at [email protected].
Advertisement
[adrotate banner="30"]