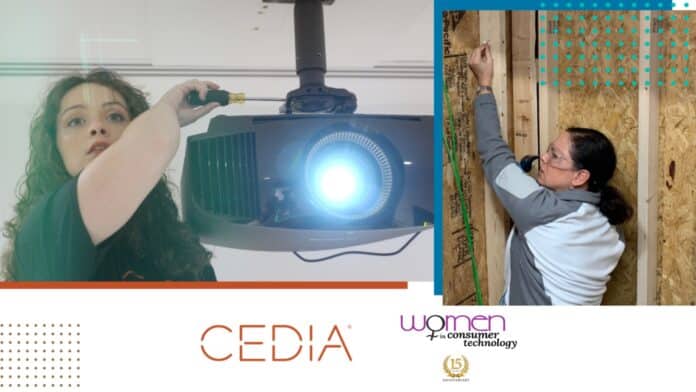 Advertisement
[adrotate banner="23"]
In honor of International Women's Day, CEDIA has partnered with Women in Consumer Technology (WiCT) to provide leading education opportunities to women throughout the smart home industry.
"We hope to inspire everyone in the industry to level up their careers through CEDIA education and certification. We also recognize our responsibility as an association to make these resources more accessible," said CEDIA Vice President of Education and Training and WiCT Board Member, Mandy Beckner. "We're committed to providing various avenues of support and opportunities to level the playing field within our industry."
Advertisement
[adrotate banner="34"]
Beginning in August, CEDIA will host CIT Study Groups, a six-part webinar series designed to support learners in their journey toward earning CEDIA's Cabling & Infrastructure Technician (CIT) certification. All sessions offer live instruction from a certified professional, support from a network of peers, and ample opportunities to ask questions. Individuals who participate in this webinar series are given the opportunity to build their confidence prior to taking their exams and can showcase their industry commitment to their employers. It also affords those who are attending CEDIA Expo in September ample prep time and the opportunity to congregate with their peers prior to taking their exams.
Additionally, CEDIA will host a three-part WiCT Webinar Series led by Becky Magnotta of Homestead Coaching and Consulting. Each session will explore important topics including trust and relationships, communication and influence, and accountability. The webinars will be held March 23, May 11, and June 8, and will offer actionable tools for attendees to apply within their careers.
"A more highly skilled and diverse workforce benefits the entire industry, which is why I'm so excited to see CEDIA and WiCT join forces" said CEDIA Board Secretary and Owner of TruMedia, Amanda Wildman ESC, CIT-SME, IST-SME. "I have learned a tremendous amount from my work with both Certification and WiCT that has helped me to grow in confidence and knowledge that has continued to shape who I am both personally and professionally."
The CIT Study Group webinar series begins August 1 and runs every Tuesday and Thursday at 11 a.m. EST for three weeks. It is open to anyone interested in earning the CIT certification, including those who are not enrolled in the CIT Pathway. To register, visit the CEDIA events calendar.
Advertisement
[adrotate banner="30"]