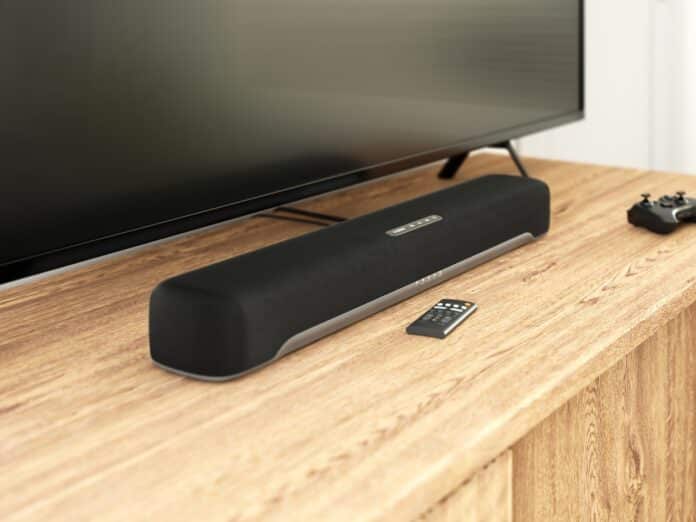 Advertisement
[adrotate banner="23"]
There are still plenty of TV viewers who are still struggling with a lack of clarity in the vocal tracks due to underpowered TV speakers and Yamaha reckons it's got the perfect solution for this with its two new slimline, easy to set up soundbars. The benefits will stretch to games and music too.
The SR-C20 is a brand new design at the entry point of the Yamaha's compact soundbar offerings and, at just 600mm long and 64mm high, it is designed to fit into environments where space is limited, for example at games stations and in bedrooms, offices and playrooms. The low profile ensures that the TV is not obscured in any way and the speakers include two full range drivers and a subwoofer handling a total of 100W along with two passive radiators. The use of passive radiators is quite unusual in compact soundbars but helps to deliver a surprising amount of bass from the smaller footprint.
Advertisement
[adrotate banner="34"]
Connectivity for the C20 includes an HDMI-ARC port, two optical inputs and an analog stereo mini input for gaming consoles and other portable devices.
Meanwhile, the SR-B20 delivers its 120W of power via two tweeters and two woofers. It also includes two subwoofers which have been redesigned for richer, clearer bass and for those who really like their bottom end, there's an additional sub out, so extra low end can be added.
At 910mm wide and 53mm tall the B20 is longer and slimmer than its more compact stable mate but they can both be wall mounted using the built-in keyholes without the need for an additional bracket. The B20 is covered with a sleek, deep black fabric and has larger, dimmable LEDs for visibility when making adjustments and changing settings.
The B20 has a similar set of connections to the C20 and both feature Bluetooth 5.0 which allows multi-point functionality to switch between devices, including Alexa.
Each soundbar has a selection of user customizable sound modes (standard, stereo, game, movie) as well as a virtual surround mode. Here, the SR-C20A can handle Dolby Audio surround while the SR-B20A steps up to DTS Virtual:X to help recreate the impression of 3D audio to impart even more realism into movies and games.
In addition to these sound modes, both bars bring to bear Yamaha's established Clear Voice technology which enhances dialogue clarity by only increasing the volume of human voices.
Along with control by an existing TV remote (when connected via HDMI), each sound bar comes with its own remote and is supported by the Sound Bar Controller App for smartphone control. Easy access buttons on top of the SR-C20 and SR-B20 allow for quick control of volume levels, sound modes and input selection on the units themselves.
Prices: SR-B20A MRP. 20,490/- (SOLD offline) and
Price: SR-C20A MRP. 20,490/- (SOLD online)
Advertisement
[adrotate banner="30"]