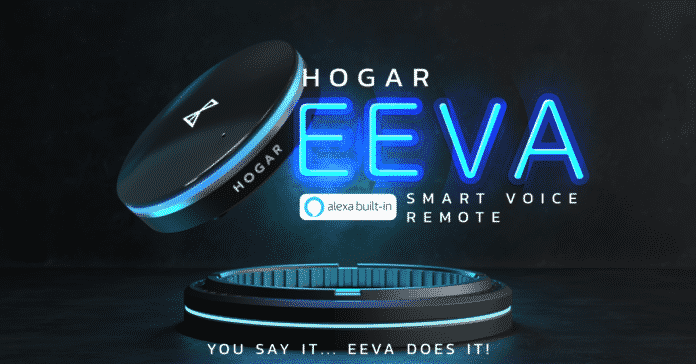 Advertisement
[adrotate banner="23"]
In our daily lives, we use small devices which play a significant role. Without these small devices, we cannot even think about switching on our TV, AC, Set-top boxes, or Music systems. That's right, we are talking about remotes. We are so dependent on remotes that we panic if we can't find them. Think of all those times you have had the whole family searching for a misplaced remote! With the increasing number of smart devices in our home, the number of remotes we have lying around is quickly becoming too many to handle. Keeping and managing remotes has become an uphill task.
Now imagine a remote which can control all your IR devices. Let's take it a step further, what if that remote accepts voice commands so you don't even have to touch any buttons? You would be able to get rid of all your remotes and enjoy a stress-free life with your family. Sounds too good to be true, right?
Advertisement
[adrotate banner="34"]
With Hogar's EEVA it's now a reality! EEVA is a voice-enabled universal smart remote with Amazon Alexa built-in. This first-in-segment IR feature enables you to control all your IR devices such as TV's, AC, Home theatres, Curtains, and Lighting through voice command or the Hogar App. Equipped with a high range 360° IR blaster, EEVA can control any IR device over a range of 8 meters in direct line-of-site. This eliminates the need for multiple remotes for your appliances.
Amazon Alexa pairs perfectly with the built-in speaker and stereo microphone to enable seamless voice commands and feedback. You can listen to music, set timers, check the news and weather, go through your day's agenda, and even play audio games with EEVA. Additionally, you can control all the devices through the Hogar SE App. The App comes loaded with preset configurations that include a wide range of brands and models of various IR devices. Users can create custom made universal remotes on the app that can include only your favourite buttons for each device. Talk about simplicity and ease!
Of course, EEVA works in perfect sync with Hogar's wide range of smart home products, from touch panels, security systems, and sensors, to insert modules. Combined with its power to control a smart home, you can set up scenes, rules, and schedules to your convenience. For example, a voice command "EEVA, turn on movie mode" can trigger a movie scene that would automatically dim the lights, turn on the TV and AC, switch to your favourite movie and turn the volume up on your home theatre. Impressive!
So, what are you waiting for?! Live a smarter life with Hogar's EEVA. You say it, EEVA does it.
Learn more about EEVA from our website www.hogarcontrols.com. EEVA will be available on Amazon, Flipkart, TataCliq, www.hogarcontrols.com, and at a retail store near you!
Advertisement
[adrotate banner="30"]