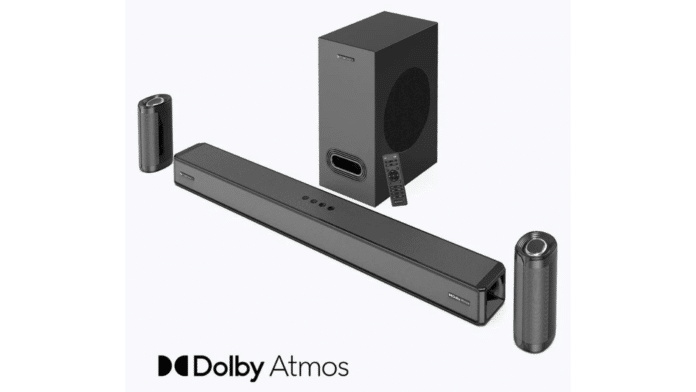 Advertisement
[adrotate banner="23"]
Zebronics, a renowned player in the audio equipment industry, has introduced a new addition to their product lineup in the Indian market – the Zeb-Juke Bar 1000. Packed with impressive features and an attractive price point.
The Zeb-Juke Bar 1000 is slated to hit the market with a special introductory price of 9,999 INR, making it an appealing option for budget-conscious consumers. The initial sale is scheduled to commence at 12 PM on September 5th, 2023, and can be purchased through the official Zebronics website or the popular e-commerce platform, Flipkart.
Advertisement
[adrotate banner="34"]
Impressive Sound Performance
One of the standout features of the Zeb-Juke Bar 1000 is its robust sound performance. With a total output of 150W, this soundbar delivers an immersive audio experience. This impressive sound output is achieved through a 90W subwoofer with a 5-inch driver and a soundbar that boasts 60W output from its dual drivers. The soundbar system is configured in a 2.1 Channel arrangement, enhancing audio clarity and depth. Moreover, it supports Dolby Atmos technology, ensuring a truly immersive and cinematic auditory experience.
Versatile Connectivity
The Zeb-Juke Bar 1000 offers versatile connectivity options to cater to various user preferences. It can seamlessly connect via Bluetooth 5.3, allowing users to wirelessly stream their favorite music or audio content. Additionally, it features HDMI (eARC), optical IN, USB, and AUX inputs, ensuring compatibility with a wide range of devices, including TVs, gaming consoles, and mobile devices.
User-Friendly Design
In terms of design and functionality, this soundbar is user-friendly and adaptable to different setups. It features an LED display for easy navigation and control. Moreover, it can be wall-mounted, saving valuable space and adding a sleek aesthetic touch to any room. The package includes a convenient remote control for hassle-free operation, and the product comes with a one-year warranty for peace of mind.
The Zeb-Juke Bar 1000 is available in a single black color model. Notably, the design of the subwoofer unit bears a resemblance to the black version of the Microsoft gaming console, the Xbox Series S, adding a touch of modernity and style to your entertainment setup.
Advertisement
[adrotate banner="30"]