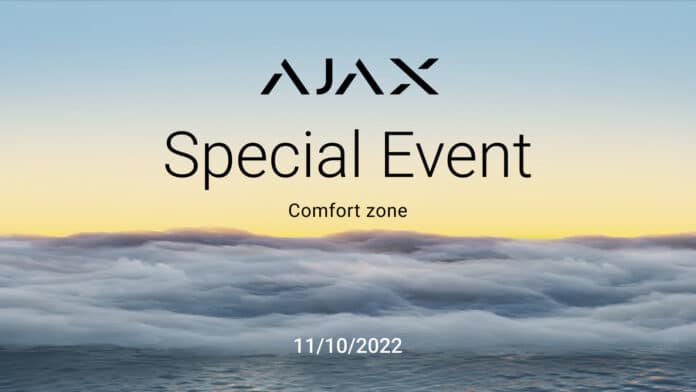 Advertisement
[adrotate banner="23"]
Ajax Systems, the biggest European manufacturer of professional security systems, recently announced that the event will take place on Tuesday, October 11 at 14:30 (UTC +05) and 08:30 pm IST. The tagline of the show is "Comfort Zone". Ajax Systems is stepping out of its comfort zone to bring innovations and new devices. The new products will be showcased to partners and users from over 130 countries worldwide.
It will become the 4th major event organised by Ajax Systems. The previous online presentation has received over 750,000 views from across the world, and over 1,500 security professionals attended local offline events held by Ajax Systems and its partners in Ukraine, Spain, Italy, France, Romania and other countries. This year, the geographical scale of the events is planned to be even bigger.
Advertisement
[adrotate banner="34"]
Special Event: Comfort Zone will be broadcasted in 19 languages: English, Spanish, Italian, Ukrainian, Russian, Dutch, French, German, Portuguese, Turkish, Polish, Romanian, and Greek. Versions in Finnish, Hungarian, Slovakian, Bulgarian, Serbian, and Arabic will be available with subtitles. Viewers will get a chance to choose the language of the broadcast before it starts. The event is entirely free.
During the last special event presentation, Ajax Systems introduced Fibra groundbreaking wired technology with a product line of the same name and multiple additions to its wireless security systems. They included MotionCam series supporting photo on demand, a new Hub 2 version with a 4G modem, ReX 2 supporting photo verification and Ethernet connection, vhfBridge module for instant alarms delivery without Internet, Socket with type G plug, and MultiTransmitter integration module supporting 3EOL.
Also Read: OS Malevich Updates
Advertisement
[adrotate banner="30"]