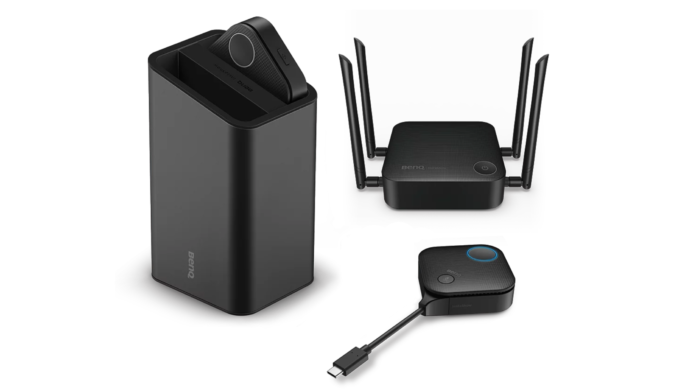 Advertisement
[adrotate banner="23"]
BenQ, an internationally renowned provider of visual display solutions, is doubling down on making it easy to conduct and present in-person and hybrid meetings with the InstaShow VS20 wireless presentation and video conferencing system. The InstaShow VS20 is the first wireless meeting solution to combine wireless presentation, wireless conferencing, and microphone technology in an all-in-one button that is intuitive to use, boosts audio, and doesn't pose security risks to data or network. Ideal for medium to large-size conferencing rooms, the InstaShow VS20 facilitates hybrid meetings with affordable efficiency and clarity.
"There are six vital areas that make video conferences productive: speed and ease to get the meeting started, the ability to present from any device, security, clarity of the audio and video, and platform and room integration," says Bob Wudeck, Senior Director of Business Development at BenQ. "InstaShow VS20 checks all the boxes, both for presenters and for IT. No other system comes close to how quick and easy it is to get meetings started and with a flexible and adaptable audio solution. It's the ultimate BYOM system every meeting room is missing."
Advertisement
[adrotate banner="34"]
InstaShow VS20 Is the Ultimate BYOM System
BenQ's InstaShow VS20 is compatible with all video conferencing platforms, integrates with room systems, and delivers a high-performance VC experience. The InstaShow Host receiver provides all the connectivity needed for full room integration of displays, video bars, speakers, cameras, and room microphones. To take the guesswork out of room setup, which wastes valuable meeting time, the VC Assist App allows the meeting host to quickly adjust the room setup from a local meeting to a hybrid one in seconds.
InstaShow VS20 Improves Audio
All meetings require good audio. An industry first, the InstaShow VS20 makes use of its hardware-based button design to provide an onboard omnidirectional wireless microphone. This presents an exclusive wireless cascade microphone solution with audio coverage that is perfectly scaled to the number of meeting participants in the room, so it's suited for rooms as small as huddle spaces to as large as lecture halls with up to 32 paired microphones. Each wireless microphone can be individually muted at the unit and with acoustic echo cancellation (AEC) it removes echoes and reverberation that can prevent clear audio. The four-way voice reception design picks up all voices within a 15-foot radius.
InstaShow VS20 Stays at the Forefront of Cybersecurity Best Practices
Security of information, data, and the network are critical. InstaShow WPS product portfolio is the only solution to ensure that sensitive information, data, or the network is not exposed. During use, hackers can't access the information being shared. The product family also does not require connection to cloud-based servers for updates that can pose risks and require units to be locked up when not in use. InstaShow is certified to meet CVSS 3.0 information security standards by an independent ISO27001/ISO17025-qualified laboratory. WPA2 authentication with AES 128-bit security encryption ensures that any intellectual property remains private and safe from tampering or unintended disclosure, guaranteeing that presentations are absolutely secure. Powered by MTK Technologies' router-level chipset, InstaShow creates ideal high-speed Wi-Fi zones to handle multiband and fast media traffic with internal isolation of connection channels. With these best practices, organizations can comfortably leave InstaShow buttons in the room and not worry about hackers intercepting traffic. Plus, it's easy for IT and tech staff to oversee and manage InstaShow units, since it's supported by BenQ's centralized management, which can be used to remotely monitor all BenQ solutions in the building or across a campus.
For More Information: www.benq.com
Advertisement
[adrotate banner="30"]