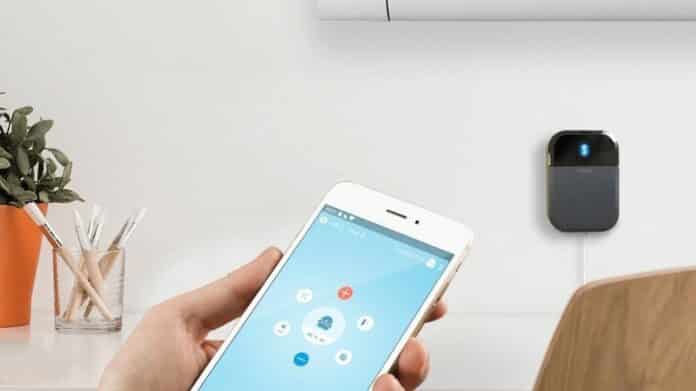 Advertisement
[adrotate banner="23"]
Air and climate play a quite significant role in ensuring a healthier lifestyle. The air we breathe and the climate we endure, to a great extent, control our routines, energy levels and also our appetite. You must have heard doctors prescribing a relaxing and mind-detoxing trip to some location with a not-so-extreme climate, lot of greenery and fresh air. An over-worked exhausted mind requires some clean air to breathe in and a pleasant climate to unwind and get sound sleep, after a long hectic day.
With the advancement of technology, controlling the climate and air purity level is indeed possible!
Advertisement
[adrotate banner="34"]
Air conditioners have been a part of our lives for the last few decades. But controlling them was not possible till the invention of smart air-conditioner controllers. The all-new Sensibo Air smart air-conditioner controller comprises a secondary sensor that reinforces the temperature and humidity sensors in the main unit. Also, it comes with a room sensor that effectively detects motion. Therefore the combination of Sensibo Air and Sensibo Room Sensor efficiently saves energy by switching the AC off when no one is there in the room. Sensibo Air gets easily paired with mostly all kinds of air conditioners ranging from window-mounted, portable to ductless/mini-split air conditioners. It is a compact unit that can be easily mounted on a wall or put on a shelf. Slightly smaller in size, the Sensibo Room Sensor runs on a pair of AAA batteries, communicates with the Air using Bluetooth LE, and can be wall-mounted similarly.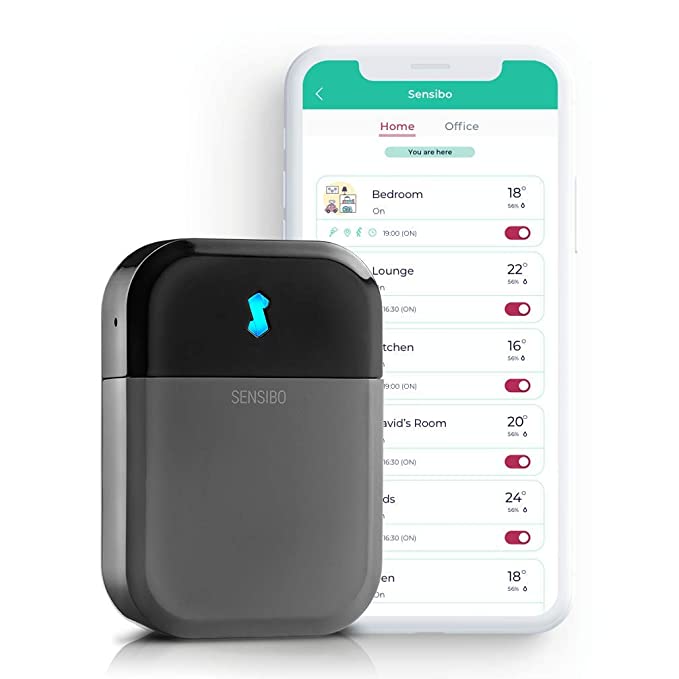 The Sensibo Air measures and regulates humidity ensuring personal comfort. With the help of the device, one can control the moisture level in the indoor climate of a house. The installation process is fairly easy! The system just needs to be connected with a Wi-Fi network using its 2.4GHz Wi-Fi adapter and you are good to go! Sensibo's app can also be downloaded, to which the Air and the secondary sensor can be linked for a seamless experience. It also supports Geofencing, which helps one to set a location/geographical virtual fence, crossing which the AC will get switched on/off automatically. Hence, every evening you can return to a desirably cold house after a draining summer day. Monitoring and controlling the device with voice commands is also possible when paired with Alexa and Google Assistant.
Apart from Wi-Fi controllers like Sensibo Air, the company has also come up with Sensibo Pure, a Wi-Fi-connected air purifier for rooms that are not more than 173 sq. ft. in size. The Sensibo Pure works collaboratively with Sensibo's other devices to improve the air quality around you. Its pre-filter traps Pollen and dust particles up to PM10 whereas the HEPA filter hooks smaller particulate matter up to PM1.0 that includes viruses, bacteria, and fine dust particles. A carbon filter absorbs the unpleasant odour, emitted from smoke and volatile organic compounds during necessary chores, mainly cooking. Post that, purified air is discharged into the room. Also, the Sensibo Pure is geared with an air-quality sensor that can detect particulate matter up to PM2.5 floating in the air. It denotes the air quality level using different coloured LEDs. Based on the captured data, the device decides when is the right time to power up.  Simultaneously, it informs you of the current condition of the air you are breathing in.
Advertisement
[adrotate banner="30"]