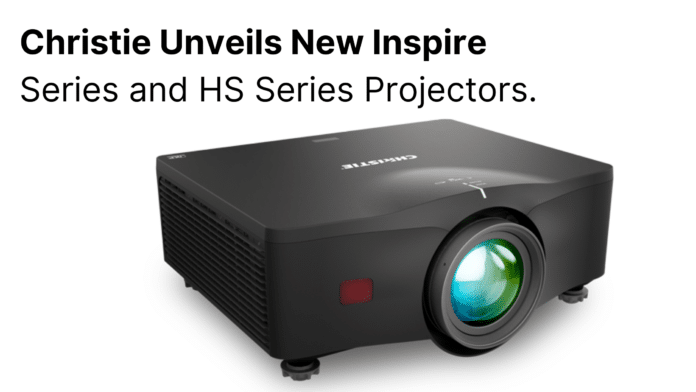 Advertisement
[adrotate banner="23"]
Christie®, a global leader in audiovisual solutions, is excited to introduce two cutting-edge 1DLP® laser projectors, the 4K860-iS and the 4K13-HS. These projectors offer compact and versatile projection solutions suitable for a range of venues, including classrooms, boardrooms, and places of worship.
The Inspire Series presents the 4K860-iS, a remarkably lightweight projector, weighing in at only 33 lbs. (15 kg). Despite its compact size, it delivers a powerful 8,500 lumens of brightness in stunning 4K UHD resolution. Featuring built-in Christie Twist and optional Mystique™ software, this projector offers warping and blending capabilities, along with camera-based alignment, ensuring flawless content display.
Advertisement
[adrotate banner="34"]
For those in need of high-brightness projection without compromising on form factor, Christie's latest addition to the HS Series, the 4K13-HS, delivers an impressive 14,800 lumens. This projector illuminates large surfaces and screens with striking clarity, thanks to its 4K UHD resolution. Colors appear more natural, and blacks are deeper, courtesy of the built-in Christie BoldColor+™ technology.
Andy Wang, Product Manager at Christie, stated, "With our newest additions to our line-up of 1DLP laser projectors, we're offering customers even more choice when it comes to selecting the right solution for their project. With 1DLP options ranging from 5,000 to 23,650 lumens, and features including passive polarized 3D and built-in warping and blending, our projectors are designed to deliver the best possible on-screen image."
Both the 4K860-iS and the 4K13-HS are compatible with the innovative Christie Intelligent Camera (CIC), a powerful accessory that streamlines the process of achieving the desired image quality. Operators can use it for projector color calibration, autofocus activation, and, when combined with Christie's complimentary Mystique™ Lite software, automate warping and blending of up to three projectors in a horizontal array.
To enhance customer confidence, these new models come with an industry-leading 5-year/20,000-hour warranty and are available for order now.
For more information https://www.christiedigital.com/ .
Advertisement
[adrotate banner="30"]