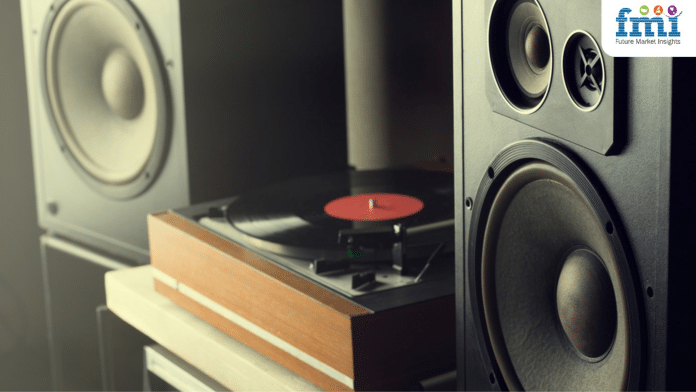 Advertisement
[adrotate banner="23"]
The global Hi-Fi systems market is poised for significant growth, with an estimated size of US$ 16.9 billion in 2023 and a projected expansion to US$ 28.6 billion by 2033. Anticipated to surge at a 5.4% CAGR, the overall sales of Hi-Fi systems are expected to thrive throughout the forecast period.
Key Highlights:
Advertisement
[adrotate banner="34"]
Product Segment Growth
The products segment is forecasted to exhibit a CAGR of 5.3% between 2023 and 2033, driven by the flexibility and cost-effectiveness of Hi-Fi products.
Demand Drivers
High-quality audio demand, increasing adoption of home entertainment systems, and the popularity of wireless Hi-Fi systems are key factors stimulating growth.
Wireless Audio Surge
Rapid interest in wireless audio devices, particularly in home and commercial applications, is expected to boost the market. Wireless audio devices are also gaining traction in niche applications like automotive, military, and security.
Streaming Services Impact:
The rise of streaming services, such as Spotify and Apple Music, is contributing to the demand for Hi-Fi systems, offering high-quality streaming audio experiences.
Home-Theatre-in-a-box (HTIB) Adoption
Increasing adoption of HTIB and the growing popularity of smart homes are fueling demand for Hi-Fi systems.
Global Market Projections
The global Hi-Fi systems industry is forecasted to reach US$ 28.6 billion by 2033, with the United States, South Korea, China, the United Kingdom, and Japan being key markets.
"Growing demand for high-quality audio and the rising popularity of wireless audio systems are anticipated to provide a strong impetus for the expansion of the global Hi-Fi systems market during the forecast period," opines Sudip Saha, Managing Director and MD at Future Market Insights.
Leading Manufacturers
Key players in the Hi-Fi systems market, including Bose Corporation, Tannoy Ltd., Bowers & Wilkins, HARMAN International, DEI Holdings, Inc., Koninklijke Philips NV, LG Electronics Inc., Samsung Electronics Co., Ltd., Onkyo Corporation, Panasonic Corporation, Sony Corporation, and Yamaha Corporation, are actively introducing new Hi-Fi systems, especially wireless ones, to cater to evolving consumer preferences.
Recent Launches
In January 2023, Yamaha unveiled its new 2000 Series Hi-Fi System in the United States.
In February 2022, Sony Electronics introduced its latest premium Mobile ES car subwoofers, amplifiers, and speakers to enhance the entertainment experience.
Drivers and Opportunities
Increasing demand for high-quality audio, coupled with the rising adoption of home entertainment systems, is driving the popularity of wireless Hi-Fi systems. Audiophiles, in particular, are boosting the demand for high-quality music experiences, enhancing the market's prospects.
Regional Trends
The Hi-Fi systems market features a competitive landscape with dynamic regional trends. Manufacturers and vendors are focusing on innovation and product differentiation to gain a competitive edge. North America and Europe, characterized by a high concentration of tech-savvy consumers, drive the demand for premium Hi-Fi systems. Meanwhile, Asia-Pacific is witnessing a surge in demand driven by a growing middle-class population with an increasing appetite for high-fidelity audio experiences.
Challenges
Despite its promise, the Hi-Fi systems market faces challenges such as pricing pressures and the availability of affordable alternatives in the audio market. Additionally, the ongoing global semiconductor shortage has the potential to influence production and supply chain disruptions.
Advertisement
[adrotate banner="30"]