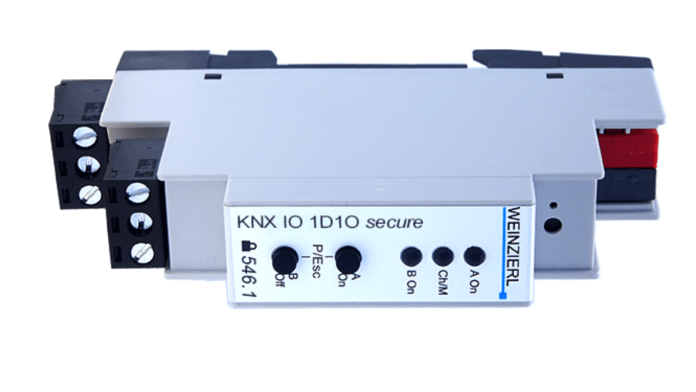 Advertisement
[adrotate banner="23"]
The KNX IO 546.1 secure (1D1O) is a cutting-edge dimming actuator that combines compact design with top-tier security features. This device is not just the smallest in its class but also ensures the utmost in security for your KNX smart home system.
Equipped with 1 dimming output for active electronic ballasts featuring a 0/1-10V interface, and an additional bi-stable relay output, this dimming actuator is versatile and suitable for various applications, such as controlling LED panels or strips. Its configurations allow for channel control through switching, relative dimming, and dimming value adjustments.
Advertisement
[adrotate banner="34"]
The KNX IO 546.1 secure (1D1O) boasts integrated comfort functions, including scenes, slumber fading, staircase lighting, and a sequencer. For added security, the device also optionally supports KNX Security, ensuring the protection of your smart home system.
In addition to its dimming capabilities, the switching actuator offers universal outputs with functions such as scene control, timers, staircase lighting, and compatibility with heating valves using PWM for thermoelectric valve drives. The device features two push buttons and three LEDs, enabling local operation and providing a visual representation of the device state.
Furthermore, the KNX IO 546.1 secure (1D1O) includes 16 independent functions for logic or timer control, adding to its flexibility and adaptability. Weinzierl's range of products, including this innovative dimming actuator, is available for purchase in India through Entelechy Systems.
For more information: www.weinzierl.de
Advertisement
[adrotate banner="30"]