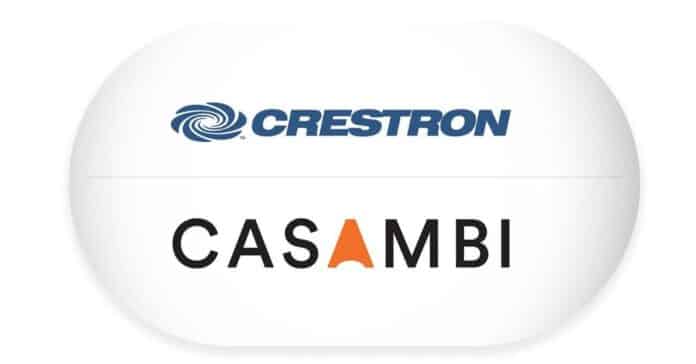 Advertisement
[adrotate banner="23"]
Internationally acclaimed smart lighting control company, Casambi recently announced its partnership with Crestron, a global leader in commercial lighting control and automation. By joining the Casambi Ecosystem, Crestron plans to integrate Casambi control within its Zūm® lighting control portfolio.
This partnership will deliver cross-compatibility between Casambi's wireless mesh network capabilities and the Crestron Zūm product line – a widely distributed lighting control system that uses industry standards, such as 0-10V, DALI®, DMX and phase control all merged on one enterprise IoT network.
Advertisement
[adrotate banner="34"]
This interoperability means Casambi's Bluetooth wireless mesh can extend a Crestron Züm system to enable luminaire level control of any "Casambi Ready" light fixture by Züm control devices and software.
"This partnership will benefit both organisations in a meaningful way," says Peter Augusta, VP of Sales, Casambi North America. "Crestron customers and representatives gain access to Casambi's world-class wireless mesh network as a "snap-on" option for Zūm, while Casambi's ecosystem expands to include the prestige of Crestron's products and services."
"Crestron is excited to work closely with Casambi to expand our Zūm ecosystem to integrate with 'Casambi ready' fixtures," said Jim McGrath Executive Director, Lighting Business Development, Crestron. "Working with manufacturers such as Casambi provides reliability to the specification community to ensure that control systems and fixtures are tested to integrate with each other prior to specification and deployment."
"The Casambi Ecosystem is predicated on the notion that diversity plays a central role in helping the lighting industry to innovate and transform. We're extremely pleased to have Crestron onboard", said Kari Metälä, CEO, Casambi. "By joining the Casambi Ecosystem, Crestron can immediately leverage our core competencies in wireless lighting control while focusing on the value they create for their customers. Conversely, this cooperation will undoubtedly reinforce Casambi's usability – especially in high-end offices and conference rooms – further strengthening our presence in North America, and indeed, globally".
Casambi's system compatibility with Crestron products will benefit the industry in a big way by enabling smarter system installations to scale across a broad range of commercial applications, in addition to improving the integrated user experience with Zūm products via the use of Casambi smart wireless controls. As the Casambi Ecosystem grows throughout North America, its partnerships are making smart buildings smarter through the provision of large-scale lighting systems that are more reliably connected, secured, and effortless to control.
Advertisement
[adrotate banner="30"]