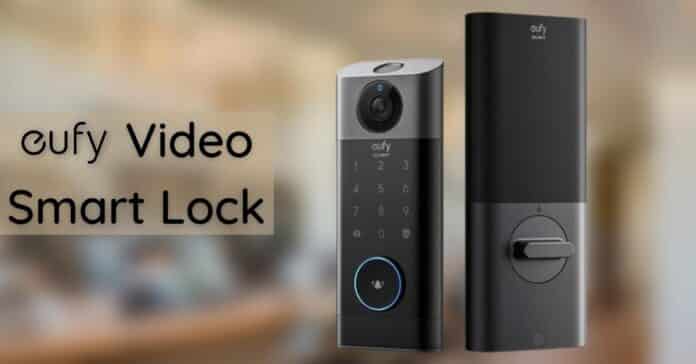 Advertisement
[adrotate banner="23"]
The Video Smart Lock was recently unveiled by Eufy Security, Anker Innovations' smart security brand. The compact device allows customers to keep an eye on approaching visitors, receive lock and unlock notifications, and enter their houses with the speed and accuracy of fingerprint unlocking.
3-in-1 Seamless Security Integration
Advertisement
[adrotate banner="34"]
Users can see guests arrive from the comfort of their cellphones with the Video Smart Lock. In a single device, this innovative 3-in-1 integration includes a 2K camera, advanced Video Doorbell detection technology with voice capabilities, and the fastest Smart Lock fingerprint security. Users can also store any recordings they want without having to pay a single monthly price.
"The typical video doorbell is just that, a doorbell without a secure locking mechanism. The Video Smart Lock combines a powerful camera with best-in-class fingerprint access technology to provide an accurate and lightning-fast home security experience," said Frank Zhu, General Manager, Eufy Security. "This device dramatically cuts down on false alarms and provides video storage at no extra cost", added Zhu.
Fingerprinting Technology with the Fastest Response
The fingerprint chip in the Eufy Security Video Smart Lock allows customers to enter their homes in less than a third of a second. In the rain or snow, the Video Smart Lock uses an ultra-thin fingerprint coating to ensure that your finger never slides. To achieve 98 percent accuracy, the user's fingerprint is re-oriented to the top of the scanner. The scanner examines the most-used fingerprints during each press using advanced matching AI algorithms to ensure consumers have no trouble getting into their homes. The entering process becomes even faster as the user uses the fingerprint scanner on a more regular basis.
Day and Night 2K Camera Clarity
With a powerful 2K camera and broad 160° field-of-view, the Video Smart Lock shows every detail when guests approach the user's home. Even on the brightest days, Wide Dynamic Range technology produces excellent video. In the dead of night, four infrared lights identify persons and things.
Remote Auto-Lock
The Eufy Video Smart lock combines a geomagnetism sensor and a gyroscope to accurately locate the door's position within 0.75 mm. Users never have to worry if they forgot to lock up before leaving home – it will lock automatically when the door is closed.
Details about the product
160o field-of-view on a 2K camera
Self-learning AI technology recognizes different sets of fingerprints
Instant unlocking and rapid fingerprint recognition (0.3 seconds)
Dual motion detection reduces false alarms by 95%.
Unnecessary warnings are filtered away by AI Human Detection (e.g., cars, trees, and animals)
BHMA certification—more than 200,000 successful locks and unlocks
The IP65 waterproof grade ensures long-term functioning in any environment.
Image Source: Eufy Security PR
For More Information, Visit: https://us.eufylife.com/
Advertisement
[adrotate banner="30"]