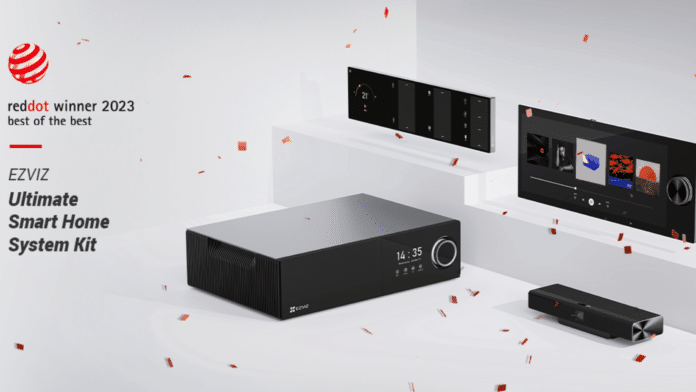 Advertisement
[adrotate banner="23"]
EZVIZ, a global leading smart home innovator, is thrilled to bring home the prestigious Red Dot 2023 Best of the Best Award, with its latest design – a groundbreaking smart home system kit called the "Ultimate Smart Home System Kit." This winning product marks the first time for EZVIZ to ever receive the esteemed Red Dot Award. It reaffirms the company's dedication to refreshing the smart home industry with new design ideas, inspiring a new era of connected living that prioritises user experience, convenience, and energy efficiency and also setting a new benchmark in Smart Home Systems – Smart Connectivity Plus Data Protection.
The Red Dot Award, widely regarded as one of the world's most prestigious design accolades, sets stringent standards for evaluating products that exemplify extraordinary design excellence. This "Best of the Best Award" is given only to a select few products that truly push the boundaries of innovation, functionality, and aesthetics.
Advertisement
[adrotate banner="34"]
Born out of EZVIZ's Industrial Design Team's latest work, the winning kit redefines smart home aesthetics and integrates advanced technology, user experience, and data security. Thoughtfully designed to build the "infrastructure" of a safe and comfortable smart home, the kit includes the A8 Central Hub, SP12 Smart Display, SW8 Control Panels, and TS1 Home Cameras. The A8 hub acts as the central control unit, allowing seamless operation and remote management of all devices. More importantly, the hub ensures scalability, enabling the addition of compatible devices for a limitless, multi-device home ecosystem.
Understanding privacy as the key deciding factor of a trustworthy smart home system, the company also prioritises data protection in its designs. For example, in addition to the strict data encryption, the kit also utilises a LAN network instead of Wi-Fi to run all devices. Its sleek, minimalistic design elegantly blends form and function, while ensuring a smooth user experience. Users can effortlessly control devices through the intuitive panels at home or remotely via the EZVIZ App.
"We are proud to receive the Red Dot 2023 Best of the Best Award," said Weike Zhu, Chief Designer of EZVIZ's Industrial Design Department. "Although the kit is not market-available yet, winning the Red Dot's trophy award with our design idea and product samples has boots our confidence in bringing it to smart home lovers worldwide soon."
Advertisement
[adrotate banner="30"]