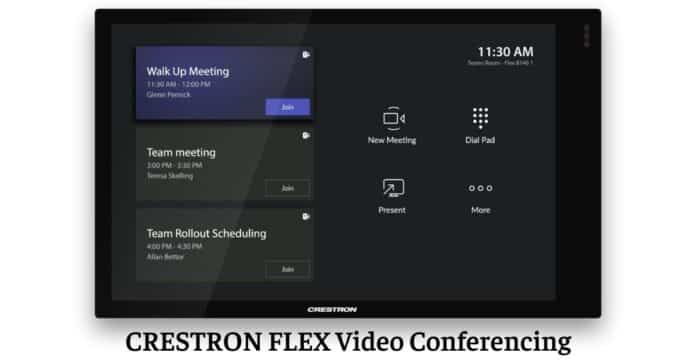 Advertisement
[adrotate banner="23"]
Frost & Sullivan, an American Business Growth Strategy Consulting firm offering market research and analysis across Asia, Americas, Africa & Europe, researched the global audio-video (AV) collaboration devices market and recognized Crestron, a global leader in workplace technologies and corporate automation, with the 2021 Global Audio Video Collaboration Devices Competitive Strategy Leadership Award, based on its findings.
Crestron is well-positioned to address the positive and negative sides associated with hybrid work, where teams are distributed among formal corporate offices, meeting spaces, and homes. The company's strong commitment to delivering innovative corporate automation and unified communication (UC) solutions embodying flexibility, the best collaboration experience, as well as a high level of security, serviceability, reliability, and management, has made it ideal for government & educational institutions, and Fortune 500 enterprises around the world.
Advertisement
[adrotate banner="34"]
The award was given to the CRESTRON FLEX Video Conferencing Product Line & Platform, which is capable of handling a wide range of work environments. The video conferencing systems come as tabletop devices in multiple dimensions, front of the room, and wall mount choices. It also offers a UC engine with a dedicated processor that can run Microsoft Teams or Zoom cloud conferencing platforms natively.
The product range offers top-of-the-line quality, performance, and allows customers to tailor solutions according to various collaboration spaces and use cases. While the market is increasingly focusing on integrated AV and computer devices, Crestron is building comprehensive solutions using modular components that allow businesses to upgrade individual components more cost-effectively.
"The bulk of the Flex UC models are certified for Microsoft Teams Rooms and Zoom Rooms. Additionally, the Crestron Flex Phones, a suite of audio and video desktop phones for Microsoft Teams, address personal use cases and private collaboration spaces, enabling enterprises that have standardized on Microsoft Teams to also standardize on a single provider of certified endpoints across all spaces", stated Vaishno Srinivasan, Senior Industry Analyst.
Crestron was one of the few prominent hardware providers to envisage and realize the requirement for a comprehensive portfolio of UC devices that natively support Microsoft Teams, given the significant increase in Microsoft Teams utilization over the last two to three years. This robust native product selection offers a uniform user interface across all devices, including 'bring-your-own-compute' (BYOC) in meeting rooms, dedicated meeting room devices, and corporate desk phones. This is especially relevant if a firm decides to go all-in on Microsoft Teams for all user categories and device kinds. As part of the Flex UC portfolio, Crestron has also produced a broad spectrum of Zoom-certified Flex UC systems as well as an open UC stack for all other standard-based video conferencing solutions.
Crestron delivers network security through its products and its XiO Cloud, an IoT-centric cloud-based management platform that provides customers with cutting-edge features and excellent service. Crestron has evolved into a well-rounded hardware provider in the AV collaboration area, and it is now assisting in the digital office revolution.
"Backed by a rock-solid strategy, Crestron has established itself prominently in a highly competitive market and grown its AV business significantly over the years," said Srinivasan. "The strong demand for video in the return to the office fueled the growth of its Flex UC product line. The Flex Video Conferencing line is energized with new product models, expanded features, and an unceasing engineering pace. Crestron achieved significant double-digit unit and revenue growth rates, above market average, in the global video conferencing devices market in 2020, due to its strong engagement with Microsoft and Zoom, and we expect that strong growth to continue", added Srinivasan. 
Advertisement
[adrotate banner="30"]