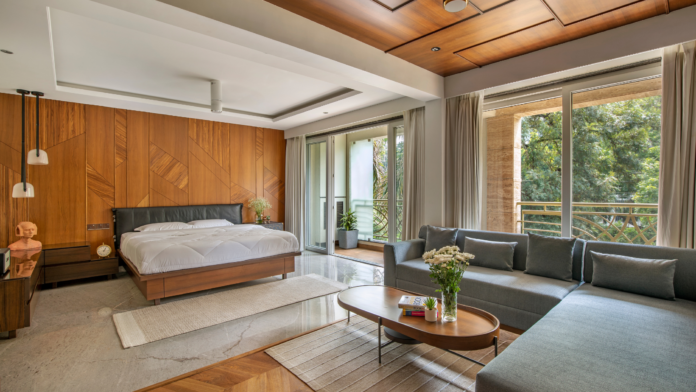 Advertisement
[adrotate banner="23"]
Ar. Manish Kumat has designed a Smart Home for a young couple in Indore that brings added comfort and convenience through smart automation to the homeowners.
Ar. Manish Kumat Design Cell headed by Manish Kumat has the extraordinary talent of seamlessly integrating nature as a part of interior spaces. The award-winning architect has designed some of the landmark projects over the years. Manish has recently designed a project in Indore for a young couple, where he has seamlessly integrated Nature, Design and Smart Automation which has not just provided ease of convenience but also provided foolproof security and energy efficiency which is the need of the hour.
Advertisement
[adrotate banner="34"]
This young couple wanted their four-bedroom apartment spread over an area of 1,890 sq ft to be converted into a spacious three-bedroom apartment with contemporary interiors and smart home technology. Adhering to the brief Ar. Manish broke a few walls to create a spacious space such as a large master bedroom with a lounge area and a walk-in closet space. In addition, Manish also created sleek, easy-to-maintain interiors, so he opted for furniture and fittings with straight lines and materials that are easy to clean.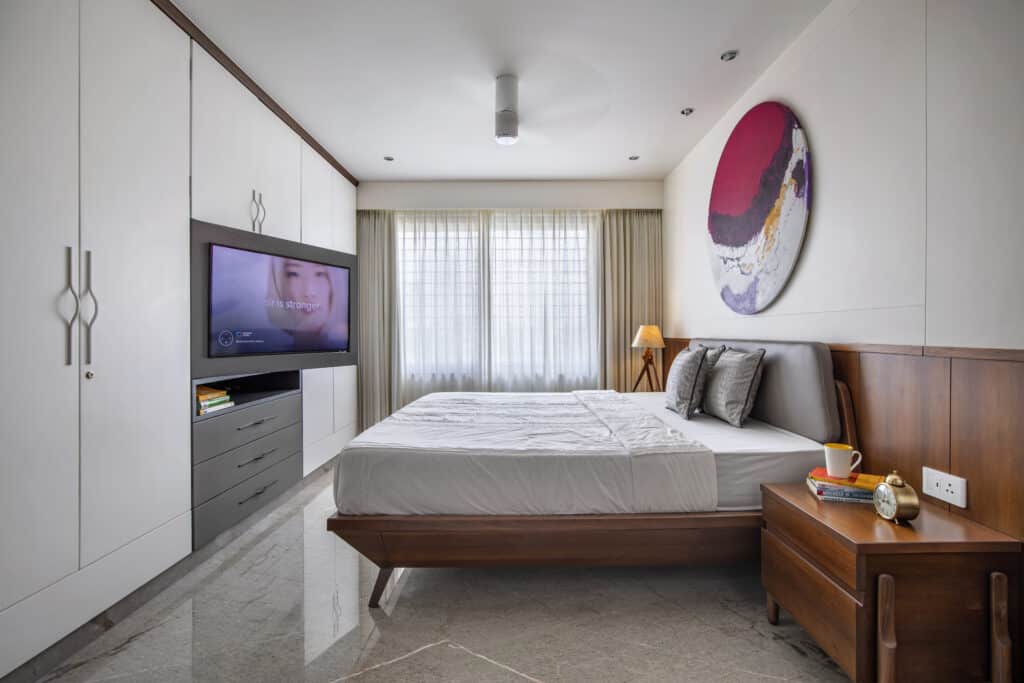 Explaining his design approach and use of Smart Automation, Manish said, "I focused on providing the client with amenities to be functional and remotely controlled to offer them security, convenience, and energy saving. I had extensive discussions with them to understand their requirements. They wanted home automation from entrance access to the control of lighting, fans, air-conditioning, television, and curtains. Initially, we were a bit conservative in our approach toward smart technology due to fluctuations in voltage and unpredictable electricity supplies. However, this scenario has changed in the past few years as electricity supply has improved. Another point is that smart home automation is easier for the tech-savvy who easily understand how to control devices by an App on their phone or a networked device." He further adds, "Though personally, I had not previously worked on smart home technology, we did thorough market research and went ahead and designed their home. We incorporated smart technology in different aspects of their home and living in a way that was inconspicuous while keeping to our design ethos of neat spaces with accent elements."
After extensive research of the brands available in the market, the architect decided on Lutron for the lighting control system. For the lighting fixtures, they opted for Plus Light Tech which has a huge range of good quality fixtures and a good warranty as well. "The combination of Lutron and Plus Light Tech turned out to be amazing. After a thorough study of how smart lighting technology was to be incorporated into the home, each light had a separate wiring system as it went to the Lutron server. This had to be worked out in detail. We used a DALI driver that has a single interface for all light fixtures and controllers. This driver functions well. It helps to dim and tune the colour temperature of the lights. Thus, in one single light, the client gets a choice of temperature possibilities that makes it efficient and economical. For the entrance door, we opted for Yale digital door lock that offers access by a key as well as keyless (via number and biometrics)."
Advantages of Smart Automation
"As the client is a young couple and technology savvy, they found it easy to operate the automated systems. They are thus able to work with many amenities as per their preferences. For the lighting, they can create an ambiance in the interiors by opting for a particular tone and brightness of light such as soft in the evenings or in the living room and bright in the kitchen area. For controlling the sound of the television, we provided a sound bar that has a discreet speaker system that creates an effect close to that of a home theatre. A sound bar is space efficient and sound-effective.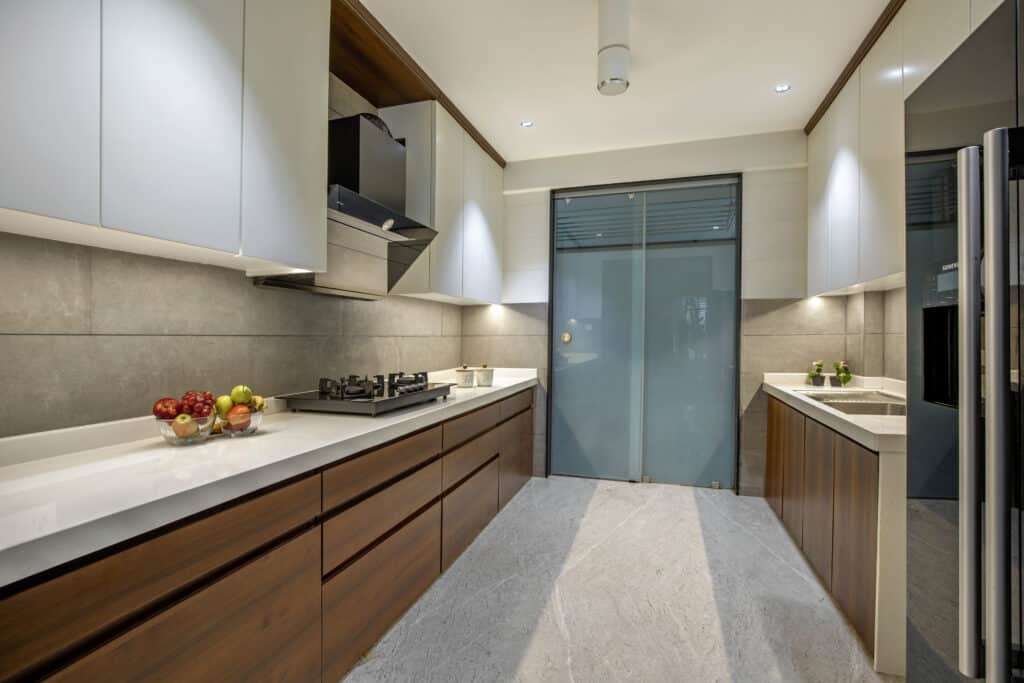 Advice to Budding Professionals
"Clients are more tech-savvy today than in previous years. So, I would suggest that budding professionals should study products in the market, meet vendors and educate themselves about products and systems. Firstly, one must study the dynamics of the location of the site in terms of the availability of a regular supply of electricity and products if a backup is required. I feel it is better to go in for a high-quality product with a good warranty of several years so there is a good performance. A backup should be planned in case any system does not function, and this backup should be available at the earliest so the inconvenience caused to the client is minimized. All the systems should be explained thoroughly and demonstrated to the client before the project is handed over to the client."
Overall, the architect has successfully combined his design philosophy and Smart Home Automation and delivered the projects within a stipulated time period to his clients.
Reference Guide:
Principal Designer: Manish Kumat
System Integrator: Eagle Techsec Pvt. Ltd.
Automation System Used: Lutron- RA2
Lighting: Plus Lights (Tunable & Dimmable)- Dali Driver
Security Cameras: CP Plus
Digital Locks: Yale
Biometrics: Yale
Smart Locks: Yale
Networking Devices used: D- Link Switches
Photographs: Tejash Shah
Advertisement
[adrotate banner="30"]