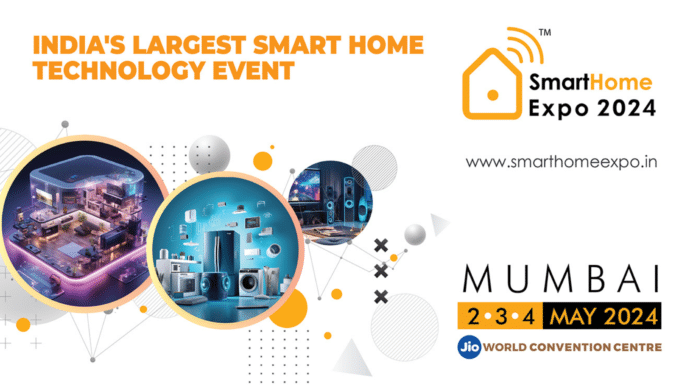 Advertisement
[adrotate banner="23"]
The stage is set for India's premier smart home technology event following the grand success of the 2023 edition.
After the phenomenal success of the 2023 edition, the organizers of the Smart Home Expo are pleased to announce the dates for the 5th edition of the Smart Home Expo. The event will take place from May 2 to 4, 2024, at the prestigious Jio World Convention Centre in BKC, Mumbai.
Advertisement
[adrotate banner="34"]
The Smart Home Expo 2023, which took place from May 4 to 6, 2023 at Pragati Maidan, New Delhi, received an overwhelming response with over 10,000 attendees. The distinguished audience included system integrators, international delegates, architects, real estate developers, interior designers, CTOs, Heads of Innovation and Technology, CEOs, international brand representatives,and many more.
Shri Devusinh Chauhan, Minister of State for Communications, Government of India, inaugurated the previous event, stating, "Smart Home Expo 2023 is a perfect example of how our country has progressed in terms of Smart Home Technology." His statement encapsulates the spirit and intent behind the Expo – to continue pushing the boundaries of Smart Home Technology and its implementation.
The 2023 Expo was a showcase of innovation and expertise, presenting over 200 brands spanning numerous categories and unveiling over 50 cutting-edge products. It served as a platform for more than 70 expert speakers to share their knowledge and insights on Smart Home Technology. Among the highlights of the event was the well-received KNX Pavilion and Training, which provided not just knowledge-sharing sessions but also a networking platform, further enriching the experience for attendees.
The key findings from the 2023 edition's conference indicated the industry's pace of innovation is accelerating, especially in areas such as new software, cloud, AI, wireless solutions, energy efficiency, security, home cinema, wireless protocols and standards, as well as IoT integration, and smart lighting and lighting control.
Attendees of the 2024 edition can anticipate an engaging and insightful event, replete with an unparalleled display of cutting-edge technology, abundant networking opportunities, enlightening knowledge-sharing sessions, and exciting new product launches. The Expo is geared to deliver an immersive experience that will once again spotlight the rapidly progressing landscape of Smart Home Technology, providing a glimpse into the future of home technologies.
For More Information Visit: https://www.smarthomeexpo.in/
Advertisement
[adrotate banner="30"]