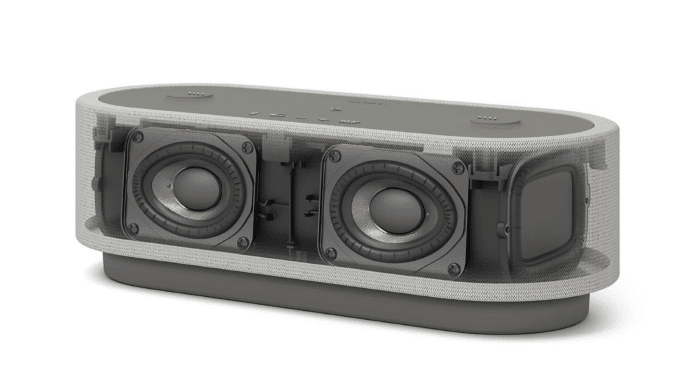 Advertisement
[adrotate banner="23"]
Sony has leaped forward in portable audio technology with the release of their latest innovation, the HT-AX7 Portable Theater System. This uniquely designed system offers a modern sense of appearance and promises to revolutionise your audio experience.
The HT-AX7 Portable Theater System is essentially a split Bluetooth speaker with a fabric-like style. What sets it apart is the top two lid-style modules, which can be removed and placed in the room as independent portable speakers, creating a 360-degree space mapping stereo scene. When the lid is attached to the main body of the speaker, it functions as a traditional Bluetooth speaker.
Advertisement
[adrotate banner="34"]
One of the standout features of this system is the 360 Spatial Sound Mapping. By strategically placing speakers all around, the HT-AX7 immerses you in spatial sound, taking your audio experience to new heights. Whether you want to feel like you're in the midst of a live concert or fully immersed in a movie, this technology delivers an unparalleled sense of presence.
Additionally, the HT-AX7 Portable Theater System boasts a Sound Field effect. By placing the three speakers in the corner of your room, you can create the perfect atmosphere with high-quality, room-filling sound. The result is an audio experience that feels natural and enveloping.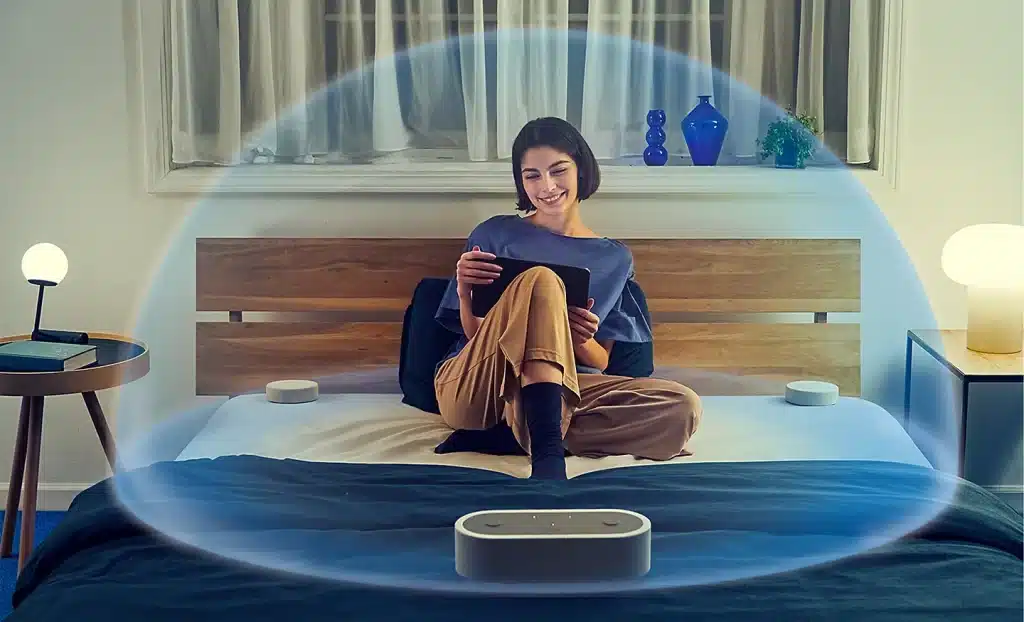 Sony has ensured that design and audio are in perfect harmony with this system. With no disruptive wires, it seamlessly blends into any home interior. The compact size of the HT-AX7 belies its powerful performance. Equipped with two front speakers and two passive radiators on the side, it delivers a clean and powerful sound that surpasses expectations.
Taking environmental responsibility into account, Sony has designed this system with sustainability in mind. The company is committed to reducing the use of virgin plastic in its products and packaging, making the HT-AX7 an eco-friendly choice for discerning consumers.
To enhance flexibility and ease of use, Sony allows users to control the "portable theater system" using their smartphones as a remote control. With the Sony Home Entertain Connect App, users have complete control over the sound field, volume, and more, all from the convenience of their smart devices. This streamlined experience ensures that you can get the most out of your HT-AX7 without any hassle.
Connectivity is made seamless with Bluetooth technology, allowing you to effortlessly pair your device with the HT-AX7 portable theater system. The wireless rear speakers are automatically paired to the main unit, so you can simply place the speakers around your room and press play to immerse yourself in a captivating audio experience.
With approximately 30 hours of battery life and rapid charging capabilities, the HT-AX7 ensures that you can enjoy your favorite music, movies, or games for extended periods without interruption. Just 10 minutes of charging provides approximately 2.5 hours of playback time, allowing you to dive back into your audio journey with minimal downtime.
For More Information: https://www.sony-asia.com
Advertisement
[adrotate banner="30"]