Advertisement
[adrotate banner="23"]
HDMI® Specification HDMI 2.1a is the upgraded version of HDMI® specification. This new version supports a range of higher video resolutions up to 10K and refresh rates including 8K60 and 4K120. The dynamic HDR formats are also supported, and bandwidth capability is increased up to 48Gbps.
Supporting the 48Gbps bandwidth is the new Ultra High Speed HDMI Cable. The cable has ultra high-bandwidth dependent features that are delivered including uncompressed 8K video with HDR. It also features exceptionally low Electro-Magnetic Interference (EMI) which reduces interference from nearby wireless devices. The cable is backward compatible and can be used with the existing installed base of HDMI devices.
Advertisement
[adrotate banner="34"]
HDMI® 8K@60/4K@120
HDMI® Specification HDMI 2.1a supports end-to-end 8K/4K resolutions and higher refresh rate solutions with a single upgraded cable for seamless integration with the HDMI ecosystem.
The 8K delivers a super-immersive viewing experience with 2X horizontal and vertical resolution of 4K, and 4 times as many pixels; and combined with 60Hz refresh rate enables smooth and sharp viewing of content with high-speed action. 4K@120Hz enables ultra-fast motion UHD images to be crisp and razor-sharp like sports, action movies, high-performance gaming, and VR benefit significantly.

Apart from 4K and 8K, a variety of alternative resolutions like 5K and 10K support the commercial AV, industrial, and specialised applications. The most recent colour spaces, such as BT.2020, are also supported, with 10 or more bits per colour and at higher frame rates.
HDMI® Dynamic HDR
The HDMI 2.1a Specification supports multiple static and dynamic HDR solutions. HDR enhances video images with an extended dark to bright contrast range for deeper blacks and brighter whites, in both the dark and bright parts in the same image, and greater detail within an extended colour space.

Dynamic HDR enables a noticeable progression in overall video image quality from SDR to static HDR, and now static HDR to dynamic HDR. Dynamic HDR support ensures every moment of a video is displayed at its ideal values for depth, detail, brightness, contrast, and wider colour gamuts—on a scene-by-scene or even a frame-by-frame basis. HDR-enhanced content is available for movies, videos, television shows, video and PC games and VR.
HDMI® Source-Based Tone Mapping (SBTM)
For decades, broadcast standards such as ITU-R BT.709 established the colour and brightness ranges of video and TV displays based on CRT. Modern TVs and displays can display significantly more colour and brightness than CRT displays of the 20th century.
The HDR technology is now frequently used to map the colours of both standard and high dynamic range content into amazing, immersive colour images. HDR enhances video images with a wider range of dark to bright contrast, delivering deeper blacks, brighter whites, and rich detail in both the dark and bright parts in the same image. HDR also supports a greater range of colours.
In today's competitive environment, not all displays have the same HDR capability; some have different ranges of colour and brightness levels than others. This is fine when HDR video such as HDR10 and HLG are sent, because the television will typically map HDR content beyond the display's capabilities to the brightness and colour ranges available. But sometimes, a source device needs to combine different types of content (HDR, SDR, dynamic HDR, graphics) together at the same time. For example, when you view a menu of video thumbnails from a streaming video service, some of the thumbnails might be HDR and others might be SDR, and the menu is rendered using graphics. To optimise the quality of the combined content, processing is needed in the Source device that cannot be performed inside the display.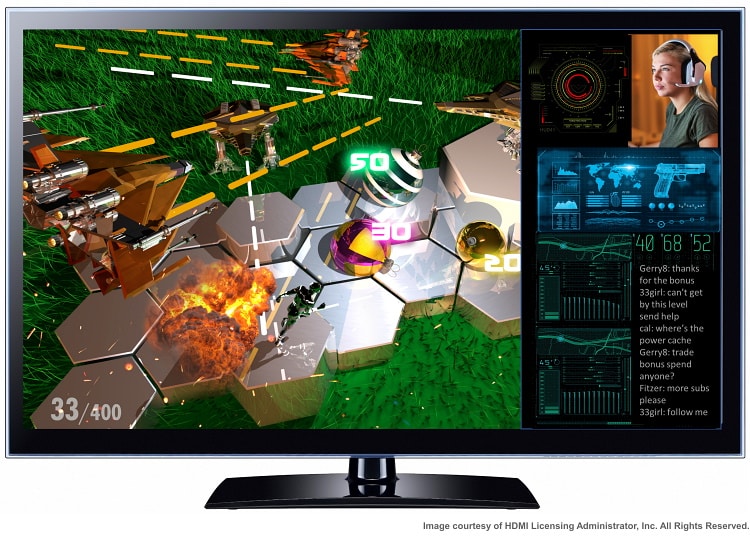 Source-Based Tone Mapping (SBTM) ensures the source sends a video signal that takes full advantage of a specific display's HDR capability by adjusting its output to take better advantage of each display's potential. As with other HDR technologies, rather than adopt a fixed set of colour and brightness ranges, SBTM allows the Source to adapt to a specific display. SBTM can also be used by PCs and gaming devices to eliminate manual user optimization for HDR.
SBTM doesn't replace existing HDR technologies such as HDR10, HLG and HDR dynamic metadata systems. Instead, SBTM adds an additional HDR capability to HDMI-enabled products, offering consumers additional high-quality viewing experiences.
Ultra High Speed HDMI® Cable Certification Program
The Ultra High Speed HDMI Certification Program is a mandatory certification program for all Ultra High Speed HDMI Cables; and ensures quality Ultra High Speed HDMI Cables reach the market and support 4K and 8K video, HDR, VRR, eARC, and all other HDMI 2.1a features. These cables are also required to be tested and certified to ensure low EMI to reduce the possibility of interference with wireless networks, streaming media players, Bluetooth devices and mobile phones.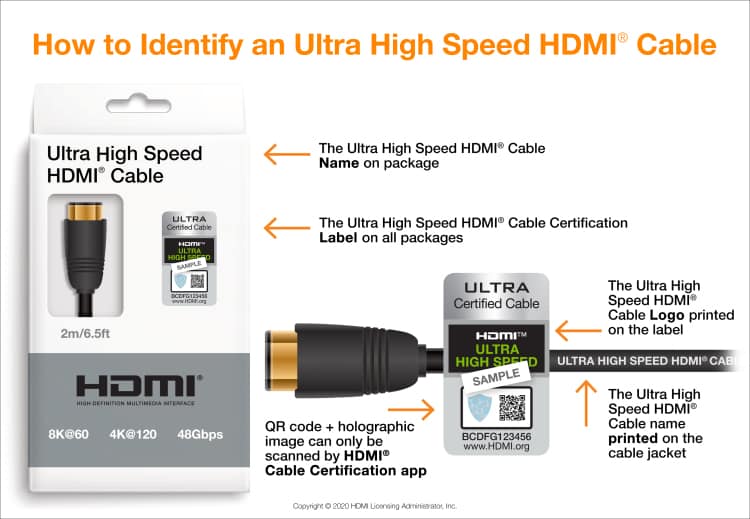 All certified cables of any length must pass certification testing at an HDMI Forum Authorised Testing Centre (Forum ATC). Once certified, cables will be required to affix an Ultra High Speed HDMI Certification Label to each package or unit of sale enabling consumers to verify the certification status of the product.
To identify the cable, make sure the packaging displays the required Ultra High Speed HDMI Certification Label. The label should include the official cable name and logo printed on it and on the outer cable jacket. To verify the authenticity, the label can be scanned by the HDMI Cable Certification app available on the Apple App Store, Google Play Store and other Android app stores.
HDMI® Enhanced Audio Return Channel (eARC)
HDMI 2.1a features Enhanced Audio Return Channel (eARC) which is an advancement over the previous Audio Return Channel (ARC). eARC simplifies connectivity and provides greater ease of use for multiple components like discovery and audio optimization. It supports the latest high-bitrate audio formats up to192kHz, 24-bit, and uncompressed 5.1 and 7.1, and 32-channel uncompressed audio. It also supports DTS-HD Master Audio™, DTS:X®, Dolby® TrueHD, Dolby Atmos®. With these features, it's easier to experience movie theatre quality sound in a living room for an immersive multi-dimensional experience and enhanced audio detail and depth.

eARC enables the audio to a TV that originates from cable, satellite, streaming or source devices to be sent to an AVR or sound bar through a single HDMI cable. This ensures the simplicity of connectivity and that the original audio can be experienced.
HDMI® Enhanced Gaming Features
Enhanced gaming and media features ensure an added level of smooth and seamless motion and transitions for gaming, movies and video. Many of these features are already available in TVs and game consoles in the market today; and will become more common as HDMI 2.1a-enabled devices continue to be released. These features are not just ideal for game consoles but also for streaming content to enabled TVs. They include:
HDMI® Variable Refresh Rate (VRR): One of the highlights from the HDMI 2.1a specification's multiple gaming and media features is Variable Refresh Rate. VRR reduces or eliminates lag, judder and frame tearing for more fluid and better-detailed gameplay. VRR enables a gaming source such as a console or computer to deliver video frames as fast as it can, which in many cases is slower than the normal static refresh rate. Graphics processors require different absolute periods to render each frame, and this time is dependent upon the complexity of the scene, the horsepower of the GPU, the resolution selected and the frame rate. When the GPU is taxed by the other three factors and does not finish rendering the next frame by the time it needs to be displayed, the source must either repeat the current frame or display the partially-rendered next frame, which causes judder and tearing. By waiting until the next frame is ready to transport it, a smoother gaming experience can be provided to the user.
Auto Low Latency Mode (ALLM): Auto Low Latency Mode enables the ideal latency setting to automatically be set allowing for smooth, lag-free and uninterrupted viewing and interactivity. In many cases this is referred to as game mode, and it usually has to be set manually which involves going through menus and settings and then switching back again for normal viewing. ALLM lets a game console, PC or other device send a signal to the display which will cause it to automatically switch to a low-latency, low-lag mode for gaming. This could benefit other uses, such as karaoke and video conferencing too. But a low latency setting may not be ideal for other types of viewing since some processing features on a TV may be stopped in order to reduce latency. So with ALLM when the source no longer requires this mode—for example, when switching to a movie stream—the source disables the signal and the display reverts back to its previous mode for optimal picture.
HDMI® Quick Frame Transport (QFT): Another highlight of the HDMI 2.1a specification's multiple gaming and media features is Quick Frame Transport. QFT reduces latency for smoother no-lag gaming and real-time interactive virtual reality. QFT transports each frame at a higher rate to decrease "display latency", which is the amount of time between a frame being ready for transport in the GPU and that frame being completely displayed. This latency is the sum of the transport time through the source's output circuits, the transport time across the interface, the processing of the video data in the display, and the painting of the screen with the new data. This overall latency affects the responsiveness of games, such as how long a button is pressed to the time at which the resultant action is observed on the screen. While there are a lot of variables in this equation, not many are adjustable from an HDMI specification perspective. QFT operates on the transport portion of this equation by reducing the time it takes to send only the active video across the cable. This results in reduced display latency and increased responsiveness.
HDMI® Quick Media Switching (QMS)
HDMI 2.1a is intended to reduce the 1-3 second blackouts that occur when a new video begins playing. With HDMI 2.1a, Quick Media Switching for movies and video uses the HDMI VRR mechanism to eliminate the blackout period when an HDMI Source device switches its video mode. As long as the resolution remains the same and only the frame rate changes, QMS will instantly switch between frame rates.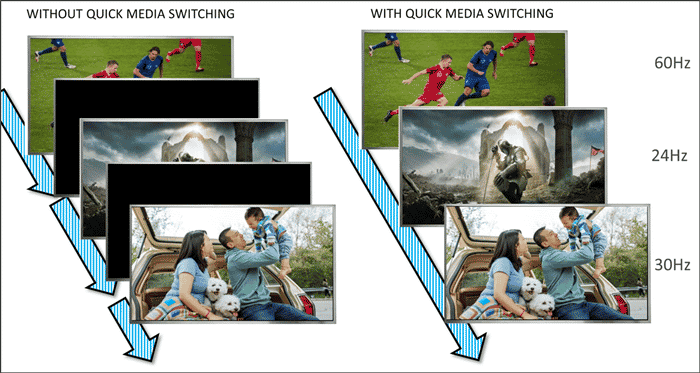 For example, when watching trailers from a streaming service or Blu-ray, some may be in 24Hz, 50Hz, or 60Hz. Before HDMI 2.1a with QMS, every time a trailer with a different frame rate is selected, either (1) the frames must be repeated using a specific cadence to compensate for the frame rate difference, introducing a motion judder; or (2) the entire system must change its clocking and re-sync when the frame rate changes, causing an A/V blackout.
QMS eliminates A/V blackouts by using VRR technology to change frame rates, allowing instant changes from 24Hz to 60Hz frame rate, and anywhere in-between. The viewer never sees blank screens and gets a seamless experience.
HDMI® Cable Power
HDMI 2.1a, Amendment 1 adds a new feature: HDMI Cable Power. With this feature, active HDMI® Cables can now be powered directly from the HDMI Connector, without attaching a separate power cable. This makes attaching and using active HDMI Cables as easy as using passive wired HDMI Cables. To use the HDMI Cable Power feature, it is necessary to have an HDMI Cable which supports the HDMI Cable Power feature, and also an HDMI Source device that supports the HDMI Cable Power feature. This combination ensures that the active HDMI Cable can safely draw sufficient current from the HDMI Connector to power its internal circuitry.
In the case of the Ultra High Speed HDMI® Cable, performance requirements are so high, it is likely that the only way to meet the Ultra High Speed HDMI requirements in cables longer than a few metres is through powered, active HDMI Cables. Therefore, HDMI Cable Power was added to help support the HDMI 2.1a specification's higher speeds by providing power to those active cables which may need it to function correctly. While active HDMI Cables have previously been used extensively in professional markets, their use will now increase in the home whenever consumers need longer-length Ultra High Speed HDMI Cables.
Connection is the same as attaching an ordinary, `wired' HDMI Cable, except that active cables can only be attached in one direction: One end of the cable is specifically labelled for attachment to the HDMI Source (transmitting) device, and the other end of the cable must be attached to the HDMI Sink (receiving) device. If the cable is attached in reverse, no damage will occur, but the connection will not work.
HDMI Cables with HDMI Cable Power include a separate power connector for use with source devices that do not support the HDMI Cable Power feature. Typically, these connectors will be USB Micro-B or USB Type-C®, but different power connector types may be used. As more and more source devices add support for HDMI Cable Power, these longer cables will deliver convenience in the living room along with reliable, high performance home theatre audio video.
Disclaimer: The Adopted Trademarks HDMI, High-Definition Multimedia Interface, and the HDMI Logo are trademarks or registered trademarks of HDMI Licensing Administrator, Inc.
Content Attribute: HDMI Licensing Administrator, Inc.
Advertisement
[adrotate banner="30"]